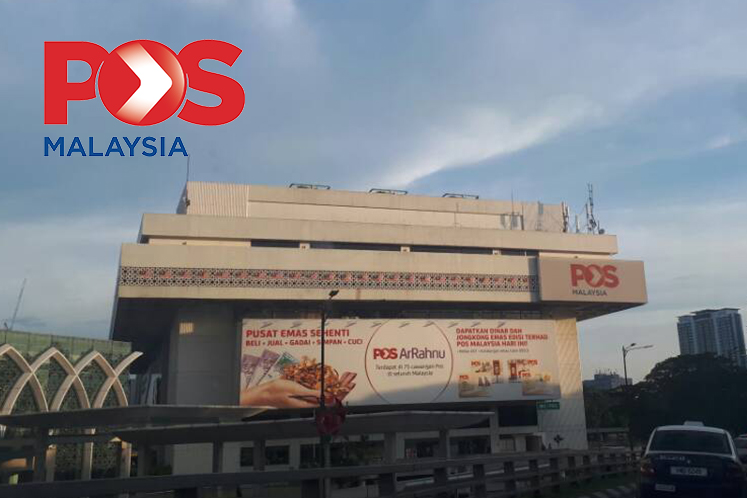 KUALA LUMPUR (May 21): Pos Malaysia Bhd suffered another net loss for its fourth quarter ended March 31, 2019, which resulted in the group posting its first full-year loss in more than a decade.
The group had also reported a net loss for the second and third quarters.
The group's net loss of RM141.13 million for the fourth quarter compares with a net profit of RM29.03 million a year ago.
Quarterly revenue was also on a downtrend, slipping 8.94% to RM594.68 million from RM653.08 million in the previous year's corresponding quarter, the group said in a statement today.
For the full financial year, the group posted a net loss of  RM165.75 million, versus a net profit of RM93.25 million in the previous financial year.
The group attributed the poor showing to widening losses in its mail segment and RM39.6 million of impairment charges from the loss of goodwill in Pos Logistics.
Revenue for the year declined 4.75% to RM2.36 billion from RM2.47 billion a year ago due to continued weak mail, international and logistics business performance at Pos Malaysia and Pos Logistics.
"This losses from mail is a result of continuing double digit contraction in mail volume and bill payments reflecting the increasing substitution of letters with electronics media," Pos Malaysia said.
Meanwhile, the impairment of goodwill in Pos Logistics is the result of performance that is below expectations due to competitive market conditions, the group added.
"We are working closely with regulators for an overall (postal) tariff rebalancing to update the tariff, which was last changed in 2010, to reflect the growing costs to serve the nation with an increase of 17% new postal addresses. We expect a positive outcome from the regulators on the tariff rebalancing," said Pos Malaysia's group chief executive officer Syed Najib Syed Md Noor.
The group's share price declined  one sen to a one-year low of RM1.58 today, giving it a RM1.24 billion market capitalisation.