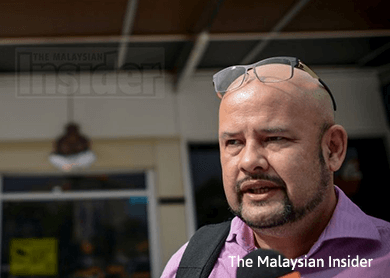 (June 25): The photographs of comedian Harith Iskander cradling his toddler, which appeared in a porn site, were removed after Malaysian multimedia authorities intervened by contacting the website administrator, the Malaysian Communication and Multimedia Commission (MCMC) said.
MCMC monitoring and enforcement division head Zulkarnain Mohd Yasin said the agency managed to get in touch with the site administrator and asked for the photographs to be removed.
"We contacted them in the morning and by 4pm most of the celebrity's photographs were removed from the site. We are still monitoring the situation."
This was also confirmed by Harith himself, who wrote on his Facebook page: "Update: the pictures of my son (and other children) have been taken down off the pornographic website (which originates from outside Malaysia). Thank you SKMM/MCMC for their swift response and assistance in making this happen."
Zulkarnain told The Malaysian Insider that the site operated outside Malaysia, although some of the posts and advertisements were in the Malay language.
Further checks conducted on the website showed that it also promote online gambling.
"It also a potential breeding ground for scammers, in particular love (romance) scams.
"The site also contains advertisements that could be in breach of other Malaysian laws."
Zulkarnain advised that those who have had their photographs abused in the same manner as Harith's to contact the porn site operators directly via email.
"Pornography website operators will recognise citizens' rights to their own images."
Another step that the individual could take is by lodging a report with MCMC, he added.
MCMC would then conduct an investigation and would either charge the administrator in court – if they are in Malaysia and can be identified – or block access to the website if its ISP was outside Malaysia and the administrator cannot be identified.
MCMC has so far received 30 complaints of theft and abuse of personal photographs online.
"Twenty were reported last year while 10 were since January this year on the unauthorised spreading of obscene photos and/or videos of complainants," he said.
The Malaysian Insider earlier reported that police acknowledged difficulties in solving the theft and abuse of personal photos used on pornography sites due to the lack of solid evidence to link suspected perpetrators with the crime.
Commercial Crime Investigation Department deputy director (Cyber Crime & Multimedia Investigation) SAC Mohd Kamaruddin Md Din said that although police had information on individuals suspected of running such websites, the case was often difficult to prove.
He said the authorities would try to contact the site administrator to remove offensive images, but not all would comply, more so if they are located overseas.
Harith today lodged a police report at the Taman Tun Dr Ismail police station over photos of him cradling his toddler appeared on a website alongside pornographic pictures.
In his latest Facebook post after the photos were removed from the porn website, he appealed to Malaysians to take paedophilia and child porn more seriously.
"Paedophilia and child porn are real issues which I feel are not taken seriously by some Malaysians and we should all work together to help eradicate this disease from our society.
"This is not the last you will hear from me on this matter – it has spurred me to take active steps into doing whatever I can do to tackle this issue. Children are a blessing from The Almighty and should never EVER be exposed to abuse," he wrote. – The Malaysian Insider