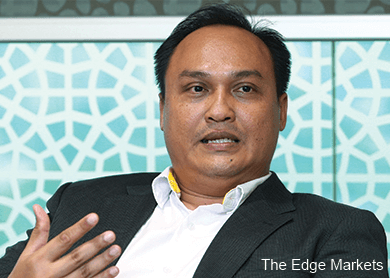 SHELL REFINING CO (Federation of Malaya) Bhd — the second largest petroleum refiner in the country — is weighing some options, no thanks to the current poor refining margins, which it predicts will remain depressed "at least until the end of this decade".
According to managing director Amir Hamzah Abu Bakar, the compressed margins are due to the excess capacity of three million barrels per day (bpd) in the global market, which he says may double by 2020.
"We also know that there will be new refinery projects in Saudi Arabia, United Arab Emirates, India and some parts in China. Combined, this will add another one million bpd of excess capacity to an already bloated market. At the same time, we foresee the global demand for oil products crawling only 1% year-on-year until 2020," Amir tells The Edge in his first interview since his appointment on April 2, 2014.
Analysts expect that some 7.65 million bpd of complex refinery capacity will be added to the market by 2020, of which 3.4 million bpd will be in Asia and 2.5 million bpd in the Middle East.
"In the last decade, the global refining industry has changed its demographics with a shift in demand from OECD (Organisation for Economic Co-operation and Development) to non-OECD countries. This will create additional surplus, adding to the already existing glut and pressure refinery utilisation rates, which will ultimately be reflected in weaker refinery margins globally in the long run," Deutsche Bank Markets Research analysts say in a "Commodities Outlook 2015" note.
Because of the poor refining margins outlook, Amir says Shell Refining (fundamental: 0; valuation: 0) is weighing two options — selling its refinery in Port Dickson, Negeri Sembilan, or converting it into a storage terminal. The refinery has a capacity of 156,000 bpd, and it processed 37.9 million barrels of crude oil last year.
"Of course, margins have not been very kind to us, but we are not surrendering. In January this year, we announced that we had completed a structured review of our operations, and we are assessing many long-term options that would be in our best interest," says Amir, 46, who was promoted within the organisation.
Declining to elaborate further, he expects the board to select "the final best option" carefully and expeditiously.
"I don't know when the board will decide, but it would be good if they can arrive at the decision during the upcoming annual general meeting. I think that would be the best time, because that is when the board will meet the shareholders," says Amir.
On the potential sale of its assets, Shell Refining independent non-executive director David Lau Nai Pek says they could be valued at some RM1.5 billion, assuming an ideal case.
"There are many ways of valuing our assets. The simplest way is by looking at our market capitalisation, which hovers at RM1.5 billion. If you believe the market is perfect, then it will be this price. We don't know who the buyers are, but if they are looking at our assets, they have to do their own sums … and from their own perspectives," says Lau, 62, who was present during the interview.
Based on its latest audited accounts for the financial year ended Dec 31, 2014 (FY2014), Shell Refining's property, plant and equipment had a net book value of RM1.1 billion.
Besides selling the refinery, Amir says Shell Refining is assessing the viability of converting it into a storage terminal so that it can continue to supply fuel to the Malaysian market.
"The storage facilities could also be used to generate potential income … [if we rent them] to customers. The terminal capacity will depend on the demand, so that will be a viable business case," he adds.
On its losses, Amir explains that Shell Refining was dragged by falling oil prices, which had dropped 49% to US$55 per barrel at end-2014 from US$107 per barrel in early-2014, translating into a stockholding loss of RM625.1 million.
"Refining margin, in simple terms, is basically the difference between feedstock and oil product prices. It is cyclical. When the feedstock prices move, there tends to be a lag in oil product prices. That drives the fluctuation in margin. So, we did see some opportunities during the sudden price movement. But because of the lagging impact, it also affected the margin," Amir adds.
In addition, Shell Refining was hit with an operating loss of RM102.6 million and an impairment loss of RM461 million, based on its 11-year cash flow projection.
"I must say that we have hit rock bottom, despite the good work done by Amir and his predecessor. The refinery margin has not been kind to us. If the margin stays low owing to excess capacity, the plant will be unprofitable," says Lau, who trained as an accountant. He also sits on Shell Refining's audit committee.
Shell Refining saw its FY2014 net loss widen sevenfold to RM1.19 billion from RM155.98 million, translating into a four-year cumulative loss of RM1.56 billion since FY2011. Revenue in FY2014 fell 3% to RM14.26 billion from RM14.7 billion a year ago on lower sales of refined products.
The cumulative losses have also dragged down its total equity in FY2014 to RM324.68 million from RM1.51 billion in FY2013, while its cash and bank balance depleted to RM8.74 million from RM41 million previously. The company also has total borrowings of RM1.76 billion.
"Of course, we are not comfortable with the high gearing. But we do monitor them on a regular basis. We are investing to ensure the safe and reliable operation of our plant," says Lau, who is also on the investment panel of the Employees Provident Fund (EPF).
Currently, EPF has a 16.2% stake in Shell Refining, while Permodalan Nasional Bhd via AmanahRaya Trustees Bhd holds 6.62% equity interest. The stock is richly valued at 4.46 times book value.
Shell Refining's shares have been trading through rough waters. The slumping crude oil prices last year pulled the share price down 31% to RM4.61 on Dec 30 from RM6.05 on Aug 29.
The stock has since rebounded and closed 5% higher at RM4.83 on May 7, giving it a market capitalisation of RM1.45 billion.
This article first appeared in The Edge Malaysia Weekly, on May 11 - 17, 2015.