This article first appeared in The Edge Malaysia Weekly, on March 2, 2020 - March 08, 2020.
Click / Tap image to enlarge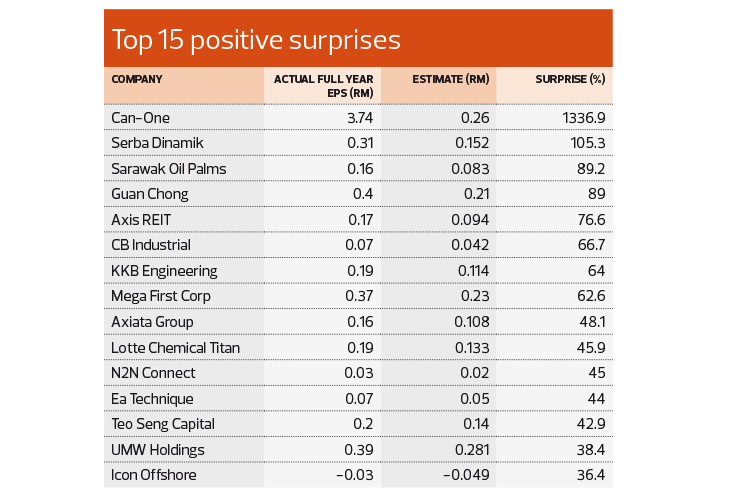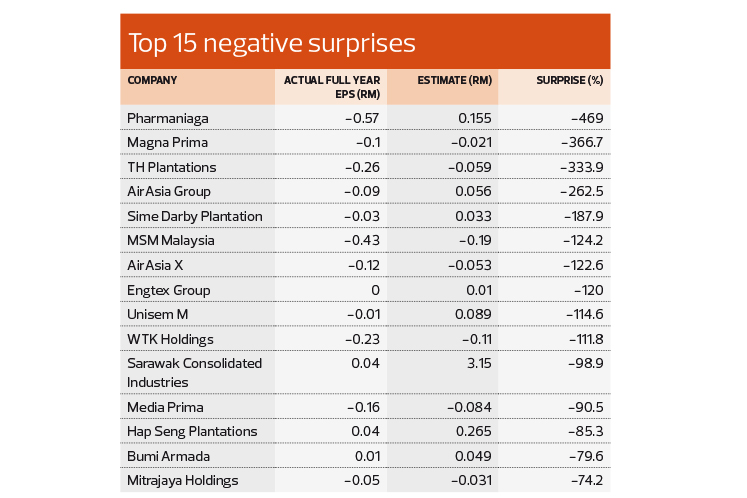 WITH Covid-19 spreading fast outside China and the unexpected turn of events on Malaysia's political front, the fourth-quarter 2019 (4Q2019) earnings season may not be the first thing that investors think of.
Although there is another month before the first quarter of 2020 (1Q2020) ends, some market experts have already declared that "the whole quarter is gone" and that it will be "a quarter to forget".
For companies that delivered commendable results in 4Q2019, it is no time to celebrate while for those that performed poorly, things are likely to get worse.
According to Bloomberg statistics, as at last Thursday, the results of at least 230 companies improved in 4Q2019 while 204 posted weaker earnings from a year ago.
Sixty-nine companies exceeded market expectations in 4Q2019 in contrast to 89 that failed to meet them.
The top 30 performers saw their net profit grow between 166% and 4,463% (see table) with the positive surprises including Can-One Bhd, Serba Dinamik Holdings Bhd and Sarawak Oil Palms Bhd.
The negative surprises included  AirAsia Group Bhd and AirAsia X Bhd, whose business prospects in 1Q2020 appear to be even dimmer.
AmInvestment Bank executive vice-president and head of equity markets Gan Kim Khoon points out that 4Q2019 escaped the full impact of Covid-19 and the effects of the ongoing political turmoil in Malaysia.
"We will feel the impact only in 1Q2020. But then again, nobody was expecting a stellar corporate earnings performance in 4Q2019 because the GDP numbers showed that our country's economy was slowing down. So, corporate earnings were expected to largely reflect that," he tells The Edge.
Gan acknowledges that he was quite optimistic at the beginning of the year but given what has happened over the past two months, he is no longer so.
"I think this year will be worse. The effects of Covid-19 will not be for just one or two months. If anything, the situation has become worse. Even though things are getting better in China, globally, the disease has spread to more countries," he explains.
He adds that economic performance will "definitely suffer" for another one to two quarters. Moreover, the banks' earnings would be affected by the recent interest rate cut, which will dampen their net interest margins.
"Overall, looking at 2020 so far, I think this year will easily be worse than last year. Having said that, the market may rebound in the second half of the year, assuming that the fears about Covid-19 are over," he comments.
Gan says investors should not rush in to buy. Rather, they should be cautious.
"The best thing to do is to wait and see. You don't know how long this coronavirus will last and you don't know how bad it will be. Everybody is still very uncertain about the full impact of Covid-19, how it will affect consumption and manufacturing activities, how the global supply chain will be disrupted," he cautions.
According to Areca Capital Sdn Bhd CEO Danny Wong Teck Meng, the market seems to have priced in a very weak 1Q2020, which has been affected by Covid-19 and the global supply chain disruption.
Therefore, he expects many companies to miss their earnings forecasts. Besides, the tourism sector will take a much longer time to recover.
"Like it or not, 1Q2020 will be a quarter to forget. The stimulus package can only mitigate the downside risk. It will not be able to rescue 1Q2020 because it is too late. To me, this quarter is gone," Wong tells The Edge.
Nevertheless, he says long-term investors may consider picking up strong fundamental stocks in the banking, technology and consumer sectors, especially those with a healthy cash flow and decent dividend yield.
"In any case, don't be a hero. We have to be really, really cautious," he adds.