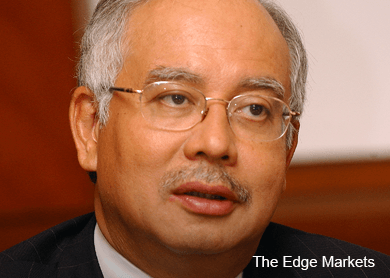 KUALA LUMPUR: Standard & Poor's Ratings Services (S&P) does not expect political developments in Malaysia, such as Prime Minister Datuk Seri Najib Razak being besieged by allegations of misuse of funds at a government-owned investment vehicle recently, to affect the country's sovereign ratings in the next one to two years.
However, it said in its report, "Asia-Pacific Sovereign Rating Trends Mid-Year 2015", published yesterday that such developments reduce the likelihood of new structural reform initiatives and could also hurt the responsiveness of the government to unexpected shocks.
This was essentially the same for countries like South Korea, the Philippines, Thailand and Pakistan, which have seen political developments complicating their respective policy environments.
S&P currently rates 21 sovereigns in the Asia-Pacific region, including Malaysia. Malaysia is one of the 16 sovereign ratings with "stable" outlooks. Three others have "positive" outlooks, while the remaining two have "negative" outlooks. 
In February, S&P affirmed Malaysia's short-term foreign currency sovereign credit rating at A-2 and its long-term rating at A-, with a "stable" outlook for the long-term rating. 
In its report yesterday, it noted the country's strength in its monetary asssessment and external assessment, and the rating agency is "neutral" on Malaysia's institutional assessment, economic assessment, fiscal assessment (budget performance) and fiscal assessment (debt).
In the past five years, S&P said, the average sovereign rating of the region had increased slightly to between BBB and BBB+, from just under BBB. But over the period, geopolitical developments and domestic politics have gained prominence as risks to Asia-Pacific sovereign ratings, it added.
On its ratings and the outlook trend for the period, S&P said despite growing economic uncertainties in 2015, it continues to see stable trends for most sovereign credit ratings in the Asia-Pacific.
The continuing US economic recovery, lower energy prices and still-plentiful liquidity in financial markets support economic growth in the region, it added. 
On the other hand, China's continuing slowdown, its struggle with asset deflation and ongoing uncertainties in the eurozone weigh on Asia-Pacific's growth prospects, it said. 
However, it does not expect the resulting weakening of some credit metrics to be material enough to trigger sovereign rating downgrades so far this year, it added.
Meanwhile, S&P noted that of the 21 ratings, 12 are investment grades (three in the AAA category, four in AA, two in A and three in BBB) and nine are speculative grades (three in BB and six in B), said S&P. 
The highest-rated AAA entities are Australia (since February 2003), Hong Kong (since December 2010) and Singapore (since March 1995), it added, with the lowest-rated sovereign in the region being Pakistan (B- since August 2009). 
S&P said sovereign ratings in the Asia-Pacific region had been very stable recently, especially when compared with other regions, though it noted that rating movements in smaller sovereigns had contributed to an advance in non-gross domestic product-weighted ratings by almost half a notch over the past year.
This article first appeared in The Edge Financial Daily, on July 15, 2015.