This article first appeared in The Edge Malaysia Weekly, on May 6, 2019 - May 12, 2019.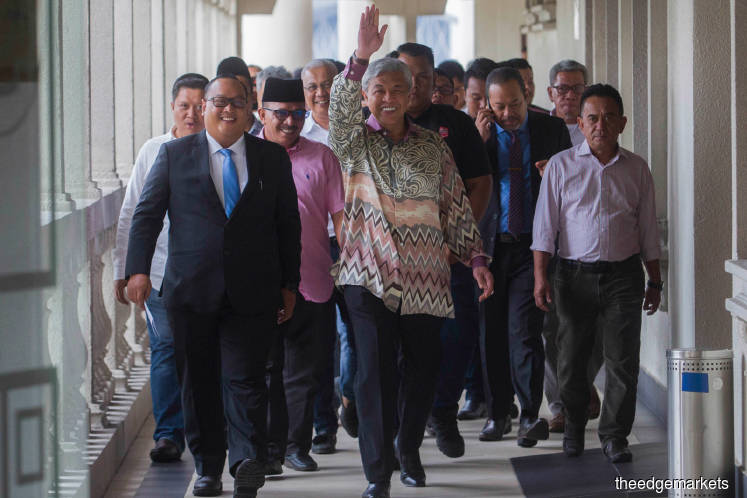 SOMETHING is not right in Umno. I know I will be accused of stating the obvious but I am not talking about the mess the party is in since losing power one year ago. Neither am I referring to the latest rumour of yet another exodus by its members.
I am talking about the goings-on — short of describing it as a power struggle — in the current leadership.
A loyalist of Umno president Datuk Seri Ahmad Zahid Hamidi has lambasted some party members on Facebook. Describing them as "so-called popular members", he accused them of acting as instigators in pitting certain leaders against each other.
Their actions, he said, have created a "widening stage for infighting in Umno".
According to him, they are now openly calling for Zahid to be replaced by one who is more capable, and for Tok Mat (as Umno deputy president Datuk Seri Mohamad Hasan is popularly known) to lead the party.
For the record, Zahid passed on the powers of party president to Mohamad in December last year. It was said that he was pressured to do so as his leadership was seen as lacking in direction by some Umno top guns. But his supporters deny he was coerced into doing so.
A few months ago, the same loyalist had posted a warning on Facebook: "We know who are using and taking money to bring down Zahid. #watchout."
I asked a close aide of Zahid who the loyalist was referring to. He did not name names but said that "these people exist and many know of their existence".
Nobody in the Zahid camp wanted to reveal openly what was being done to check such people.
Weeks earlier, the aide had reminded me that Mohamad was carrying out the duties of the president and that he was not the acting president. He sent me excerpts of the Umno constitution to show that there are no provisions or clauses with regard to the president, or other office-bearers for that matter, going on leave.
Zahid had also pointed out that he was not on leave and described himself as an "Umno president not carrying out the duties of president" — for the time being.
He is also on record as saying on several occasions that he will return as party president at the right time, or when Mohamad no longer wants to carry on.
Last month, Zahid was quoted as saying that he was prepared to end his "leave" if he is needed to strengthen Umno, adding that there was no timeline for him to get back to active politics and that he was "ready to serve".
Two weeks before the Rantau by-election, Mohamad was reported to have said he would continue to lead Umno even if he lost.
But he did win the April 13 by-election. To political analyst Dr Agus Yusoff, the three successive by-election wins — including Cameron Highlands and Semenyih — under his stewardship "shows Tok Mat's leadership is well received by Umno and PAS, and has entrenched his position in Umno".
All three by-elections saw the Umno-PAS cooperation shift to a more upbeat tempo. Incidentally, Umno folks aligned to Zahid and Mohamad claim it was their "boss" who made the Umno–PAS pact a success.
Political analyst Dr Sivamurugan Pandian says Mohamad has now earned his legitimacy and strengthened his grip on the party to become the next president.
Things are definitely looking up for him. Some analysts and even Umno grassroots members believe it will be tough for Zahid to make a comeback and lead Umno/BN, judging by the 47 criminal charges he is facing.
He has been charged with criminal breach of trust, corruption and money laundering from the time he served in the BN government, and the court cases will take a long time before they can be settled.
Umno supreme council member Datuk Tajuddin Abdul Rahman does not want party members to spark a leadership crisis by asking Zahid to step down.
The Malaysian Insight quoted him as saying, "Let Zahid stay on until the end of his term (the current leadership's term expires in 2021). What is the benefit of putting a vote of no-confidence against him?" Tajuddin could perhaps have heard of such an attempt by certain quarters in the party.
But Zahid's supporters, despite the bleak outlook, are holding on to the adage that nothing is impossible in politics. They sincerely believe their man will still be the president.