This article first appeared in The Edge Malaysia Weekly, on January 7, 2019 - January 13, 2019.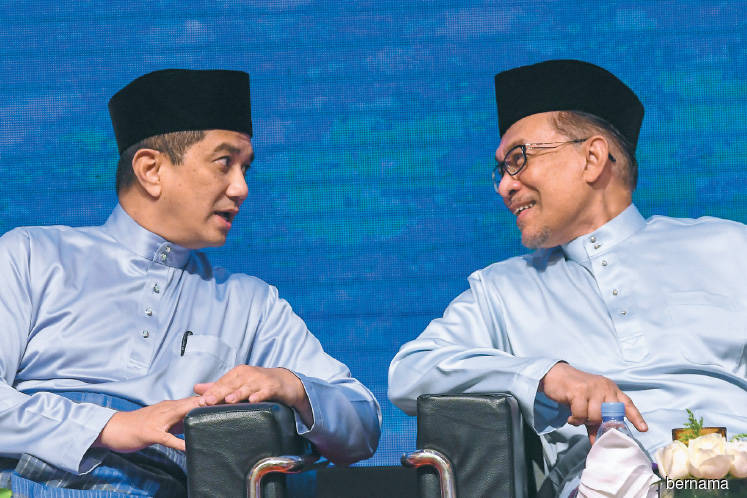 DESPITE all that he had to go through, Datuk Seri Anwar Ibrahim can be considered a lucky man.
When he was sacked from the government in 1998, thousands took to the streets in protest and to show him support. The majority were Malays. Yes, they answered his call for "reformasi" but in most part, they came out because they believed in him. And many came forward to help him and his family during those difficult times.
When Anwar came back into politics and began charting his political path and building up his party, there were decisions to be made. Obviously, some decisions were not well received by his friends and supporters. And not surprisingly, some of them, sidelined by Anwar's preferred choices, were disillusioned and felt that their sacrifices had been in vain.
Anwar lost some friends and supporters. Some drifted away, leaving the scene quietly. Some took him on, either on their own or by joining forces with his political foes.
He is now prime minister-­in-waiting but finds his moves being questioned, unlike in the past when what he said was accepted wholeheartedly.
During the PKR election, attacks by Team Azmin on Rafizi Ramli were seen as attacks on Anwar. After the election, the criticisms continued but this time they were pointed directly at Anwar. And Datuk Seri Azmin Ali, the PKR No 2, has himself joined the fray.
The latest complaint is of Anwar appointing his own people to party posts. But as party president, he is empowered by its constitution to do just that. To strengthen and unite the party, Anwar has preferred to be inclusive rather than let the winner take all.
But political observers say there is more to it than meets the eye. According to a PKR watcher, the Anwar-Azmin relationship broke down well before this year's PKR election. In fact, he says, the fallout started when Tan Sri Khalid Ibrahim was given the Selangor menteri besar's post instead of Azmin when the then PKR-led Pakatan Rakyat captured the state in 2008.
He claims that things got worse when Azmin, as MB of Selangor, began wooing supporters  of the jailed Anwar.
Now with Anwar as PKR president, the party watcher adds, Azmin could be afraid of being shut out by the former's faction. But then, Azmin's people are very well represented at all levels. Therefore, as the PKR watcher sees it, what Azmin wants to do is probably isolate Anwar in PKR itself.
Now we are hearing that the rift has reached a breaking point, as quoted by The Star, with Azmin purportedly telling Anwar, "I will go against you in many years to come" and Anwar shooting back, "I'll take you on".
But why should Azmin or any other leader challenge a sitting party president, considering the mammoth task of unseating him and the upheaval it will cause?
Against such a backdrop, I would say the fight, if it is to take place, will happen now — perhaps via an EGM to get a no-confidence vote against the president? But I have to stress this is mere speculation.
The PKR watcher sees that as possible but believes Azmin will want to avoid being seen as power-hungry. Maybe he would just want to cast doubt on Anwar's credibility and capability to be the prime minister — the logic being that a person who cannot take care of his own party cannot be the PM of the country.
This is where the political permutations get complicated. Some observers and political journalists feel PKR will not stay together for too long, suggesting that Azmin and team might even break away.
And it does not help that the rumour mill is working overtime, especially after the families of former Umno vice-president Datuk Seri Hishamuddin Hussein and Azmin holidayed together in Morocco last month. Hishamuddin is expected to bring along a substantial number of Umno MPs to Azmin's breakaway PKR group and form a new party to stake its claim in the Pakatan Harapan government.
But a veteran journalist points out that if the so-called new entity is a Malay/Muslim party, the non-Muslim supporters of Azmin in PKR — and there are many of them — cannot or will not join him.
Another theory has it that Azmin and team plus Hishamuddin and team will join Prime Minister Tun Dr Mahathir Mohamad's Parti Pribumi Bersatu Malaysia en bloc, making it the biggest party in PH. Again if this happens, it will not go down well with the non-Malay supporters of Azmin, DAP, Amanah, Warisan and, more importantly, the rakyat who voted for PH.
Another possibility is that Azmin will fight it out in PKR but a fight between a president and deputy is never good as, many analysts say, that risks breaking up the party.
According to party vice-president Tian Chua, it is really up to Anwar and "he needs to use his wisdom and stop taking sides to avoid the gap getting wider", obviously referring to the party president favouring the likes of Rafizi and secretary-general Datuk Saifuddin Nasution, who are both political opponents of Azmin.
Incidentally, Tian Chua is in Team Azmin.
But Anwar has taken sides before. The PKR watcher notes that in the 2010 party election, Anwar backed Azmin against Datuk Zaid Ibrahim for the deputy presidency. Zaid later withdrew his candidacy, alleging fraud and electoral misconduct in the party polls.
So, what should Anwar do?
"Anwar desperately needs to pull a rabbit out of the hat to keep his PM plans alive," says the PKR watcher, adding that the party president must not lose his cool no matter what the provocation. He cannot shut Azmin out but he can prevent the mess from tearing the party apart.
The party watcher says Anwar must show that he is the "master who can subdue his student who has turned rogue and then maybe he can earn the respect of his own teacher — Mahathir".
Political permutations and conspiracies aside, the message that the rakyat want to send PH is that they did not vote for it to get embroiled in political games. In a year when things can get tough economically — with crude oil and crude palm oil prices falling, and the world facing greater uncertainties — they want PH to start governing and improving the economy.  They also voted for PH because of the agreed future transition of power from Mahathir to Anwar, which they see as key to the country's political stability and economic growth.
"We were given the keys to the kingdom and we are squabbling in the courtyard," Malaysiakini quotes a party member as saying. If this continues, PH might just lose its kingdom.
Save by subscribing to us for your print and/or digital copy.
P/S: The Edge is also available on Apple's AppStore and Androids' Google Play.