This article first appeared in The Edge Malaysia Weekly, on February 17, 2020 - February 23, 2020.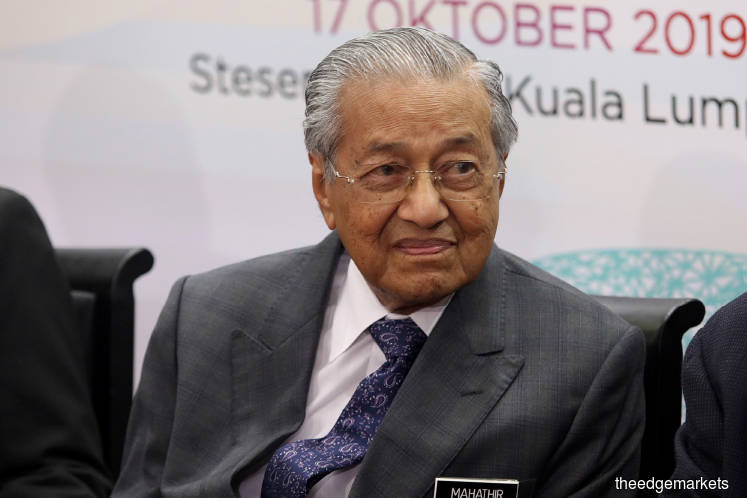 Photo by Sam Fong/The Edge
MANY a time Prime Minister Tun Dr Mahathir Mohamad has said the opposition, including PAS, can support him whenever the government does something good. For example, it can support a Bill in parliament which is beneficial to the rakyat. In short, it is about the opposition voting independently in parliament based on conscience — breaking away from the norm of toeing the party line.
Keeping to the party line would usually mean voting against whatever the government tables, even good proposals.
Maybe PAS got the wrong message from Mahathir. Hence its is preparing to table a confidence vote for him to remain as prime minister at least until the 15th general election.
In the process, PAS would be creating history as the only opposition — perhaps even in the entire world — to support a leader of its political foe.
But I do not think it got Mahathir's words wrong. PAS knows exactly what it is doing. The idea of a confidence vote is to trap Pakatan Harapan MPs who are pro-Datuk Seri Anwar Ibrahim. It is obvious that PAS wants the so-called Anwaristas to commit their support for Anwar, thus proving that they do not support the sitting PM. And the biggest trap, naturally, is being laid for Anwar himself.
To Anwar, this is "just an effort to break up PH, and PAS will fail as we will not be fooled by them". How PH will not be fooled, he did not say. But what Anwar did say is that he has waited 20 over years to be PM and he can surely wait another six months.
Anwar's hardcore supporters however, want him to take over come May, when the PH government would have completed its second year. And PAS' push for a confidence vote in parliament is to stop Anwar from becoming PM. That is a no-brainer.
However, with Anwar (and others) seeing right through the ploy, then surely it cannot be good for PAS, could it?
What more with Umno — PAS' partner in the Muafakat Nasional alliance — being a little coy about supporting the confidence vote. PAS wants Umno to embrace the plan but Umno secretary-general Tan Sri Annuar Musa was quoted as saying that while PAS has a right to proceed with its plan, Umno "does not want to be a busybody in Pakatan Harapan affairs".
The Umno deputy president's comments are more telling. Although Datuk Seri Mohamad Hasan did not pour cold water on PAS' plan directly, he lamented the level of politicking in the country, saying that it is Malaysia that requires a vote of confidence.
Mohamad has a point. It is no big secret that the rakyat are simply fed up with the endless politicking.
Emir Research president and CEO Dr Rais Hussin comments that all political parties, especially Umno and PAS, that seek to entice the prime minister should be watched warily.
These are representatives and individuals who come with gifts, seemingly to form a pact, but "the moment the likes of Bersatu engage with them any deeper, the standing of Bersatu in Sabah and Sarawak would be immediately compromised; given that neither Umno nor PAS remain popular in these two states", according to Rais, who is the Bersatu strategist.
Thus, said Rais in a letter to the media, "The priority of the county, as deputy prime minister Datuk Seri Wan Azizah Ismail has correctly affirmed, should be COVID-19 and everything else is secondary for now."
I would agree, but another priority is managing the economy, which Bank Negara Malaysia notes slowed down last year to 4.3% gross domestic product growth — the lowest level since the global financial crisis in 2009.
I cannot help but wonder if PAS leaders are blind to all this. Just what are their proposals to overcome the slow economy? Or, is the best they can offer to buy Mercedes-Benzes for their exco members in Kelantan?
A political observer says what PAS is doing now can be seen as its brand of divisive politicking, and this can backfire as voters cannot see PAS as a political party with a national outlook.
"It remains [in the realm of] politik kampung, a party suitable to rule Kelantan, Terengganu and maybe Kedah. Nothing beyond that," says the observer.
Another political observer sees PAS' move to table the confidence vote as "comical" saying that "if it was agreeable to Mahathir as PM there was no need for them to fight Pakatan Harapan in GE14".
Bear in mind, PAS president Datuk Seri Abdul Hadi Awang is on record as saying that Mahathir, being a doctor, "is just fit to run a 1Malaysia clinic" and on the eve of GE14, Hadi reportedly said a Mahathir win "would pose a danger to Malaysia as he will not place Islam as the main foundation of his administration".
Still, it is said, there are no permanent friends nor enemies in politics. Hence, I take off my kopiah to PAS for coming up with this ploy, which, if not handled properly, can put PH on the spot, to put it mildly.
Perhaps PAS got carried away by the meetings and dinners its leaders had with Mahathir in coming up with the confidence vote plan. This despite Mahathir's many sarcastic remarks, the latest being "I am already the prime minister, if they want to support me, thank you lah".
Nonetheless, many analysts and observers are of the opinion that the current situation is the result of Mahathir not announcing the exact date for handing over power.
An observer tells me PAS "does not realise Mahathir could very well play along with them for his own interest" while veteran writer Terence Netto in his column in Malaysiakini suggests a confidence vote in parliament would serve Mahathir well as "the master ambiguist will say if parliament says I stay who am I to gainsay".
Yet another observer says: "Mahathir surely does not want to be known as a PM who had to bank on opposition support to remain prime minister because there was not enough support from his own coalition.
"Two can play the game. It is not just about Anwar not having majority support in parliament. It is also about Mahathir depending on opposition votes to stay in power. Surely that cannot be his legacy."
Indeed. The man deserves more.