This article first appeared in The Edge Malaysia Weekly, on May 11, 2020 - May 17, 2020.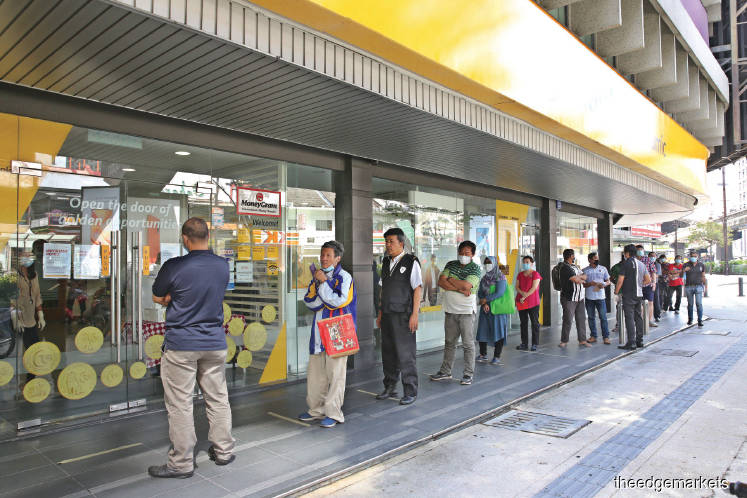 Some states did not follow Putrajaya's directive on the CMCO because they wanted to be in tune with the mood on the ground
Phoyo by Sam Fong/The Edge
NEVER mind that Kedah and Kelantan have finally agreed to adhere to the federal government's decision on the Conditional Movement Control Order (CMCO).
Legal experts say state governments must comply with Putrajaya's directive because they are required to by federal law. What matters is that there was disobedience. At one point, six states went against Putrajaya's order while three others only followed it partially. For now, minus Kelantan and Kedah, the rest are sticking to their guns.
"State leaders do not want to be the frontliners who have to face the people's wrath should Covid-19 cases spike once more. Their own political fortunes hinge on their handling of the pandemic, hence they cannot afford to get it wrong," says a political observer.
That is why, he says, the states prefer to gradually open up their economies as the one-size-fits-all formula that Putrajaya decided on cannot work for them. "The states obviously felt Putrajaya was not sensitive to the situation on the ground, which differs from state to state, and decided to do what they felt was best."
The states would have other justifications for their actions, and so too, does Putrajaya. However, says the observer, state-federal ties — at least in the states involved — have taken a beating and the trust deficit has increased.
Some of the states are governed by Pakatan Harapan, and others by Perikatan Nasional, with the menteri besar from Bersatu or PAS.
In the political observer's view, the states may be showing Putrajaya that it is not the boss. This ties in with what Umno leader Datuk Seri Khaled Nordin has said, that "the days of the federal government calling the shots may well be over".
At least one legal expert sees Khaled's statement as political manoeuvring. As I see it, the posturing is being carried out by the federal government's ally, Umno. This can be seen from the statements made by Umno leaders, not only on the movement control issue but other matters as well. Khaled, a fierce critic of the Tan Sri Muhyiddin Yassin administration, blamed Senior Minister (Economic Cluster) Datuk Seri Azmin Ali for bulldozing through the CMCO.
He also said the CMCO fiasco had shaken public confidence in Perikatan Nasional.
Umno supreme council member Datuk Abdul Rahman Dahlan called it "unprecedented and embarrassing" to have states reject a federal policy.
Is it a new norm for a party that is part of the federal government to launch blistering attacks on the government itself? Or is the CMCO just an excuse to hit out at the government because there are bigger issues at play?
Note that while Umno is attacking the federal government over the states' refusal to follow its CMCO decision, in Johor, Umno and Bersatu are locked in combat although both are part of the state administration.
Note also the Umno deputy president's remarks recently about his party's stand on Perikatan Nasional. Datuk Seri Mohamad Hasan was quoted as saying that Perikatan is not a registered political entity like Barisan Nasional.
Umno's relations with Perikatan, according to Mohamad, were guided by the party's desire to save Malaysia from a political impasse caused by certain parties within Pakatan Harapan. It was an understanding to form the government and administer Malaysia "due to Pakatan's failures". He said that is different from Umno's cooperation with PAS, which was cemented with the establishment of Muafakat Nasional. That, to me, is quite telling.
Moreover, Mohamad was quoted by The Star as saying that Umno, being the country's largest Malay-based political party, will field candidates in all seats that it has traditionally contested as well as those the party feels it has the potential to win in the next general election.
That could mean Umno is willing to take on Bersatu, especially in Umno's traditional constituencies. But Mohamad did not say anything about PAS, as seats contested by Umno are also traditionally contested by PAS.
Let us consider Rahman Dahlan's mind-boggling remarks as reported by Malaysiakini. He said the proposal to include Umno when registering Perikatan Nasional needs to be studied thoroughly, although Umno's support for Perikatan Nasional and Muhiyuddin as prime minister need not be questioned. However, he added that it needs to be reviewed seriously in terms of the benefit that Umno gets from being in the alliance and the negative aspects of the pact.
"Umno can say with confidence that we support Perikatan Nasional and the prime minister but whether Perikatan Nasional becomes an official platform is a different matter," he said.
Another Umno supreme council member, Datuk Seri Tajuddin Rahman, believes the problems between Umno and Bersatu can be resolved if Bersatu joins Umno. In the event that this takes place, he says, Muhyiddin can remain as prime minister.
A few days later, Armada, the Bersatu youth wing, declared its support for party chairman Tun Dr Mahathir Mohamad, saying that it does not want to cooperate with Umno. In a statement, it called on Bersatu to dump Umno and return to Pakatan Harapan.
As I write this, Malaysiakini, quoting an anonymous source, reported that the Umno supreme council has officially rejected the party's move to join Perikatan Nasional.
In a nutshell, says the political observer, Muhyiddin's promise to deliver a functional government is easier said than done. Frankly, that may be quite an understatement.
Mohsin Abdullah is a contributing editor at The Edge. He has covered politics for more than four decades.