This article first appeared in The Edge Malaysia Weekly, on July 15, 2019 - July 21, 2019.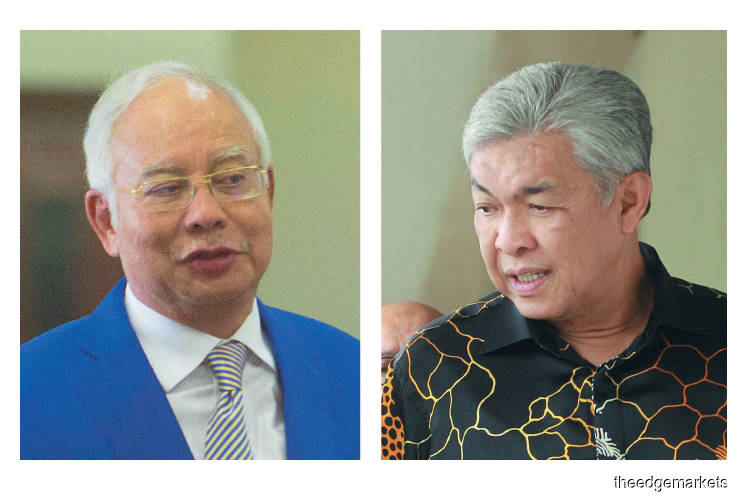 Najib at the head of BN's advisory board and Zahid helming Umno is the same combination in the coalition as it was before GE14. Photo by Patrick Goh and Shahrin Yahya/The Edge
BEING mobbed and taking selfies with fans is something Datuk Seri Najib Razak enjoys immensely. Just look at his comments on social media and one can almost feel his pride, such as during the recent Hari Raya gathering in Shah Alam, which saw some 2,000 people turning up. "I am exhausted having selfies with visitors," the former prime minister said.
This from the man who announced to the nation that he had relinquished all party positions save for the Pekan Umno chief's post following Barisan Nasional's defeat in last year's general election.
PAS leader Nik Abduh, son of the late Datuk Nik Aziz Nik Mat, is amazed at how Najib's supporters have embraced him as Bossku. Nik Abduh said Najib is now more popular than Nik Aziz was back in the day.
Barisan Nasional, at least its present leaders, must have been mesmerised by Najib's popularity, so much so that they deemed it right to appoint him advisory board chairman. Among his tasks, says BN secretary-general Tengku Adnan Mansor, is to "restore the people's support for the party".
Political analyst Professor Dr Ahmad Fauzi Abdul Hamid says if BN is banking on Najib's Bossku phenomenon for success, "perhaps it can be for the short term", adding that "long term, it will not work".
But first, just what is this set-up called the BN advisory board? Has it been in the BN operations chart all this while? Not that I can recall. Neither can Fauzi and Dr Agus Yusof, another political analyst and long-time Umno/BN observer.
Both feel it is something created recently. According to Agus, the move is aimed at putting Najib back in control. "That is why I say it is regressive," he says.
Regressive was also the term used to describe the appointment by a once staunch Najib loyalist, former minister Datuk Seri Nazri Aziz. He was quoted as saying: "We [BN] lost under whom? What kind of advice can he give us?"
Anyway, the reality is that BN now has an advisory board chaired by Najib and he is in the midst of picking the board members, according to reports.
Hence, the question that arises is will the board, whose chairman, mind you, was not long ago prime minister, BN chairman and Umno president, take precedence over the coalition's supreme council? The council has always been the highest authority in BN. Which is more powerful? Is this a case of two governing bodies in one organisation?
Besides Nazri, former Umno Youth chief Khairy Jamaluddin is also not happy with Najib's appointment. But naturally, there are those who support the move, such as Umno vice-president Datuk Seri Ismail Sabri and MCA president Datuk Seri Wee Ka Siong. Umno's strong ally, PAS president Datuk Seri Abdul Hadi Awang, did not wish to comment.
Fauzi explains that the move is damaging to Umno and BN in the long run. For one, says the analyst, Najib is tainted, obviously. While his trials on numerous charges in Malaysia are still going on, proceedings related to 1MDB in other countries show that there had been wrongdoing at the state investment fund.
Earlier this month, Hong Kong's financial regulator banned former Goldman Sachs banker Tim Leissner from re-entering the industry for life for his crimes linked to the multi-billion dollar 1MDB scandal.
Leissner and another former Goldman Sachs banker, Roger Ng, together with Malaysian fugitive Low Taek Jho, or Jho Low, have been charged in the US over their actions relating to 1MDB.
Recently, the US Justice Department was also reported to be investigating whether Deutsche Bank AG had violated corruption or anti-money laundering laws in its work for 1MDB.
Then there are the probes in several other countries.
All that is not good for Umno/BN in the eyes of the rakyat, especially if the voting age is lowered, because, says Fauzi, "young people are hard to predict and to them, image is very important".
It is interesting to note that Najib's appointment comes a few days after Datuk Seri Ahmad Zahid Hamidi announced his comeback as Umno president after handing over the duties of party president to his deputy Datuk Seri Mohamad Hasan last December.
Hence, we have Najib heading BN's advisory board while Zahid helms Umno — the same combination in BN and Umno before GE14. There are many theories floating around, not only in the political fraternity but among the people, which I will not dwell on for now.
As Fauzi sees it, this shows the lack of leadership quality in Umno/BN as they keep relying on the same players to regain support.
Needless to say, Najib and Zahid are facing an astonishing number of criminal charges in court. That, says Fauzi, will not go down well with young voters, and among the rakyat in general. History, he adds, has shown that whenever political parties suffered comprehensive defeats, they were rejuvenated by "departing from the previous leadership", citing the UK's Labour and Conservative parties as examples.
"They will re-emerge with a new image, new ideas, new leaders and even a change of policies, making their parties centrist or moving to the left and so on," he explains.
When the UK's Labour Party under James Callaghan lost badly in 1979, a young Tony Blair emerged.
In the 1990s, Blair, as we all know, took Labour closer to the centre as part of his New Labour project and became prime minister in 1997 after guiding the party to victory.
Labour is currently the official opposition in the UK parliament and since Jeremy Corbyn took over its leadership in 2015, the party has moved leftwards.
All that is to show the dynamics of politics but, apparently, Umno and BN are stuck in a time warp. More telling, according to Fauzi, is that "they are showing the rakyat that if they come back to power, this is what they are offering". Never mind whatever will be the outcome of the court cases against their top two leaders, the wrong signals are being sent now.
That, he says, is not likely to appeal to voters and even foreign investors.
Mohsin Abdullah is contributing editor at The Edge. He has covered politics for more than four decades.