This article first appeared in The Edge Malaysia Weekly, on June 3, 2019 - June 09, 2019.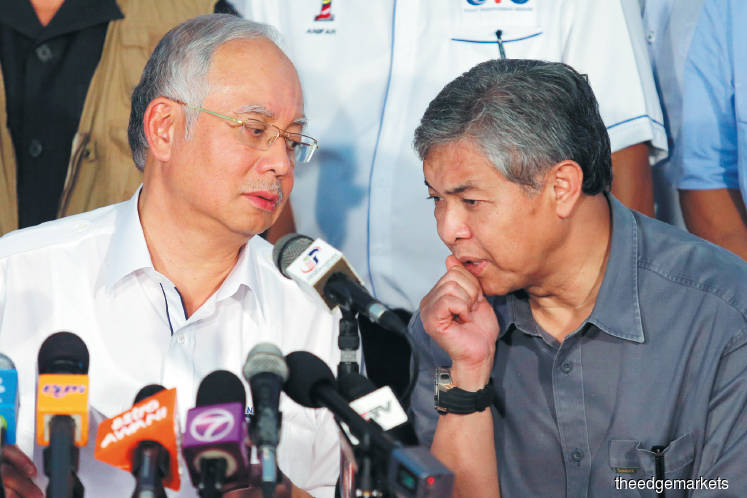 The proposed amendment to Umno's constitution would see Najib and Zahid dropped from their posts as they are facing criminal charges. Photo by Reuters
EARLY this month, I wrote about the goings-on in Umno, stopping short of calling it a power struggle. But that is what it is now, apparently developing into a full-scale tussle.
Here's the gist of it: Former party president Datuk Seri Najib Razak, boosted by his "BossKu" rebranding campaign, is eyeing a comeback. So too is current president Datuk Seri Ahmad Zahid Hamidi. He wants to end his leave and return to the fray. But there are groups in Umno who don't want that and are set to prevent it from happening. Hence, it is war.
The word is that Umno is going to amend its constitution. A special committee headed by vice-president Datuk Seri Khaled Nordin is on a fact-finding mission to gather members' views and is looking into the matter.
According to Datuk Seri Mohamad Hasan, the deputy president who is carrying out the duties of president, the amendments would involve certain provisions, including granting Sabah Umno greater autonomy so that it can make its own decisions without having to refer to party headquarters in Kuala Lumpur.
The proposed amendments are to be tabled at an extraordinary meeting to be held during the Umno general assembly from Nov 13 to 16 this year. That is all well and good.
But we are also hearing that Umno is seeking much bigger changes. The plan is to amend Clause 9.9, which will see party leaders facing court action being dropped from their posts. That translates into the ousting of Zahid as Umno president and Najib as Pekan Umno chief. That would mean no comeback for them since they are facing criminal charges.
Such an amendment will definitely split the party as Najib and Zahid have their own supporters.
Nonetheless, we are hearing of reports that Mohamad is said to be pushing for the amendments, aided by close ally Khaled.
At the time of writing, Mohamad had not responded to my queries on the matter. But in a statement reported by Malaysiakini last Thursday, Khaled said that reports claiming that Umno was preparing to amend Clause 9.9 of its constitution were erroneous and amounted to slander. Earlier, however, party secretary-general Tan Sri Annuar Musa had dismissed reports on the proposed amendments as "just speculation as nothing has been finalised yet".
I asked a close aide of Zahid about the issue and he sent me a statement by Datuk Lokman Adam, a loyalist of Najib and Zahid, who claimed that the move to drop the two leaders is very much in progress.
Lokman, who is an Umno supreme council member, confirmed that Khaled had presented a draft of the proposed amendments to the council at its last meeting. He said he was disappointed that several provisions to be amended and introduced "are clearly aimed at ousting Datuk Seri Najib and Datuk Seri Zahid from Umno".
Describing the amendments as a move made with bad intentions, he claimed that he had prepared a protest note but decided to keep quiet in the spirit of Ramadan. But a statement by Tebrau Umno head Maulizan Bujang — Khaled's right-hand man, according to him — had prompted him to lodge a protest.
Maulizan had called on Zahid to continue his leave and stop toying with any idea of a comeback as the Umno president, as well as Najib, are already tainted and their presence in the party could jeopardise its efforts to win back support. especially among the Malays.
That is not all. Maulizan had also alleged that a group of Zahid supporters are gearing up to bring back the Umno president. Lokman admitted to this. "Yes, let me be the one who says it is true because Zahid cannot be expected to wait to be ousted via the constitutional amendments before deciding to resume the duties of president."
In a hard-hitting protest note, Lokman deemed Mohamad and Khaled bernasib baik (fortunate) as they had not been charged in court, compared with "those who are really fighting tooth and nail with Tun Dr Mahathir Mohamad".
According to Lokman, there is no need for him to say who is clean and who is not, but "as a former government officer who had worked under the prime minster then, they know what I know and there is no need for me to shame anybody here".
He threw a challenge to Mohamad and Khaled to take over the leadership of Umno through the party election "if it is true that they are more clean and have the confidence of the Malays, including the middle class who place importance on a leadership which is free of cronyism and nepotism".
Adding a touch of sarcasm, he said that surely they will get much support but "sadly, a shortcut is being used to shift the goal posts instead to oust the president and former president through constitutional amendments".
Lokman reminded all in Umno that Zahid and Najib had won in the party election as well as the general election. Hence, he sees no reason for them to be removed and wants any attempt to oust them via amendments to the party constitution to be stopped.
"If you can't wait to remove Datuk Seri Najib and Datuk Seri Zahid from Umno, then it would be best for the party election to be held as soon as possible and to let the members decide," he said.
The keris, parang and lembing are out.
Mohsin Abdullah is contributing editor at The Edge. He has covered politics for over four decades.