This article first appeared in The Edge Malaysia Weekly, on January 27, 2020 - February 02, 2020.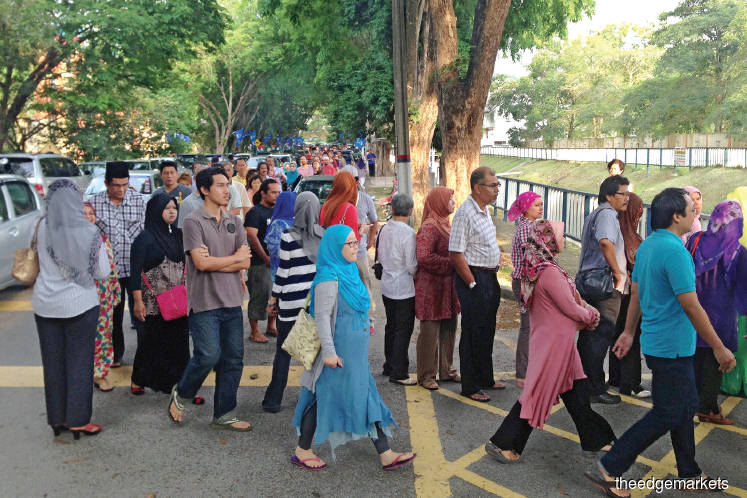 ON the eve of the recent Kimanis by-election in Sabah, former Barisan Nasional chairman Datuk Seri Najib Razak pooh-poohed the prediction by research outfit Ilham Centre that BN would lose, dismissing the analysis as politically motivated.
On the same day, Umno deputy president Datuk Seri Mohamad Hasan also rejected the findings, claiming that the independent research firm "had always sided with Pakatan Harapan".
That prompted a response from Ilham Centre CEO Mohd Azlan Zainal, who took to Facebook to remind Mohamad that this is the same Ilham Centre that had previously predicted BN victories for Cameron Highlands, Semenyih and Tanjung Piai as well as Rantau, where Mohamad himself contested.
"No problem to disagree with us. We are just reporting signals that we detected from the ground," said Azlan. Although he did not say it, I would say he was a bit cheesed off with Mohamad's accusation that Ilham Centre was biased towards PH.
Not agreeing is one thing but making allegations is a different matter, and uncalled for.
As it turned out, Ilham Centre got its forecast wrong. For the record, this was the first time Ilham Centre did not get its prediction right in any by-election held since the 14th general election.
Political research and surveys are based on a clear methodology — with specific procedures used to identify, select, process and analyse information. For by-elections, for example, it involves the sampling of voters or people eligible to vote or interviewing focus groups. Their numbers depend on the subject areas to be covered and other factors.
Projections and predictions are made based on information obtained from the focus groups and their response to a questionnaire.
Research outfits do not claim that they conduct studies on the entire electorate. The basis for their findings is always samples of target groups. Nor are research outfits and pollsters mind readers or have in their possession a crystal ball to look into the future. Hence, sometimes they get it right and sometimes they don't. Of course, consistency in getting it right leads to an institution's credibility.
We can surely recall that in 2016 Donald Trump won the US presidency although most well-known and established research outfits and pollsters predicted victory for Hillary Clinton.
Nonetheless, apart from providing a basis for predicting the outcome of elections, research studies are also used by political operatives to chart out their parties' future moves and so on.
Anyway, as for Ilham Centre not getting the Kimanis winner right, its head of research Dr Yusri Ibrahim accepted that it made a mistake and took full responsibility.
However, that is not the core issue as I see it. The part of the centre's findings on the socioeconomic status of the people in the Kimanis parliamentary constituency is at the heart of the question on the people's support.
The people there, according to Yusri, are in desperate need of attention from the state government and the newly appointed member of parliament.
One example, said Yusri, is that a large number of the residents of Bongawan, which is in the Kimanis constituency, have to travel a long distance just to make a RM50 cash withdrawal, simply because the nearest ATM is miles away.
"ATM facilities are just one small example among many other issues concerning the welfare or well-being of the people in Kimanis, such as electricity, clean water supply and paved roads," said Yusri.
During campaigning for the recent by-election, he said, Kimanis was visited by many ministers from the federal and state governments as well as many other politicians coming with all sorts of promises. Hence, the question is: Will Kimanis be deserted now that the election is over?
Kimanis is a rural constituency. It is good that Economic Affairs Minister Datuk Seri Azmin Ali has said the Warisan-led state government, in cooperation with Putrajaya, will continue to narrow the urban-rural gap.
And it is also good to know that Sabah Chief Minister Datuk Seri Shafie Apdal has given the assurance that the state government will continue to help the people of Kimanis despite the defeat of the Warisan candidate.
In the words of Yusri, the rakyat must be taken care of always — not only when their votes are desperately needed during elections. — By Mohsin Abdullah