This article first appeared in The Edge Malaysia Weekly, on January 28, 2019 - February 03, 2019.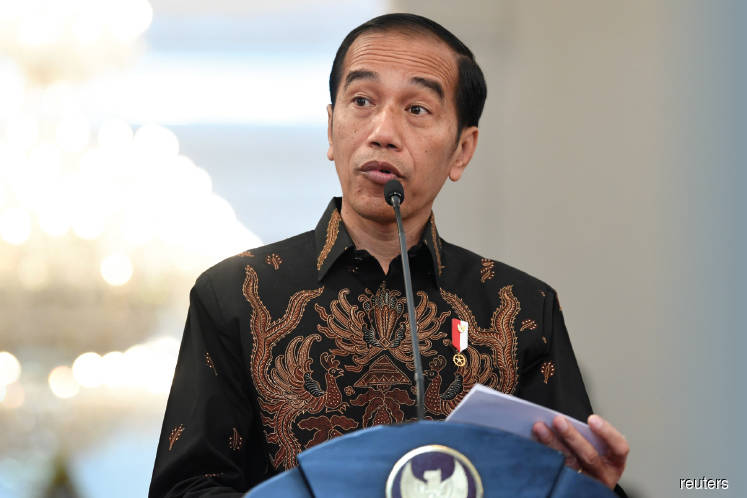 Jokowi has his hands full dealing with a divided populace. Photo by Reuters
THE Indonesian presidential election is scheduled for April this year. Joko Widodo, popularly known as Jokowi, had shown willingness from Day One of his presidency to pursue an array of economic and social reforms. He is seen as being quite successful and he is now in a strong position to run for a second term.
Observers believe that if he had his way, Jokowi would have Basuki Tjahaja Purnama, or Ahok, as his running mate in the upcoming election in an effort to take Indonesia to greater heights.
But the former Jakarta governor, who is of Chinese origin and a Christian, had been sentenced to two years in prison after a court found him guilty of blasphemy against Islam. Ahok, who now wants to be known by his initials, BTP, was released last Thursday after receiving a remission of three months and 15 days from his sentence. Nevertheless, he will not be plunging back into politics anytime soon.
Ahok's prison sentence was seen as a case of the courts succumbing to pressure from hardline Muslim groups and Jokowi has found himself under pressure from the same groups, who accuse him of not being Islamic enough.
Still he remains popular. Despite that, Jokowi is seen to be struggling to implement policies that can provide an opportunity for the conservative Muslims to turn against him. For example, he is under pressure to apply a presidential decree to ban child marriages in Sulawesi but despite agreeing to do so, has not followed through.
Due to so-called insecurities about his Islamic credentials as well as pressure from within his own coalition Jokowi has picked hardline cleric Ma'ruf Amin as his running mate, his vice-president.
It is said that Ma'ruf will insulate Jokowi from the accusations and charges of the Islamic groups. It goes without saying that Jokowi needs all the votes he can muster from Muslims, hardliners included. Indonesia has the world's biggest Muslim population.
The last thing he needs is anti-Ahok-style demonstrations but his enemies are revving up the religious rhetoric, which is divisive for Indonesia's pluralistic society that has prided itself for practising a moderate form of Islam.
Challenging Jokowi for the presidency is former military strongman Probowo Subianto, who seems to be taking an Islamic stance and is currently enjoying support from hardline groups.
Ahok's early release and Jokowi's review of his own decision to release controversial cleric Abu Bakar Ba'asyir from prison will be exploited by Jokowi's detractors, no matter what his justifications are. He would be accused of practising double standards and bowing to foreign pressure.
Abu Bakar is said to be behind the Bali bombing in 2002 but it was announced recently that the 80-year-old, who is suffering from poor health, would be released from prison six years early on humanitarian grounds. The Jokowi administration faced a deluge of criticism for the planned release, in particular from Australia, whose citizens accounted for the highest number of fatalities in the attack.
After his ministers were quoted as saying that Indonesia is not subservient to Australia, Jokowi issued a statement saying Abu Bakar's release was off and the cleric must first pledge loyalty to the state ideology — the Pancasila — if he wants to be paroled.
Whether that will cost him votes is hard to tell. But it is clear that Jokowi has his hands full in dealing with a divided populace — on the one hand, trying to placate the people who want him to continue with Indonesia's moderate ways and build on its economic success story, and on the other, pacifying the people who want to change all that for a strict interpretation of Islam.
Sadly, religion plays a big part in politics.
In India, Narendra Modi led the Bharatiya Janata Party (BJP) to national power, riding on the support of Hindu hardliners, and went on to pursue a Hindu agenda, or Hindutva.
Last December, BJP registered losses in five state elections and observers say it was because the party had deviated from the development agenda that had swept it into power in 2014.
The pursuit of Hindutva has backfired, say observers. Of course, there are people who disagree. They argue that while voters are disenchanted with the government's economic policies, they have also lost faith in its commitment to its religious agenda. So, are they saying that Modi's administration is not being Hindu enough?
Whatever it is, I feel Jokowi and the people of Indonesia can learn from India. In fact, the lessons are applicable to Malaysians as well. We too have groups that are bent on exploiting racial and religious issues to the hilt for political purposes.  And they are getting louder and bolder — and gaining ground.
Just how does the Pakatan Harapan government plan to tackle the problem? I am not privy to its plans and strategies, but this much I can say: the government needs to strike the right balance in ensuring progress as well as fostering abiding peace and harmony for all our communities.
We will talk some more on this next week.
Mohsin Abdullah is a contributing editor at The Edge. He has covered politics for more than four decades.
 
Save by subscribing to us for your print and/or digital copy.
P/S: The Edge is also available on Apple's AppStore and Androids' Google Play.