This article first appeared in The Edge Malaysia Weekly, on June 15, 2020 - June 21, 2020.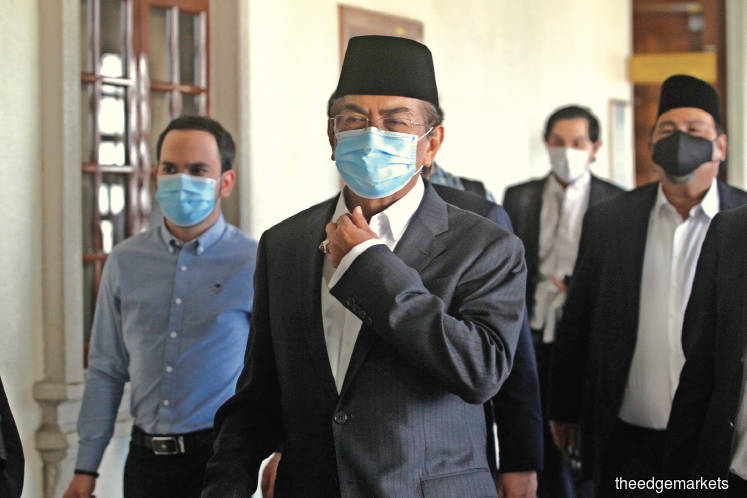 ALMOST immediately after former Sabah chief minister Tan Sri Musa Aman was acquitted of all corruption charges, Datuk Seri Bung Moktar Radin, the state Umno chief, told the media that the people can expect "many things to happen" this month.
Although he admitted that it is difficult to predict what may happen, Bung said, "I think we will see many surprises this month. Sabah Umno is ready."
Naturally, he did not say what those surprises were, but he did say that, with Musa being freed of all charges, Umno would be strengthened. Bung also did not say whether the return of Musa could mean that Bung may be replaced by the senior leader as Sabah Umno head.
Political observers expect Musa to play a major role in toppling the Warisan-led state government, considering his "vast experience and resources" at his disposal.
"Musa's freedom has given a new lease of life to Perikatan Nasional to unseat Warisan and tilt the balance of power at the federal level in its favour," says one observer.
Rumours of party hopping have been rife in Sabah, where Umno, Parti Bersatu Sabah and Parti Solidariti Tanah Airku are in alliance. It is said that they have been trying to get Bersatu and Warisan assemblymen to switch sides and topple the Warisan-Pakatan Harapan-Upko state government led by Chief Minister Datuk Seri Shafie Apdal.
The state government has had to fend off rumours of an imminent fall, with Shafie issuing a reminder that the Warisan-led government holds 47 of the 65 seats in the state assembly and has the majority.
Incidentally, such speculation has come up just as Shafie's name is being floated as a possible deputy prime ministerial candidate should Pakatan Harapan come back to power at the federal level.
Last week, eight Warisan MPs issued a joint statement rubbishing a report that had suggested a number of them were about to exit the party. They have pledged allegiance to and reaffirmed the leadership of Shafie, who is also Warisan president.
Shafie was reported to have said that he was aware of attempts to buy assemblymen and MPs and also that many of his people were facing harassment, but he was confident that they would not buckle under pressure.
Last Thursday, Warisan vice-president Peter Anthony was charged with money laundering. Anthony, who is Sabah infrastructure development minister, is claiming trial.
The Warisan party in Sabah that Prime Minister Tan Sri Muhyiddin Yassin is seeking to win over currently has nine MPs in parliament who are aligned to Pakatan Harapan.
Political analyst Prof Dr Ahmad Fauzi Abdul Hamid says Perikatan Nasional has perpetuated a trend of bringing down and propping up governments via defections.
"This culture of party hopping has become commonplace as far as Sabah politics is concerned. But should Sabahans be proud of it? I don't think so," says Fauzi.
Meanwhile, Shafie says he is ready to fight any attempt to topple his government.
The war in Sabah is expected to go into overdrive in the coming weeks, as Shafie is no pushover himself and has vast experience in navigating Sabah's tough political terrain.
Both Musa and Shafie are combative in nature and their duel could well determine the future of Perikatan Nasional and Pakatan Harapan.
Get ready for the action to begin.