This article first appeared in The Edge Malaysia Weekly, on March 25, 2019 - March 31, 2019.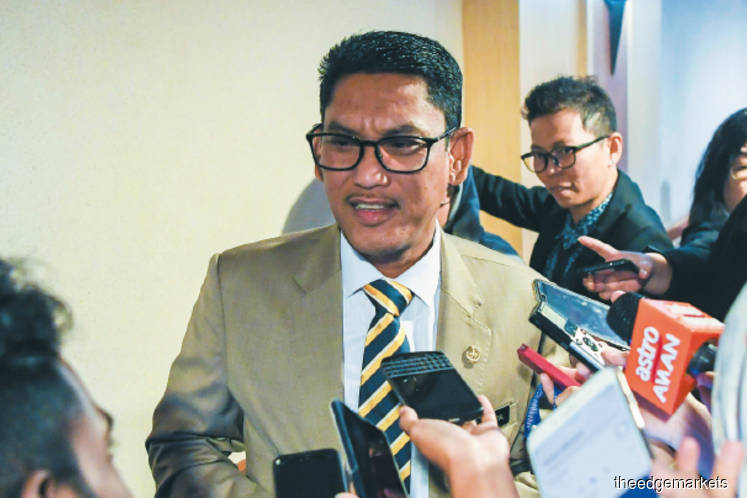 Ahmad Faizal has been embroiled in several controversies. His style of administration and personal behaviour are often criticised. Photo by Bernama
TUN Dr Mahathir Mohamad's recent statement dismissing Barisan Nasional's claim that he had endorsed a move to replace the Perak menteri besar has not stopped talk that a new leader may be chosen for the state.
The view that he must be replaced fast to save the state government is gaining momentum. And people are beginning to say there is no smoke without fire.
It is easy to accuse BN of trying to drive a wedge between the parties in Pakatan Harapan. Most times, that may be right.
But in this case, the general belief is that there is great discontent with Menteri Besar Datuk Seri Ahmad Faizal Azumu, even among PH leaders.
Apparently, the resentment is also felt in the menteri besar's own party — Parti Pribumi Bersatu Malaysia. It was reported last month that eight divisions in Perak Bersatu had called for Ahmad Faizal to be dropped as state Bersatu chief, prompting party president Tan Sri Muhyiddin Yassin to say that "the matter will be dealt with".
Ahmad Faizal has been embroiled in several controversies. His style of administration and personal behaviour are often criticised.
Perak under his leadership is said to be going nowhere as there have been no new policies since PH took control of the state — all of which detractors say will be detrimental to the state government.
One of the biggest controversies must surely be the issue raised by Perak PKR chief Farhash Wafa Salvador, who questioned the menteri besar's decision to award 400ha of forest land without open tender to a RM2 company. The other is his mishandling of land rights of the Orang Asli.
Hence, the continuous talk of his ouster. As a matter of fact, the word on a couple of occasions was that a vote of no confidence against him was to be brought to the state assembly. That did not happen, though. Now we are hearing that it may happen at the next assembly sitting.
Sources say the pressure is on the menteri besar and the plan to unseat him is real. But whether it will be successful is hard to tell.
A poser within the political fraternity in Perak is, who will take over as menteri besar?
To begin with, Ahmad Faizal's appointment as menteri besar following last May's general election raised many an eyebrow. He was the sole Bersatu candidate in Perak to have won in the election. And that one seat was enough for Bersatu to be given the menteri besar's post.
The party now has one more seat as the result of an Umno state assemblyman crossing over. PKR has six seats; Parti Amanah Negara, four; and DAP dominates with 18. That gives PH the numbers to govern the state.
Therefore, if there is a need to replace the menteri besar, PH will have to cast its net wider and look beyond Bersatu, as one political observer sees it.
According to the state constitution, the menteri besar must be a Malay Muslim. Based on the current representation, PKR, Amanah and even DAP have Malay Muslim assemblymen.
The PH leadership can, if it wants, pick any of the assemblymen from the three parties to be menteri besar.
The question is, will Bersatu agree to it? Not if Bersatu feels that since the post was awarded to it in the first place, any replacement ought to be from the party.
Fair enough, although no party can claim exclusive right to any post, including that of the menteri besar. This is notwithstanding that in reality, things have to be distributed among component parties in a coalition.
As said earlier, the only Bersatu assemblyman apart from Ahmad Faizal is Sungai Manik representative Datuk Zainol Fadzi Paharudin, who crossed over from Umno. It is quite impossible that a new "convert" will be picked as menteri besar.
So, the replacement will be from PKR, Amanah or DAP, unless Bersatu can come up with a solution if it wants the post to remain with the party.
According to a political observer, Bersatu has to act fast to ensure its survival in Perak.
One big question: Should Ahmad Faizal be removed? Detractors and critics (and there are many) say yes.
They say he has not delivered and as a result, the state government is not well received by the rakyat.
But former Umno warlord Datuk Radzi Manan has defended Ahmad Faizal, saying that the menteri besar should be given time.
Radzi, whose daughter is married to Ahmad Faizal, was quoted by The Star as saying that his plans will become clearer by the second year.
However, the bigger question is, will Ahmad Faizal be actually removed? He is the state assemblyman for Chenderiang and member of parliament for Tambun.
It all depends on PH, chiefly Bersatu, and in particular, Mahathir.
And the Perak palace.
Mohsin Abdullah is contributing editor at The Edge. He has covered politics for the past four decades.
Save by subscribing to us for your print and/or digital copy.
P/S: The Edge is also available on Apple's AppStore and Androids' Google Play.