This article first appeared in The Edge Malaysia Weekly, on July 8, 2019 - July 14, 2019.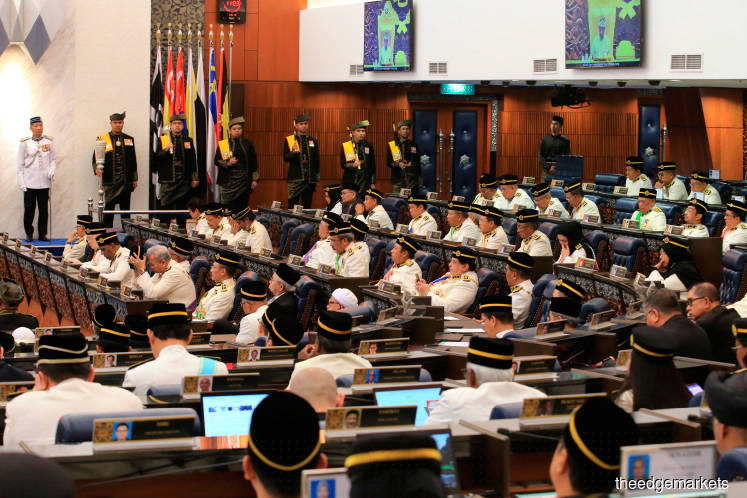 WHEN it comes to politicians declaring their income and assets, the public tend to regard it in a negative light, especially when the assets declared are jaw-dropping in value. And that may bring insinuations of shady business, which could be undeserved. For that, I feel sorry for the politicians. I truly do.
Why the emphasis on politicians and not civil servants and others with influence? Well, for one thing, politicians crave public support to win elections, and in politics, perception is everything.
On the good side, declaring assets to the public is seen as a nod to transparency, and rightly so. Being transparent is one characteristic any politician could do with.
Recall that in the current parliamentary sitting, the government has tabled a motion to compel all lawmakers to declare their assets to the Malaysian Anti-Corruption Commission (MACC). The declaration also applies to their spouses, children below 21 and their trustees.
The key word here is all. Before this, only MPs from Pakatan Harapan were required to do so, not by law but by the coalition itself as part of its effort to combat corruption. It was a key pledge in PH's GE14 manifesto and the asset declarations are made public on the MACC website.
The motion was passed by the Dewan Rakyat, but not before opposition MPs objected to it. Datuk Takiyuddin Hassan of PAS started the ball rolling by stating his refusal to declare his assets. Others followed and the opposition was united in a show of support for the PAS MP, citing all sorts of excuses to make their case, including fears for their security and that of their families.
Takiyuddin's fellow MP Datuk Tuan Ibrahim Tuan Man, the deputy PAS president, even brought in the religion factor, alleging that Prophet Muhammad taught that "when God gives you possessions, do not declare it as others will be envious". This was later disputed by many Islamic scholars.
Their strong opposition to the bill left many of us rakyat pondering whether MPs who are reluctant to declare their assets have something to hide. People can't be blamed for entertaining such doubts. Remarks by Umno MP Datuk Seri Tajuddin Abdul Rahman did not help matters.
During the debate on the motion, Tajuddin, the Pasir Salak MP, reportedly said that lawmakers have a fundamental right to privacy. According to him, details of an individual's income can be provided to the MACC and are already furnished to the Inland Revenue Board, which he said are reasonable measures.
The Malay Mail Online quoted him as asking, "Why the need to publicise about it in portals? What is the right of the public to know about my assets and your assets?
"To know this [MP] profited RM100 million, RM200 million or RM1 billion and then have to publicise it in the portal so people will know? What is the need? And after all, this is the basic right of a person."
Politicians with plenty of money in their possession would naturally be uncomfortable if this information is made public. And it is not only because of concern that their riches may attract thieves.
Remember a certain former prime minister who said he had inherited wealth from his family?
Anyway, there is nothing wrong if a politician has a lot of money in his bank accounts, and properties to go with it. The question is where did the money come from?
It is a fact that there are politicians who made their millions before coming into office. Nothing wrong with that, surely. We can't hold anything against them just because they are rich or were born rich. There is no sin in being rich if it is clean money.
But when one is living beyond one's means, that is when declaring assets will come in handy, at least to some extent.
So, when opposition MPs do not support the parliamentary motion, coupled with Tajuddin's remarks and Takiyuddin's adamant stand against declaring his assets, negative perceptions would arise. Politicians know that can be costly.
Perhaps it dawned on them and the motion was carried by the House, albeit in a strange way. According to Malaysiakini, it was approved via a voice vote without objection from the opposition (surprise, surprise).
Speaker Datuk Mohamad Ariff Md Yusof called for a voice vote and asked whether MPs agreed with the motion. From the government's side, as expected, came a chorus of "setuju" (agree).
The Speaker then asked if anyone disagreed with the motion. The opposition side was largely silent, startling many, including Mohamad Ariff.
Hence, he noted, "There is no voice [in the House] that disagreed." The sitting was then adjourned.
Individual votes were not recorded as there was no request for a bloc vote.
Just what is one to make of the opposition stance? Did they have a change of heart upon realising that not supporting the motion would give rise to negative perceptions of them? But is it a case of too little too late? Or were they being non-supportive yet supportive, having their cake and eating it too?
Mohsin Abdullah is a contributing editor at The Edge. He has covered politics for more than four decades.