This article first appeared in The Edge Malaysia Weekly, on July 29, 2019 - August 04, 2019.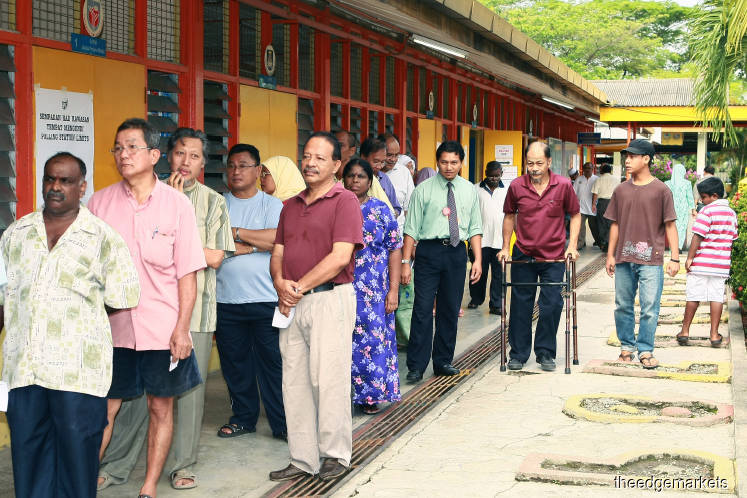 THE recent call by PAS deputy president Datuk Tuan Ibrahim Tuan Man to the Pakatan Harapan (PH) government to dissolve parliament and pave the way for a snap election, many political pundits believe, is related to the PAS–Umno charter — an agreement to spell out cooperation between the two Malay parties.
Even as Tuan Ibrahim cited PH's "failure in ensuring political stability and harmony in the country" as a reason for making the call, he was directing Umno and his own party to expedite the charter.
The charter is seen as a very important document for putting the PAS-Umno pact on a solid footing. The charter, or at least its final draft, was seen to have stalled, and this is delaying plans to bring the pact to a higher level — much to the chagrin of the PAS and Umno leadership.
The official explanation from both parties for the delay was that PAS and Umno had to postpone several meetings of the technical committee "to focus on ongoing proceedings in parliament, in particular, Undi18," referring to the move to lower the voting age to 18 years through a constitutional amendment. That reason appears to be valid enough.
But political writer and long-time PAS watcher Mohamad Sayuti Omar believes that several terms and conditions of the charter required of the two parties have not been achieved.
"The Umno secretary-general wanted to unveil the charter after Hari Raya but that did not happen, which goes to show that both parties were still not satisfied with certain matters. And what took place at the recent PAS muktamar played a big role as well. PAS members wanted their party to play a dominant role in the pact and should PAS-Umno win the next election, they insist that PAS must be the party heading the government."
But now, there seems to be a bridge over the troubled waters. Umno president Datuk Seri Zahid Hamidi and his PAS counterpart Datuk Seri Abdul Hadi Awang are set to sign, seal and deliver the pact on Sept 14. The signing of the charter will take place at the Putra World Trade Centre.
Basically, the charter is based on the principle of taawun siyasi or political cooperation. Both parties will not contest against each other in state and parliamentary seats, paving the way for straight fights between PH and the two parties in Malay-majority seats in the next general election.
That would mean status quo for seats currently held by PAS and Umno incumbents or seats which PAS or Umno stand a good chance of retaining. For instance, Marang, where the incumbent is Abdul Hadi, is one such seat. Under the charter, Umno will allow Hadi to defend the seat against PH, an independent or any other candidate. In Bagan Datuk, Zahid Hamidi will be accorded similar treatment.
That would mean all incumbents would be defending their seats come the next election barring any unforeseen circumstances. Seen from another perspective, there is no room for newcomers or budding hopefuls as far as contesting party strongholds is concerned.
The prickly issue would be picking candidates in PH seats where the votes for Umno and PAS combined were more than those for PH in GE14. Both parties rate their chances of wresting these seats — numbering about 20 — in the next election as "very bright".
But Ilham Centre CEO Azlan Zainal says it is not as simple as how PAS and Umno envisage it "because giving votes is not as simple as making a bank transfer" as there are many other factors to consider, including the demographics of new voters.
According to Sayuti, "In politics, there has never been a black-and-white agreement. There has never been a political pact bound by agreement using the services of lawyers. Signing the charter does not mean all is smooth and safe."
Nevertheless, I join Sayuti in saying kudos to PAS and Umno for coming up with the charter although it is still not known at this point whether the suggestion made by former Umno Youth head Khairy Jamaluddin about what PAS and Umno could offer to the non-Malays would be reflected in it.
As Khairy sees it, cooperation with PAS must not result in Umno losing non-Malay support. But it is a fact that of late, PAS and Umno, in particular,  have hurt the feelings of non-Malays with their racial and religious rhetoric, which they continue to fan to gain Malay support in their efforts to win the next election.
And talking about elections, a quick rewind is in order on the call by Tuan Ibrahim for PH to call a snap election. Apart from wanting the charter to be ready quickly, the call reflects the fact that his party and Umno are confident of winning a snap election and even GE15.
The reason is obvious. They feel the current spat in PKR is irreversible and will weaken PH.
With the voting age lowered, the number of voters is set to swell, with the biggest increase among Malays, being the majority. PAS and Umno feel that most young Malays will vote for them "demi bangsa dan agama" if not for anything else.
They sense also that the Malay heartland is getting fed up with what is going on within PKR and PH, which has distracted them from governing the country — so much so that it has stopped MPs and state assemblymen from Umno from "taking up the offer" from Prime Minister Tun Dr Mahathir Mohamad to join Bersatu.
In fact, there have been cases of those who had joined Bersatu returning to their former parties. To Umno and PAS, the situation is ripe for the picking.
Mohsin Abdullah is contributing editor at The Edge. He has covered politics for more than four decades.