This article first appeared in The Edge Malaysia Weekly, on February 24, 2020 - March 01, 2020.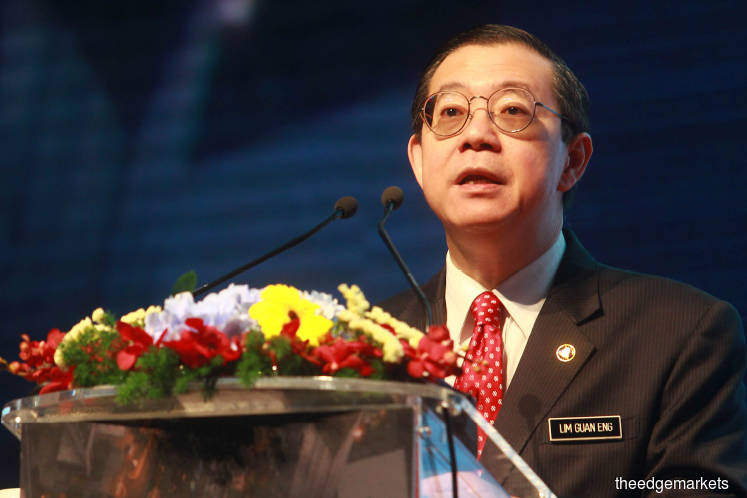 THIS has gone too far, no matter what one feels about Lim Guan Eng and the DAP. Some people are baying for Lim's blood over developments relating to Tabung Haji.
Apparently, there is an image created by God knows who circulating on social media with a picture of Lim, describing the DAP secretary-general as "Islam's number one enemy" and "whose blood is halal (to be spilled)".
The accompanying caption reads: "This Chinese is the one damaging TH's (Tabung Haji's) assets belonging to the Malays. He doesn't deserve to live in Tanah Melayu".
The message is clearly meant as incitement. This must stop. Those responsible must be hauled up to face the law.
It is good that Datuk Seri Mujahid Rawa, the minister in charge of Islamic affairs, has stepped forward to excoriate those targeting Lim. And he issued a warning: "Do not easily declare someone's blood halal." Still, I would say it is not enough. Need we be reminded that in the process, Mujahid has been accused of being a servant of Lim, carrying out a command "to defend his boss".
Pakatan Harapan (PH), in particular Amanah, has always been accused of being subservient to the DAP, which, detractors say, is the dominant power in the coalition.
As Mujahid rightly puts it, the Tabung Haji issue is clearly being used by some people to sow hatred and slander and "to legitimise their hatred".
Tabung Haji is besieged with problems, particularly financial issues. In the process of its rehabilitation by the government, Lim has become the target, although all policy decisions are made by the Prime Minister's Department in accordance with the Tabung Haji Act.
Mujahid has repeatedly said that all decisions are made with reference to the Tabung Haji Act and that the minister of religious affairs, not the finance minister, is responsible for the institution. But that has not brought about the desired effect. Accusations continue to be made.
In fact, we been hearing for ages of accusations that under the PH administration, Tabung Haji has been put under the care of the finance ministry and that Lim, by virtue of being the finance minister, is controlling the board, which Muslims/Malays hold dearly.
Mujahid had pointed to a fake image on social media, apparently showing Lim chairing a Tabung Haji-related meeting.
Sadly, such lies and slander, as Mujahid puts it, are swallowed wholesale by a good number of Muslims/Malays. It is no secret many of them are not too happy that Prime Minister Tun Dr Mahathir Mohamad appointed a Chinese as his finance minister. Never mind that the finance minister when Tunku Abdul Rahman was PM was Tun Tan Siew Sin. That was never a problem back then.
As mentioned earlier, Tabung Haji has run into all sorts of financial complications. A few days ago, an internal notice, purportedly announcing the closure of four Tabung Haji-owned hotels, went viral on social media.
The two-page notice was said to have mentioned a separation scheme for employees. Self-proclaimed defenders of the religion were up in arms and went to town with their objections to the move.
Tabung Haji subsequently issued a statement stating that the hotels would continue to operate and that none of their employees would be laid off.
According to Mujahid, the four hotels are among 29 assets owned by Tabung Haji that had incurred losses. And he was quoted as saying that "the principle in the recovery of Tabung Haji is to identify assets which incur losses. This is to save it from the deficit left by Umno".
Mujahid said the ownership of the four hotels in question has been transferred to a special purpose vehicle owned by the government at the original value of the assets to ensure the continuity of Tabung Haji's operations.
Taking to Twitter, Mujahid said, "They (the critics) are not interested in the efforts to rescue Tabung Haji but want to spread lies to soil Pakatan Harapan's reputation despite Harapan saving a RM10 billion deficit due to the previous (BN) government."
Tabung Haji said the hotels had been transferred to the Ministry of Finance's special purpose vehicle Urusharta Jamaah Sdn Bhd.
Urusharta Jamaah was specially formed to take over Tabung Haji's assets consisting of 29 real estate assets, one unlisted company and equity holdings worth RM9.63 billion.
Tabung Haji and Urusharta Jamaah, in a joint statement, said the hotels would continue operating under the new management of the latter's unit, UJ Property Management Sdn Bhd, without any downsizing, from April.
The transfer of the hotels was part of TH's asset transfer exercise. To complete the ownership transfer, Urusharta Jamaah had issued sukuk worth RM19.6 billion and paid RM300 million in cash, according to the joint Tabung Haji-Urus Jamaah statement.
A political observer said, "Guan Eng has become the punching bag for PAS to justify their accusation that the Malays and Islam are under threat by the so-called dominance of the DAP in PH.
"So, it was good that Mujahid was quick to act on this fake news but PH leaders have been slow to defend DAP against other attacks by PAS. This sort of gutter politics, if left unchecked, will breed more racial discord and split Malaysians further."
Hence, he says, the Malaysian Communications and Multimedia Commission and the police need to stamp out such fake news as soon as possible.
I totally agree although admittedly, both agencies are working hard to handle the problem. Still, more needs to be done. That is no easy feat, but there are no two ways about it. They must fight, and fight hard.
As for the attacks on Lim, a police report has been lodged by an officer from the Islamic Affairs minister's office, saying that "the spread of the photograph through social media is a deliberate attempt to spread religious and racial hatred".
Indeed, that is what it is.
Mohsin Abdullah is a contributing editor at The Edge. He has covered politics for more than four decades.