This article first appeared in The Edge Malaysia Weekly, on November 25, 2019 - December 01, 2019.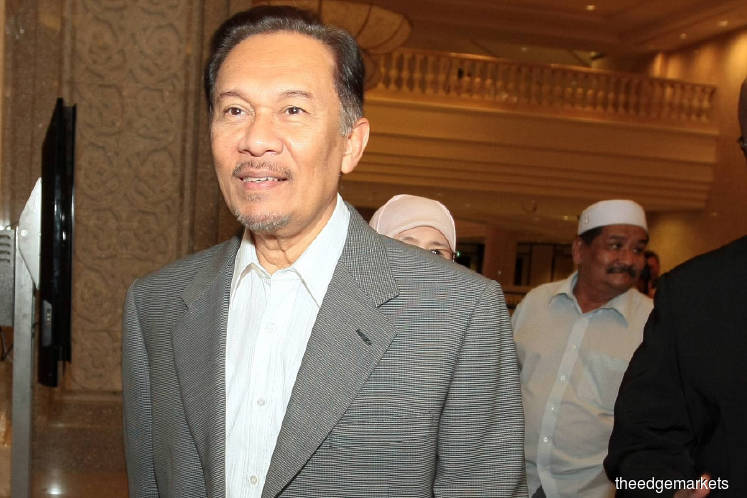 IF it was supposed to be a secret meeting, the organisers certainly did not do a good job of maintaining secrecy. The recent meeting took place at the residence of Datuk Seri Azmin Ali and was attended by several MPs from Barisan Nasional and PKR. Members of the media were camped outside the residence observing who went in and who went out. As the meeting was being held, the public was made aware of it online.
Perhaps it was meant to be so. Let the public know of the meeting via the media but without revealing details. If that was the plan, the organisers were successful. We now have many people talking about it but they do not know what transpired. Even the prime minister admitted he knew about the meeting but not what was discussed.
Days later, he sought an explanation from Azmin and said that Azmin has the right to meet anybody. Obviously, he was satisfied with the reasons Azmin gave for hosting the meeting.
Nonetheless, many believe it was about making sure Tun Dr Mahathir Mohamad serves as prime minister for the full term. After all, Azmin and his good friend, Umno's Datuk Seri Hishammuddin Hussein who attended the meeting, have made it known they want Mahathir's premiership to continue. Put another way, they do not want Datuk Seri Anwar Ibrahim taking over anytime soon. And the assumption is that the 17 BN MPs and five from PKR who were invited to the meeting support the Azmin-Hishammuddin plan.
Perhaps the urgency of the meeting, held soon after the Pakatan Harapan defeat in Tanjung Piai, had something to do with calls for Mahathir to take responsibility for the loss.
We are hearing rumours of PH component party leaders wanting to move a no-confidence vote against the prime minister, and Anwar requesting media coverage for an alleged meeting with the Yang di-Pertuan Agong at Istana Negara. Anwar branded the rumours fake.
Then there is former Umno youth chief Khairy Jamaluddin issuing a denial that he had submitted a private motion to debate the transition of power between Mahathir and Anwar.
"Please do not drag me into this backroom intrigue surrounding the succession. I am not involved and have no interest in being involved," said Khairy.
Quite a number of people are saying the meeting at Azmin's residence was in reality about creating a government that would exclude DAP and Amanah — both members of the current administration. Such talk is nothing new and many see the meeting at Azmin's residence as a sort of "renewed effort".
Anwar, the PKR president, wants Azmin, the deputy PKR president, to explain what the meeting was all about. The latter seems reluctant and, as I write this, he has not offered any explanation except to say that as a minister, he meets everybody who wants to meet him and there was nothing strange about the meeting.
A political observer, however, can't help but ponder: "Is Azmin, a senior minister, helping to topple his own party boss and the PH government? He is not saying but the signs are quite telling."
Whatever Azmin and Hishammuddin are doing, the general consensus is that the government they are hoping to create (if that is what they are doing) could be labelled a "backdoor government".
Umno, meanwhile, wants to haul up Hishammuddin and its MPs who attended the meeting. Apparently, Umno was not informed of the meeting and is not condoning Hishamuddin's action — calling it a betrayal of the people who voted for BN at Tanjung Piai.
A highly placed source in Umno accuses Hishammuddin of pursuing his own interest and "trying to go up via the back door". Political analysts interviewed by The Malaysian Insight say political survival is the name of the game for the former Umno vice-president as well as Azmin as both may expect "to gain little favour from Anwar when he takes over the prime minsiter's office as agreed under a succession plan endorsed by the parties in Pakatan Harapan".
Umno is saying that following the big win in Tanjung Piai, the party and BN must work to build on the momentum to win GE15. Umno president Datuk Seri Ahmad Zahid Hamidi, obviously buoyed by the victory, agreed with those urging the PH government to hold the general election now.
But despite the confidence, the Umno source also tells me "we are on the look out — in Malay 'intai' — for opportunities to be in the government before GE15, although we hold to the principle of not becoming the government through the back door".
To me, that is a contradiction through and through.
However, Umno secretary-general Tan Sri Annuar Musa says: "No backdoor government. If the current coalition collapses, we — that is BN and MN (Muafakat Nasional) — will consider the options to form an alternative government. For now we shall remain the opposition and prepare for GE15."
Understandably, he did not want to say more when asked what is meant by alternative government and how Umno would form it and with whom, except to say "we cannot say at the moment — wait and see".
To the political observer, as things stand, "Umno seems divided into two factions led by Zahid and Hisham, both open to forming backdoor governments to replace PH. Zahid is taking more of a wait-and-see approach while Hisham's faction is being helped by Azmin and his allies in PKR, former Umno MPs who are now with Bersatu as well as some current Umno MPs."
Which brings to mind an article I wrote in September last year for The Edge's "Remaking Malaysia" pages. It was titled "It's time for wheeling and dealing" about the opposition's plans to rebound after losing GE14 through deals with the ruling parties as a shortcut back into government.
Thus, we have a situation where an opposition group — finding the five years before the next general election too long a time to wait (and with no guarantee of winning) — and some parties in government are willing to entertain opposition gestures to get the numbers to consolidate an individual party's positions and for self-interest.
Mohsin Abdullah is contributing editor at The Edge. He has covered politics for more than four decades.