This article first appeared in The Edge Malaysia Weekly, on April 1, 2019 - April 07, 2019.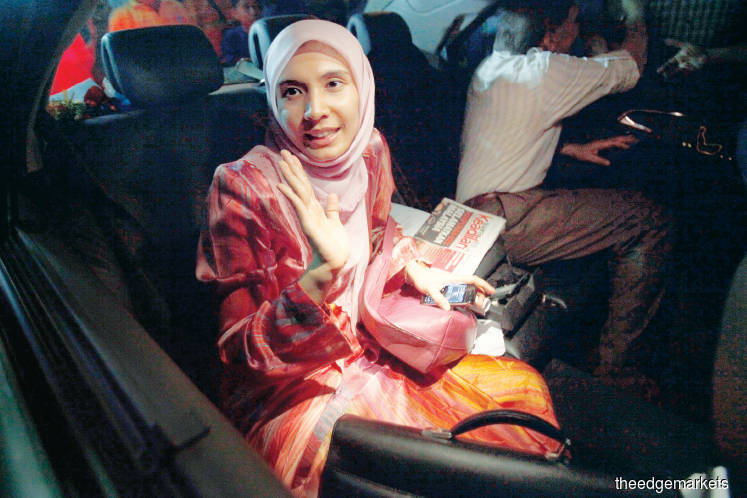 Many in the political fraternity doubt Nurul Izzah will leave politics for good. Photo by Reuters
SEEING as Nurul Izzah Anwar has fashioned herself as a person who holds reforms close to her heart, what she said recently about the lack of efforts by the Pakatan Harapan government to implement reforms is understandable. After all, she is known as Puteri Reformasi (Princess of Reform).
But was she being fair when she voiced her disappointment with the government? After all, some reforms have been put in place. For example, the media is no longer government-controlled, as pointed out by Amin Iskandar, former editor of the now-defunct The Malaysian Insider.
Writing in his column in Malaysiakini, Amin said Malaysia is now a truly democratic country and even the opposition — Umno — is in control of some of the media. That is reform for you.
I must say that he has a point. This newfound freedom of expression has resulted in many individuals, including the former prime minister Datuk Seri Najib Razak and his cohorts, having a field day saying what they want, much to the unhappiness of many a PH supporter.
Then there is the "adhering to the Rule of Law" promise that the government is seen as sticking to very closely. So much so that it is being accused of being weak in allowing people such as Najib to roam free despite the numerous criminal charges against them.
But then, Nurul Izzah said that the slow pace of reforms is frustrating. However, Prime Minister Tun Dr Mahathir Mohamad responded by saying that he is disappointed in others as well, just as how they feel about him over the slow implementation of reforms by his administration.
The fact that Nurul Izzah was able to say her piece speaks volumes of this "democratic new Malaysia" that Amin spoke about, notwithstanding the blowback her remarks received from people in Bersatu and even PKR.
Perhaps talking to a Singapore newspaper was not the cleverest thing to do considering the love-hate relationship between Malaysia and the island state. What more, calling Mahathir a former dictator, although Nurul Izzah says she had used that very same description on the prime minister a number of times previously.
Still, says a political observer, "No one [in government] is talking about the message as many are too absorbed with the messenger, more concerned that Nurul Izzah spoke to Singapore's The Straits Times.
"The message she carried resonated well with activists and civil society leaders who are frustrated with the government's U-turns and lack of commitment to its election manifesto."
Asrul Hadi Abdullah Sani, an analyst at Bower Group Asia, says, "Her comments genuinely reflect her frustrations with the current administration and it would only encourage or empower the voices of criticism against the prime minister within her own party."
There is this general belief, speculation, theory or what have you that there are certain elements within PH working to prevent Nurul Izzah's father, Datuk Seri Anwar Ibrahim, from succeeding Mahathir as prime minister. This is despite the agreement by the PH Presidential Council to that effect. Mahathir himself has said several times he would honour his promise of handing over the premiership to Anwar.
Nevertheless, when Nurul Izzah quit her post as PKR vice-president last year, many chose to believe it was linked to that belief. And her latest remarks to The Straits Times have reignited the speculation.
True or otherwise, the question to ask is, is she making life difficult for her father?
Asrul does not think Nurul Izzah's comments "will help Anwar as he needs to unite the coalition and not be associated with the divisive comments made by his daughter".
In short, Nurul Izzah has put Anwar in an awkward position. He has come forward to reiterate his support for Mahathir and defend his daughter at the same time. He told reporters at Parliament a few days ago: "Our position including those of myself and my family is to give support and the space to Dr Mahathir as our leader and prime minister.
"That does not mean we cannot have differences in opinion or to give advice." He added that PH is not like the previous Umno government.
Nurul Izzah's mother, Deputy Prime Minister Datuk Seri Dr Wan Azizah Wan Ismail, has weighed in on the issue, claiming that Mahathir "also agreed with Nurul Izzah about her disappointment, so there is no issue [with her remarks]".
As Anwar sees it, his daughter's comments were not wholly aimed at Mahathir but were directed at other leaders as well. He did not name those other leaders.
But to the political observer I spoke to earlier, the fact that Nurul Izzah spoke "will draw Anwar's detractors — in and outside of PKR — into another round of mudslinging". That Anwar will have to deal with.
As for Nurul Izzah, what's next?
Despite the current situation and her declaration that she is serving her final term as a member of parliament, many in the political fraternity doubt she will leave politics for good.
Political science professor Ahmad Fauzi Abdul Hamid was quoted by Singapore's digital paper, Today, as saying: "My bet is she will continue to be in politics because her voice, even as a backbencher, carries much significance" and "she has too much politics in her blood".
And if I may add, she will stay on, if not for anything else, just to prove one-time-friend-turned-foe Datuk Seri Azmin Ali right — that the nation needs "doers", not "crybabies".
Now wouldn't that be ironic?
Mohsin Abdullah is a contributing editor at The Edge. He has covered politics for more than four decades.