This article first appeared in The Edge Malaysia Weekly, on June 10, 2019 - June 16, 2019.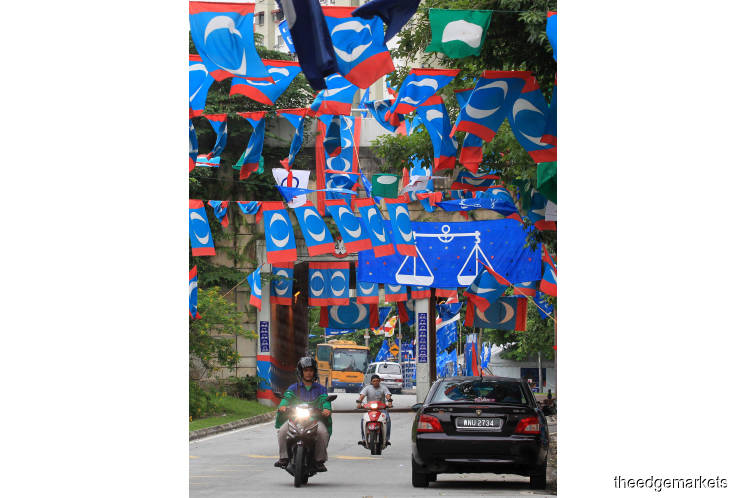 A lot has been said about the performance of the Pakatan Harapan (PH) coalition in running the country. In fact, it is still being discussed and the jury is out on the verdict.
But how about the performance of PH at the state level? On the other hand, how has Barisan Nasional (BN) fared so far and how does it compare with the new government?
"I think it's not fair to compare the performance of state governments run by either side," says Dr Oh Ei Sun, a senior fellow with the Singapore Institute of International Affairs.
For one, he says, this is because BN is left with "a few economically not significant states to run and the people there are generally content with their not-so-plentiful lot".
Thus, BN will not have to perform a lot to keep their states going, according to Oh. He notes that these states no longer enjoy the advantage of federal incumbency — hence, they are at a distinct disadvantage when it comes to delivery of various forms of governmental largesse.
BN needs to live with that reality and work out its action plan fast, I would add, or they risk losing the remaining state administrations when the 15th general election comes around. As we know from the results of the 14th general election, BN held on to Perlis and Pahang only.
So far, not much has been reported on the two states. It could be a case of no news is good news or that people simply do not care. There is also not much attention on PAS-run Kelantan and Terengganu save for some controversies involving the ruling party and eyebrow-raising religious edicts.
PH, on the other hand, says Oh, is running the powerhouse states — Penang and Selangor, for example — where people are more demanding on the administration, especially on the delivery of services and economic planning.
"So, PH needs to work extra hard, compared with its BN counterpart — which is what it has been doing but often does not get the praise it deserves," he says.
My answer to the question on how Penang and Selangor are performing would be that both states are doing all right. Several political observers and media friends I have spoken to rate Penang Chief Minister Chow Kon Yeow and Selangor Menteri Besar Amirudin Shari from "OK lah" to "doing fine" and "not bad".
That is the general opinion — some controversies, notwithstanding. In Penang, the undersea tunnel and Pan Island Link 1 highway, for instance. In Selangor, it is chiefly the water problem.
Chow and Amirudin have big shoes to fill — taking over from Lim Guan Eng and Datuk Seri Mohamed Azmin Ali respectively. No easy feat. But, on the other hand, both have the advantage of taking over administrations that are already put on track by their predecessors. They are not stepping into the unknown. That makes their tasks somewhat easier. And after all, Penang and Selangor were won by the then Pakatan Rakyat coalition in the 2008 general election.
The other states run by PH are relatively quiet, giving the impression that either things are running smoothly or there are indeed issues and controversies that have not warranted national attention. Which is not to say that all is fine and dandy. In fact, there are PH states hogging the headlines for the wrong reasons.
Some of the menteris besar have attracted and are still attracting negative vibes with their statements, actions and even non-action.
Generally, says Oh, the new MBs and executive council members are full of enthusiasm but lack administrative experience, being in the opposition previously. "Hence, there are a lot of gaffes with incumbent politicians making seemingly well-intentioned but, ultimately, impractical policy pronouncements only to retract them shortly after."
And this, he says, creates an unprofessional image in the minds of increasingly discerning and demanding voters.
MBs of the PH administrations have their share of issues and controversies.
One was Datuk Osman Sapian, who eventually resigned as menteri besar of Johor. It was said that his inaction on issues in the state had irked Putrajaya and the Johor palace. To date, it is still not clear if his resignation was the result of pressure from Putrajaya or the Johor palace, or both.
Things in Johor are rather quiet now. That speaks well for Datuk Sahruddin Jamal, who took over from Osman as MB. Long story short, Sahruddin has got a tremendous task of striking a balance on appeasing both Putrajaya and the Johor palace.
Then, there is Perak MB Datuk Seri Ahmad Faizal Azumu and the uneasy state of affairs in his administration.
In a recent article, Malaysiakini columnist Mariam Mokhtar said Perak is a mess because of poor leadership, with the MB trying to outdo Umno Baru.
She opined that while Faizal might have the royal consent to be MB, the backing of the PH leadership and big business leaders "sucking up" to him, he does not have the support of the people of Perak.
Whether the columnist is right or wrong depends on who you ask. But at least one PH insider tells me that Perak is in danger as promises to the rakyat have not been fulfilled and Umno and PAS are stronger here than in other states.
While one may agree that the state governments and the federal government need more time to deliver their electoral promises as they took office only a year ago, any wrong must be made right fast as the rakyat can be unforgiving.
In politics, as in life, complacency is a dirty word.