This article first appeared in The Edge Malaysia Weekly, on June 22, 2020 - June 28, 2020.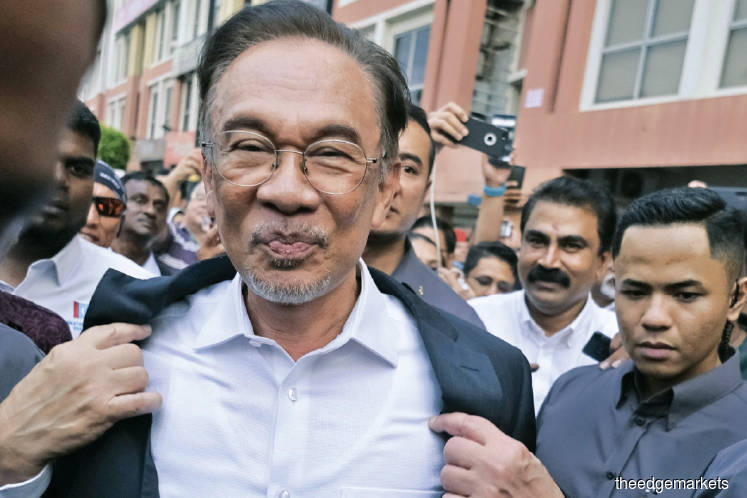 IS PKR, or Datuk Seri Anwar Ibrahim in particular, being difficult with regard to Pakatan Harapan (PH) Plus' candidate for prime minister? In a way, yes.
But considering the bitter experience Anwar and PKR have had with Tun Dr Mahathir Mohamad, including the leadership transition plan after the last general election (GE14), it is understandable, say friends and even foes.
And it does not end there. It goes back as far as September 1998 when Anwar was sacked as deputy prime minister by Mahathir. In the words of former diplomat Dennis Ignatius, many in PKR remain adamant that Mahathir "cannot be trusted", and who can blame them "for feeling that way"?
However, there are calls for Anwar to see the bigger picture and mengalah — Malay for "giving in". But Anwar's supporters, including veterans from the reformasi movement, are saying, "Why should he? Why must it always be Anwar who must mengalah?" The veterans, known as Otai Reformasi, can come up with a long list of the "sacrifices" made by Anwar and his wife, Datuk Seri Dr Wan Azizah Wan Ismail.
To them, it is now Mahathir's turn to mengalah. Is that too difficult to ask for? Political analyst Dr Ahmad Fauzi Abdul Hamid says if only Mahathir had "behaved in a more statesman-like manner", he could have easily announced that he has had enough as far as being prime minister is concerned.
"PH Plus could then focus on reorganising its forces under Anwar's leadership, even if it means having to wait till GE15 to regain power," he Fauzi.
Mahathir obviously has his own take on the issue. In offering himself for the top post, he believes he can still contribute to save the nation and serve the government better this time around.
He is also of the view that the presence of a Malay-based party and its leadership is crucial if a multiracial PH Plus is to succeed in becoming the government again. And there are many, including those within PH Plus, who say Mahathir is needed as he can get the numbers and support of other Malay members of parliament, including those currently within the ruling Perikatan Nasional (PN) coalition.
It has been reported that Parti Warisan Sabah, a party in the PH Plus fold, is supportive of Mahathir being prime minister again. But that has prompted many of Anwar's supporters to ask whether Warisan will support the PKR leader if he eventually takes over when Mahathir steps down.
Sabah-born political analyst Oh Ei Sun says, "I think Warisan bears no grudge against Anwar." But Warisan is realistic enough to recognise that, at least at the moment, PH Plus needs Mahathir to get the necessary numbers in parliament if it is to form the government again.
There are also many within PH Plus who agree that the Mahathir-Anwar combo is essential. DAP's Liew Chin Tong says, "Anwar-Mahathir unity can defeat the dark side."
Liew's party comrade, Anthony Loke, in acknowledging reservations among party members as well as the public, has assured that there are mechanisms to ensure Mahathir steps down within a stipulated period should he become prime minister for a third time. This includes forcing a snap election, an idea which has not gone down well with people in general.
At a special meeting last Friday, PKR's leadership council and MPs issued a statement to say that they were in favour of Anwar becoming PKR's candidate for prime minister.
But, they added, the party is "open to discussions with all quarters, including Mahathir, in an effort to save the country and return the people's mandate to its rightful place".
According to one political observer, Anwar could be accused of being "selfish, putting self before nation and not stopping at anything, including seeing PH Plus implode, just to be prime minister. PKR would be accused of being a party which hero worships Anwar".
"PKR's insistence on Anwar for PM will no doubt be exploited by his enemies — and there are plenty of them," he adds.
Another political critic says such views are not new and are to be expected from his enemies. He explains that Anwar and PKR have good reason not "to put all their eggs in Mahathir's basket again".
"Mahathir's own actions precipitated the Sheraton move, which burned him, PKR and PH in the end. Who can blame PKR or Anwar for not wanting a fresh start?" asks the observer.
But just what would that fresh start be?
Mohsin Abdullah is contributing editor at The Edge. He has covered politics for more than four decades.