This article first appeared in The Edge Malaysia Weekly, on February 10, 2020 - February 16, 2020.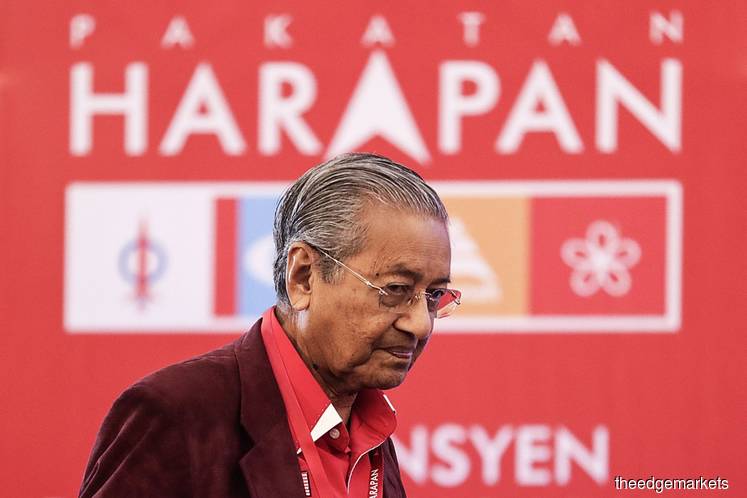 SO, the Umno supreme council did not make any decision on cooperating with Tun Dr Mahathir Mohamad and becoming part of a new ruling coalition — Pakatan Nasional (PN) — helmed by the latter's Parti Pribumi Bersatu Malaysia.
According to supreme council member Datuk Seri Bung Moktar Radin, who spoke to the media after the council's four-hour meeting, the two issues were not even discussed, contrary to earlier belief that a firm decision would be made.
However, Malaysiakini quoted Umno information chief Datuk Shamsul Anuar Nasarah as saying that party president Datuk Seri Ahmad Zahid Hamidi did propose a further discussion of the issues.
But should this so-called "realigning of the country's political landscape" that everybody is talking about take place next month, when parliament meets, that would see the formation of a new government to replace Pakatan Harapan (PH).
And the new government, as political speculators would have us believe, is to be led by Mahathir as he would have the numbers in parliament.
PN, they say, will comprise Bersatu, Umno and PAS. There would be other parties, naturally, including a PKR breakaway led by Datuk Seri Azmin Ali. But bear in mind that there is also speculation that Azmin & Co would be with former Barisan Nasional component Gerakan in PN. Gerakan's multiracial outlook is said to be ideal to accommodate people of different races in Azmin's group.
In such a scenario, Datuk Seri Anwar Ibrahim's PKR, DAP and Amanah would be the opposition together with several other allies. The numbers or seats in parliament being bandied about now are Mahathir's PN with 121 MPs from seven parties and independents as opposed to Anwar's PH with 101 MPs from five parties and independents.
The reason for a new political alignment is to bring back Malay-Muslim dominance in the government as, rightly or wrongly, many Malays perceive — as evident from social media discussion — the current PH government to be run by Chinese-based DAP.
If this actually materialises, the new PN administration would be labelled a backdoor government. Thus, PAS and Umno would lose their chance to form a government in the right way — contesting and winning the 15th general election (GE15) like anak jantan.
With the sentiment of Malay voters the way it is now and assuming their mood is predictable, the chances are the PAS-Umno alliance or Muafakat Nasional will win GE15, or so said the leaders of the two parties earlier with whom some political analysts concurred. If this were the case, why spoil the chance of being elected democratically?
Being in government via the backdoor would reflect badly on PAS as a party, which prides itself on being more Islamic than others and adhering to virtues that are held highly in Islam, such as trustworthiness.
Meanwhile, Umno would stand accused of betraying its "true struggle". Its deputy president, Datuk Seri Mohamad Hasan, has warned the party not to be flattered at being wooed by Bersatu because political lust is a dangerous game.
By being part of a backdoor government, Umno could open itself to a break-up as it is not as united as before and by cooperating with PAS, it risks incurring the wrath of the rakyat. The people will not look kindly on backdoor governments. Their voice in GE14 was loud and clear — that they wanted PH to lead in the rebuilding of the nation, at least until the next election.
There are more minus than plus points as far as PN or a new backdoor government is concerned, which will not escape the attention of politician extraordinaire Mahathir. He would have seen all the pitfalls of forming a new administration to replace a democratically elected government midway using political ploy.
And the 94-year-old, I believe, is sensitive to the heartbeat of the rakyat. He knows too well that the people are fed up with politicking and that economic improvement ought to be the priority. He would not want to be remembered for the wrong reasons. He would still want to be known as a leader of a coalition that ended the rule of the kleptocratic Umno-led BN government.
And I do not think Mahathir would renegade on his promises, especially with regard to handing over power to Anwar, a promise he made to the world and one that he has repeated many times over.
I would say a backdoor government will not become a reality, although, according to Otto von Bismarck, politics is the art of the possible. I stick my neck out to make this prediction — one I make based, most of all, on Datuk Lokman Adam's exposé a few weeks ago.
The Umno supreme council member, in making the exposé, aided by an audio recording believed to be that of Zahid calling for an Umno collaboration with Bersatu and support for Mahathir to remain the prime minister, alleged that the Umno president's intention was "to save himself from the 80-plus court charges and also to save Umno from being deregistered".
Whether or not Lokman's allegations are true, the perception among the rakyat is that some kind of shady deal would be clinched with Mahathir if Umno were to tie up with Bersatu. Even if the real objective or reason for the collaboration were pure demi bangsa dan agama and upholding Malay-Muslim superiority, the perception would always be that a side deal was struck, one that pushes aside the rule of law.
And Mahathir, who takes pride in his PH administration upholding the rule of law, would not want to have anything to do with such a perception. It is a fact that since taking power in May 2018, Mahathir's administration has held true to the rule of law and the rakyat can see this principle very much in practice.
Mahathir would not want the people to think that the kaw tim culture and kleptocracy of the previous administration — many examples of which are being revealed in the current trials of former prime minister and Umno president Datuk Seri Najib Razak and his wife Datin Seri Rosmah Mansor — are back with his endorsement.
That is why I say a new government, especially a backdoor one, will not materialise come March.
Mohsin Abdullah is contributing editor at The Edge. He has covered politics for over four decades.