This article first appeared in The Edge Malaysia Weekly, on December 2, 2019 - December 08, 2019.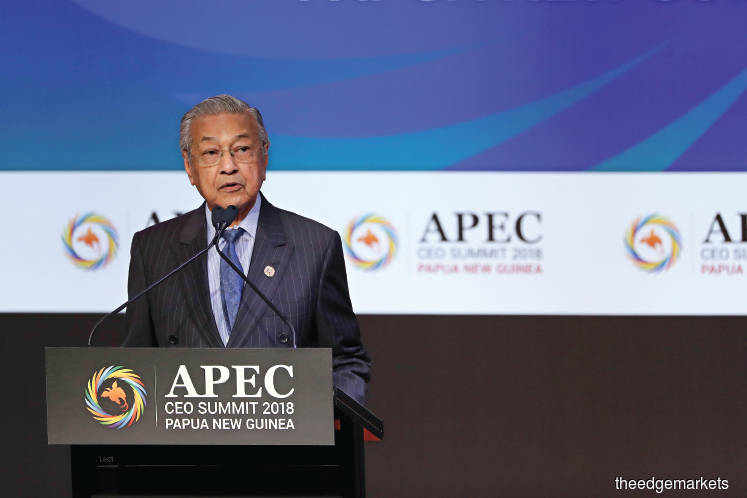 Mahathir introduced the concept of shared prosperity at the Apec CEO summit last year. Photo by Reuters
WILL Tun Dr Mahathir Mohamad stay on as prime minister until Malaysia hosts the Asia-Pacific Economic Cooperation (Apec) summit next year?
At least one member of the Pakatan Harapan administration thinks so. Well, all the reasons and justifications are there.
Mahathir has always excelled at world forums, using the international stage to speak up on issues that he feels need to be highlighted. The Apec summit is one of them, where he has laid bare injustices in the global order and made the world listen to the views of small nations. Playing host clearly has its benefits, starting with the advantages that come from being on home ground.
Apec comprises 21 economies and the regional economic forum, established in 1989, aims to create greater prosperity for the people of the region by promoting balanced, inclusive, sustainable, innovative and secure growth and by accelerating economic integration.
New Straits Times recently quoted Ministry of International Trade and Industry deputy secretary-general (trade) Datuk Seri Norazman Ayob as saying that the theme of Apec 2020, which Malaysia is hosting, revolves around the concept of shared prosperity, which the prime minister had introduced in his keynote address at the Apec CEO summit in Papua New Guinea last year.
The same concept evolved into a national policy, which was launched in May this year. That alone would spur Mahathir to promote the concept at Apec 2020, which many world leaders will be attending.
Mahathir has said hosting the Apec summit cannot be taken lightly as it is an important international meeting. He is even concerned that a Cabinet reshuffle, which he is expected to do, might affect the run-up to the summit next year. While the shake-up might take place before Apec 2020, Mahathir does not want too many changes "because we need to make the necessary preparations as this involves many world powers".
Clearly, Mahathir is not about to leave office before the summit and is, in fact, set to feature prominently in it.
In August, it was reported that Apec 2020 is scheduled to be launched by Mahathir on Nov 26 next year in Cyberjaya. But this year's summit, which was supposed to have been held in Chile in October, was cancelled due to anti-government protests in the country. It is uncertain if the cancellation will affect the dates for Apec 2020 but according to a Star Online report on Nov 21, they have not been announced yet. Apec summits are traditionally held between September and November.
Malaysia last hosted the Apec summit in November 1998 with Mahathir as the nation's fourth prime minister. The summit proceeded smoothly and was even hailed by some as a success despite the anti-government demonstrations held by what was known as the Reformasi movement. The protests erupted after the sacking of the then deputy prime minister Datuk Seri Anwar Ibrahim and his subsequent arrest on allegations of sodomy and abuse of power, which he claimed were trumped-up charges.
That was then. Mahathir and Anwar have since buried the hatchet and played key roles in toppling the Barisan Nasional government in the 14th general election last year.
Under a PH agreement, Mahathir was to hand over the premiership to Anwar, although no specific date was announced. However, Mahathir has said on numerous occasions that he will make way for his agreed-upon successor "in two or maybe three years".
There have been calls by pro-Anwar groups for Mahathir to hand over the reins by May next year — two years to the date PH took over the federal administration.
But Anwar himself has consistently said Mahathir must be given the space to address the many problems left behind by the previous government.
As the PH leader mentioned earlier sees it, should Mahathir leave office after Apec 2020, even if it is held in November, that would mean the handover of power will "still be within two years but before three years".
Mohsin Abdullah is contributing editor at The Edge. He has covered politics for more than four decades.