This article first appeared in The Edge Malaysia Weekly, on August 26, 2019 - September 01, 2019.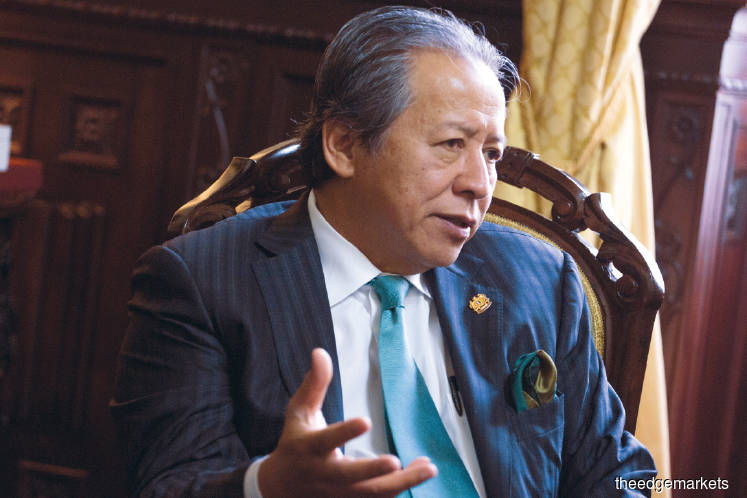 Anifah was a federal minister and Umno was ruling at the federal and state levels at the time of GE14. Photo by Reuters
THERE was a video making the rounds recently. It showed a man and a group of women. No, there was nothing pornographic in this one. The video featured Warisan president and Sabah Chief Minister Datuk Seri Shafie Apdal talking with a group who are said to be supporters of Sabah Bersatu chief Hajiji Noor.
Before heading Sabah Bersatu, Hajiji was Sabah Umno chief. In December, he quit Umno together with 13 Sabah state assemblymen, four MPs, two senators and 21 division chiefs. Most of them joined Bersatu.
In the video, Shafie was seen asking one of the women in the group her reasons for supporting Bersatu instead of Warisan. He said: "This Bersatu is Umno. You must understand politics." He further said: "Who is in power? Is he (Hajiji) in power or am I in power?"
But as I write this, Shafie had clarified that the video was an old clip, taken at a time when his party had reservations about Bersatu. He was quoted by Free Malaysia Today as saying: "Previously, we had an understanding that Bersatu would not enter Sabah."
Thus, Bersatu's expansion in Sabah was initially met with resistance from Warisan. Later, however, Shafie cleared the way for the party's entry into the state. Pakatan Harapan chairman Tun Dr Mahathir Mohamad, who chairs Bersatu, had said that the move to bring his party into Sabah was not meant to challenge Warisan but to strengthen its influence.
So, said Shafie, the video is an old story, as "today we are together and will work with Bersatu in the state".
A big opportunity to put that into practice is the Kimanis by-election. The date has not been fixed as the Election Commission (EC) has to wait for the decision of the Election Court to be endorsed, or up to 14 days for the appeal period to end.
On Aug 16, the Kota Kinabalu Election Court declared as null and void the victory of the Kimanis parliamentary seat by Umno/BN's Datuk Seri Anifah Aman in GE14. Anifah, who was foreign minister in the Datuk Seri Najib Razak administration, quit Umno in September last year to become an independent.
A by-election in Kimanis is a given, the EC's decision notwithstanding. Therefore with Warisan and Bersatu working together, as Shafie said, which party will field a candidate? Kimanis is a Muslim-majority constituency.
Warisan is most likely to contest as it did in GE14. Its candidate then, Datuk Karim Bujang, is reported to be ready to contest the seat again — obviously buoyed by the success of his election petition. In GE14, he lost to Anifah by a slim 156 votes.
Still, according to Dr Oh Ei Sun, a senior fellow at the Singapore Institute of International Affairs, "all eyes are on Bersatu — whether it will join in the fray, although technically it is a coalition partner with Warisan at both federal and state levels".
As for Umno, it will contest and its deputy president Datuk Seri Mohamad Hasan has vowed that his party "will go all out to take back Kimanis". It is not being said out in the open, but Umno must surely be quietly acknowledging that when it won the seat back then, Anifah was a federal minister enjoying incumbency and Umno was ruling at the federal and state levels. Need I say that all that is gone?
Yet, Umno is putting on a bold front, possibly bolstered by its pact with PAS.
But Oh, who is Sabahan, says an Umno–PAS pact "does not quite work in Sabah, as their mixed ideologies of racial supremacy and religious extremism are quite alien to a generally tolerant Sabah".
To Oh, this was proven by "the miserable votes obtained by PBS in the Sandakan by-election when the pact was brought to work in full force". But Sandakan is held by DAP with 49% Chinese and 44% Muslim bumiputera registered voters.
Kimanis is similar but with Muslim bumiputeras predominant. If it is a straight fight between Warisan and Umno, Oh sees Warisan most likely to prevail, "albeit with a slim margin, as it is now the incumbent party with a strong track record after the huge win in Sandakan".
In the unlikely event that Bersatu weighs in, says Oh, it is more likely to split Umno rather than Warisan votes as Sabah Bersatu is made up of mainly former Sabah Umno members. "Thus, theoretically, it is handing an even bigger win to Warisan."
As Oh sees it, Kimanis is an opportunity for Warisan to "re-test" its appeal on the southwestern coast of Sabah, which is perhaps the last stronghold of Umno in the state.
"A Warisan win," says Oh, "would of course further strengthen Shafie's position vis-à-vis the federal PH as he negotiates for the restoration of Sabah's rights."
Sabah rights will be an issue in the by-election but not Lynas, Zakir Naik and khat, says Oh. The issues, according to him, will very much be local concerns such as development and the improvement of livelihoods and "also a bit of tribal rivalry between the Brunei Malays, Pakistanis and Kadazans".
And what about Anifah himself? Will he contest? "Yes, all eyes are also on him as he is now an independent. But in Sabah electoral history, independent candidates can win only if they obtain the tacit or background support of a popular established party."
In conclusion, it is for Warisan to contest his seat and Warisan to win, as Oh sees it. And I am quite sure he is not alone with such a prediction.
Mohsin Abdullah is a contributing editor at The Edge. He has covered politics for more than four decades.