This article first appeared in The Edge Malaysia Weekly, on January 14, 2019 - January 20, 2019.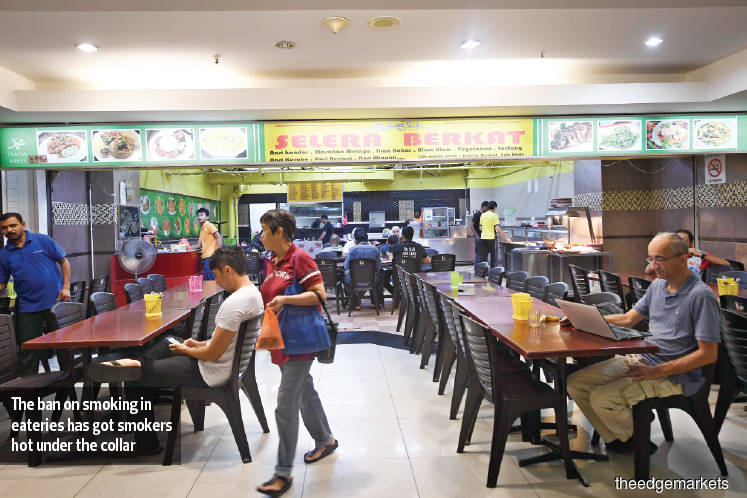 SMOKERS take their smoking seriously. I recall an old friend of mine — a staunch Muslim — losing his cool when the national fatwa council declared smoking haram in 1996.
Here was a good man who had nothing but respect for imams and ustaz, who all of a sudden got all riled up and had some harsh words for the members of the fatwa council, which included usually revered muftis. Why? Because he did not agree with the council and because he was a smoker who wanted to continue smoking.
At present, we have bunch of smokers who are angry with the ban on smoking in eateries. Like that old friend in '96, they too know about the health concerns  related to puffing cigarettes.
We have heard of some seeking a judicial review on the government's regulation. On social media, we are hearing of smokers who said they had voted for Pakatan Harapan on May 9 expressing regret for doing so. We hear of PH adherents threatening to withdraw their support. And we are hearing of smokers urging other smokers to punish the government come GE15. Despite the fact that the election is a long way off.
The point is, they are angry. Furious, actually. I know some of the smokers personally. At least one is a life member of a party in the PH coalition. But until now, I have not asked any of them if they are serious about wanting to punish the government. Simply because when people are angry, emotions can get the better of them and they sometimes say things they don't mean. This is not to say I am taking what they are saying lightly.
And it is not that smoking has been banned completely. But, to smokers, preventing them from puffing in eateries is depriving them of their right to do something that is not illegal.
Enjoying football matches on a big screen at the mamak joint over teh tarik with friends without cigarettes is simply not on. Lepak is not the same without ciggies.
Incurring the wrath of smokers is none other than Health Minister Datuk Seri Dr Dzulkefly Ahmad, who has vowed not to back down. This firmness (to smokers it's stubbornness) has made the angry angrier, and they are fighting back.
A smoker friend of mine, who is a member of a PH party, is calling on all smokers to take photos of dirty toilets in government hospitals, clinics and all shortcomings of the health ministry and post them on social media as "a concerted effort to tell the minister to take care of his own backyard rather than spending precious time dealing with people smoking in eateries".
Based on official figures from 2015, there were five million smokers in the country. Meaning 22.8% of Malaysian adults aged 15 and above were smokers. That is more than one in five adults. Forty-three per cent were male and the prevalence among female smokers increased from 1% in 2011 to 1.4% in 2015. Malays recorded the highest number of smokers, followed by Indians with the Chinese in third spot. The smokers puffed 5 to 25 cigarettes per day, on average.
As I said earlier, I cannot say for sure if all of them would want to change the government just because they cannot enjoy their puffs at their favourite mamak stall. Still, the health ministry ought to engage with them and see what can be done. I am not suggesting the ministry backs down. It is just that perhaps there should be some sort of engagement. When the smokers cool down and are ready to talk that is. Which is not easy to guess when because without their regular nicotine intake smokers get agitated easily.
But I must say many of them are good people. They smoke because of an urge they have no control over. Some even want to quit but are unable to. Getting them to kick the habit is a mammoth task. Remember the Tak Nak campaign back in the day? Well that did not work, despite all the money poured in by the then government. Do we need another Tak Nak campaign? No.
We are getting reports that coffee shop operators are complaining that business has taken a hit since smokers have not been turning up due to the no smoking rule.
There is talk of building designated areas — like huge glass rooms — for smokers. It is not clear if the government is seriously considering it, but many people have already shot the idea down, saying it should not be wasting public funds to satisfy the smokers' urge and to help the coffee shop business.
However, if five million smokers are against the ban on smoking in eateries, it would be good to know how many non-smokers support it.
Save by subscribing to us for your print and/or digital copy.
P/S: The Edge is also available on Apple's AppStore and Androids' Google Play.