This article first appeared in The Edge Malaysia Weekly, on December 16, 2019 - December 22, 2019.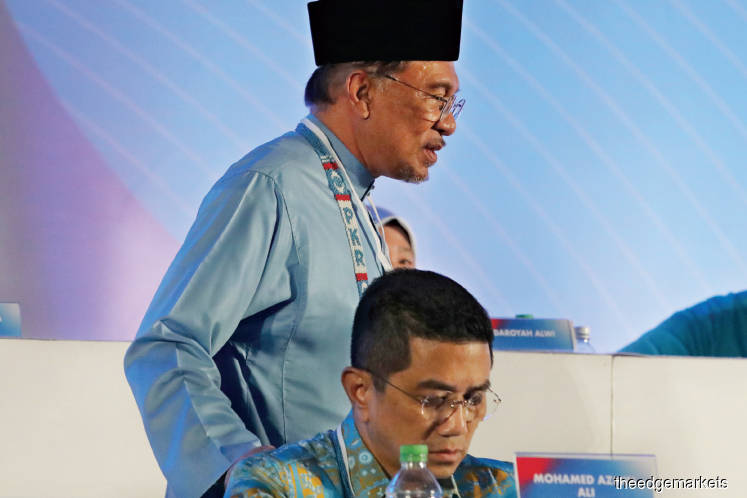 Political observers see the direct and indirect anti-Anwar attacks as a clear move by Team Azmin to burnish their own credentials and weaken Anwar's stature in the party. Photo by Reuters
DATUK Seri Azmin Ali's supporters had touted it as an event to espouse the government's Shared Prosperity Vision 2030. But the only thing Azmin shared with his supporters at the Dec 8 gathering at Renaissance Hotel KL was their deep hostility to party president Datuk Seri Anwar Ibrahim.
It was clear Azmin's supporters had put the blame solely on Anwar for the tumultuous events at the PKR congress in Melaka over that weekend, hence, they turned the Shared Prosperity event into a rally to bash Anwar and key party officials.
Azmin himself chose the event to give his version of PKR history — one in which he highlighted his own "painful experience" in defending Anwar after his boss was sacked from the government and Umno in 1998 and spent years in prison for what many saw as trumped-up charges of sodomy and power abuse.
Azmin told the crowd that he had suffered much earlier than Anwar, obviously referring to the six days he endured in a police lock-up under remand before being released a day after Anwar's long incarceration began on Sept 21, 1998.
There is no reason to deny Azmin's account of his suffering in that one week, just as the fact he played a role, as did many Anwar loyalists, in forming and then galvanising PKR as a potent force to take on and finally topple the Umno-led Barisan Nasional.
Azmin made it a point to imply that he and his friends' sacrifices for Anwar are no longer appreciated by the man himself. Worse, he openly claimed that Anwar had accused him of being a traitor when the PKR president, in his opening speech at the party congress,  referenced the story of Si Kitol — a popular Malay folktale about loyalty and betrayal.
Anwar denied he was referring to Azmin but his deputy obviously thought otherwise. What followed was the Renaissance affair, as Azmin and his key supporters launched attacks on what they perceived as the shortcomings and weaknesses of Anwar.
"We were a strong party but Anwar does not seem to know how to preserve unity and is unable to appreciate the sacrifices of veterans," said Tian Chua, a key member of Team Azmin.
Political observers see the direct and indirect anti-Anwar attacks as a clear move by Team Azmin to burnish their own credentials and weaken Anwar's stature in the party. Whatever Azmin's end game is, the plan does not seem to be for Azmin to take on Anwar head on, but rather to undermine him.
Dr Yusri Ibrahim, head of research at Ilham Centre, notes that Azmin skipped the opportunity to show true leadership by addressing the PKR delegates, in Anwar's presence, on Sunday afternoon.
To Yusri, as a "true reformist" Azmin should have showed he was "anak jantan" or man enough to defend his ideals and principles by delivering his winding-up speech.
Instead, he chose to do so only in a familiar environment, surrounded by his supporters and not his opponents at Renaissance.
A political observer says one clear message from the Renaissance event is that — without a sustained truce or peace — Azmin will peddle his past "sacrifices" for Anwar everywhere but "will no longer make any mention of Anwar's role in his own rise as a political heavyweight, both in PKR and the government".
"Azmin wants to amplify the message that PKR is as much about him and his supporters as it is about Anwar. He also wants to create the perception that Anwar and his supporters are preoccupied with the PM's post and that it is he [Azmin] and his supporters who are the true reformists in PKR," the observer says.
In short, Azmin and his people are telling party members and the rakyat to reject Anwar both as party president and prime minister in waiting. But the reality is that as much as Azmin can claim to have many supporters, so can Anwar.
"PKR members have the right to be angry with Azmin," says another political observer.
As he puts it, if Azmin supporters are saying that the party is too focused on Anwar, "likewise, Azmin's cartel seems to be obsessed with him to the point of disparaging everyone outside the cartel".
Admittedly, what is most difficult for Anwar's supporters to "forgive" is Azmin's refusal to endorse a Pakatan Harapan agreement on the power transition, a decision which Malaysians also voted for in giving PH the mandate in GE14.
For them, Prime Minister Tun Dr Mahathir Mohamad's constant reiteration that the power transition will happen  — in fact, he indicated last week that he may give way to Anwar after the Apec summit next year — should make the transition issue about "when it will happen and not who will take over".
"Why must a deputy PKR president oppose this? If he is as loyal as he claims to be and had supported Anwar for 20 years, why does he not support an agreement endorsed by the PH presidential council? The meeting with opposition Umno MPs at his house was all about politics and, like the Renaissance, was never about Shared Prosperity."
So, the million-dollar question is how long and how far will team Azmin go to achieve their end game, whatever that may be?
Surely, as in the case of the Si Kitol episode at the PKR congress, Azmin will have his own take on Bersatu president Tan Sri Muhyiddin Yassin's call for PH leaders to stop fighting and focus on improving the rakyat's welfare.
It would be wrong to assume that Muhyiddin, an experienced politician and no stranger to going against his own boss (Datuk Seri Najib Razak), is trying to wade into PKR's troubled waters. Rather, his is a plea for all to think and act in the interest of PH and the people. Already, last week PH got only an average score on a government satisfaction index in a local poll.
Anwar was also spot on when he said the people are bored with the public exchange of salvos between PKR leaders. He called on all quarters to stop making public statements on the internal conflicts and instead use party channels to air their grouses.
"PKR must remain committed to fighting corruption and abuse of power, to championing the welfare of the people of all races, especially the poor and those marginalised from development," he said in a statement.
It is not a new call but to make it work, Anwar is banking on a new attitude from Team Azmin, failing which, the party may be forced consider new approaches, however drastic, to douse the incessant flames of infighting and conflict plaguing PKR.
"Anwar is well aware of the sentiments on the ground. Many members cannot tolerate the indiscipline ... that has been going on for so long," said Nik Nazmi Nik Ahmad, a PKR lawmaker on a recent web TV talk show hosted by local media Sinar.
There are abundant observers and analysts who see no end to the Anwar-Azmin conflict. Yusri believes, "it is a fight to the end".
"Azmin and his team will deploy all sorts of strategies and manoeuvres to prevent the PM transition, or at least delay it until the PKR National Congress in 2021, when he can challenge Anwar for the party presidency," Yusri says. However, to Tian Chua, "this analysis is not true".
The PKR president and his deputy are on record saying they want to, in the words of John Lennon, give peace a chance. But for peace to happen, words must be matched by deeds. If not, the strongest and biggest party in PH now looks like being the weakest.
Says an observer sarcastically, "If not handled well, PH can be a one-term government. Then they can fight for the post of opposition leader."
Mohsin Abdullah is a contributing editor at The Edge. He has covered politics for more than four decades.