This article first appeared in The Edge Malaysia Weekly, on February 18, 2019 - February 24, 2019.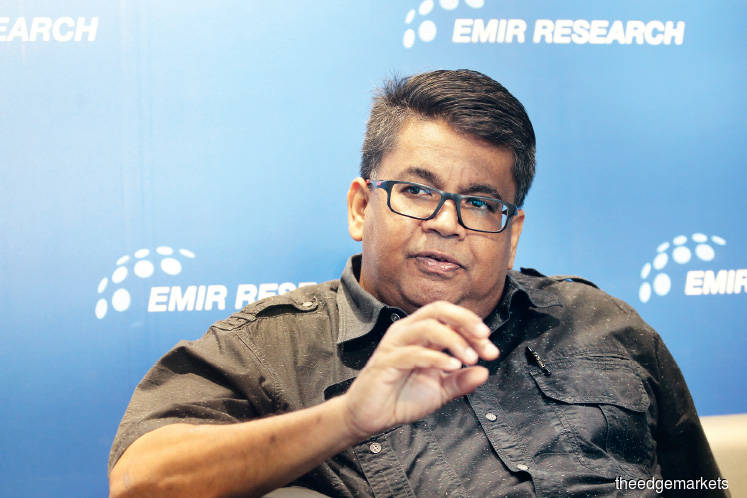 THE Pakatan Harapan government needs to address income and cost-of-living issues facing ordinary folk as a matter of urgency if it hopes to last beyond its first term in office.
It is the "perut economy" — bread and butter concerns — which is still hurting people, says Datuk Wira Dr Rais Husin, the chief strategist of Parti Pribumi Bersatu Malaysia (Bersatu). That is what the government must attend to right away in order to retain their support.
To contain that looming risk, he suggests three measures to be implemented as a priority:
•     Tasking a panel of experts to alleviate the economic pressures on the poor;
•     Presenting an economic white paper on these issues and their solutions; and
•     Setting up a monitoring committee on the implementation of the PH's election promises.
The effect of economic hardship on eroding voters' support for the government was underscored when Prime Minister Tun Dr Mahathir Mohamad announced the setting up of the high-powered Economic Action Council on Feb 11.
The troubleshooting panel, which includes ministers with key economic functions, is mandated to act on just those issues which Rais raised in an interview with The Edge a few days before its formation.
"No matter what, issues of the perut economy will dominate people's lives," says Rais, who runs a political, economic and social research consultancy.
"We must find ways to bring down the cost of living. Stabilising oil prices is part of it, but it is also about creating jobs to address unemployment and underemployment."For him, however, one responsibility stands out above all else — delivering on the promises that Pakatan made in its manifesto for the 14th general election. That is hardly surprising because Rais had headed the four-member committee that drafted the 150-page Buku Harapan.
He notes that the manifesto has two parts. The first has the "10 promises in 100 days" tagline. Of these pledges, five to six have been delivered, he says.
The second substantive part has the "60 promises in 5 years" slogan. They include social and institutional reforms, of which 32 have been achieved.
"We're working very hard on the rest," he asserts.
The new government has blamed the gap between promises and their delivery on the incomplete picture of public finances given by the previous government. This explanation, says Rais, has a limited lifespan.
He feels that voters would have made allowances for that predicament in the months following the watershed GE14, but that will no longer wash since the new year rolled in.
"For how long do we want to say that our problems are inherited?"
In his view, the importance of delivering on the manifesto promises cannot be overstated.
Not surprisingly, he had suggested in the first PH presidential meeting after GE14 that a manifesto monitoring committee be established.
"The committee must track all promises and publish a report on which ones have been achieved, which ones are delayed and how long the delay will be, and which ones are not going to be attained," says Rais.
"We must be frank and honest. It is better to offer credible solutions on why we can deliver on some promises, and why we cannot deliver on others," he explains.
Unfortunately, he says, the manifesto appears to be relatively forgotten.
"We have to recalibrate the manifesto because it was written on the basis of a certain political and economic landscape," he remarks, referring to the impact of depressed prices of commodities and the US-China trade war on the Malaysian economy.
To counter the effects of low commodity prices on rural incomes, he says some form of subsidy is needed to help communities cope in difficult times.
"We should also explore new markets, and find ways and means to expand the uses of these resources," he adds, citing Russia, the Middle East and eastern Europe as having potential for growth in this area.
"Are we doing a good job with soya bean lobbyists, for example?"
Another major adjustment that is waiting to be undertaken is the promotion of agriculture.
Rais notes that the portion of arable land in Malaysia used for growing food is just 2%, one of the lowest ratios in the world.
This has important implications for the nation's food security, he points out, since it has a supply buffer of just two weeks.
"Obviously, we should promote agriculture as a way to create jobs," he says, citing Vietnam and Scandinavia as examples of countries where the sector is promoted as an important contributor to the economy.
"Let us bring back the glory to the agrarian economy," he adds.
With an annual food import bill in the region of RM50 billion, Rais says the impact of imported inflation on the people's well-being is clearly significant.
"Agriculture will not only generate employment, it will encourage the use of extra land, address cost of living issues and result in import substitution."
These aims tie in with the Ministry of Agriculture and Agro-based Industry's newly launched roadmap for the sector.
The strategic thrust for 2019-2020, released on Feb 14, focuses on food security, rural economic development, private investment and international trade, and is aimed at taking farmers, fishermen and livestock breeders out of the poverty cycle.
Turning to political developments that the Pakatan coalition needs to address, Rais says that the Malay angst about PH is, to a certain extent, due to perception.
This sense of unease had contributed to Pakatan's defeat in the Cameron Highlands by-election in January, which had been exacerbated by the choice of candidate, bloopers by some leaders and the non-delivery on promises, according to him.
"As far as the protection of Malay rights, promotion of Islam and the position of the Rulers is concerned, remember that Pakatan had signed a declaration of its commitment to these principles.
"However, it is not as good as its opponents in telling narratives and keeps blaming the other side," he says.
This shows that the coalition's strategic communication efforts are not effective enough, he adds.
"Maybe the strategic communications is party-based or coalition based, but not government-based. This needs to happen immediately, yesterday."
To maintain the people's support, says Rais, Pakatan needs to get better at telling the new Malaysian narrative. In doing so, it must celebrate diversity and democracy as the hallmark of its rule.
"Pakatan cannot wait anymore but must address this. Otherwise, it will have an impact on the outcomes of by-elections, and even on the 15th general election.
"Semenyih will be a challenge, because the electorate is 67.7% Malay, and the Malay angst against PH is there," he points out.
"In terms of the Malay narrative, PH hasn't done enough. On top of that, there are the concerns of the perut economy."
As for Bersatu, in which he is a member of the supreme council, Rais says its image as a party that lacks experienced leaders is not as important as whether these leaders can deliver the results that the voters expect.
"There is a lot of work to be done to set the country on the right track," he says, referring to the past existence of a plutocracy outside of the cabinet deciding on national matters.
Bersatu, he states, needs to improve its branding, and to explain its moves a little bit more.
On whether it is worrying that the coalition has yet to get on top of economic issues, in addition to questions about the stability of coalition and intra-party tensions, Rais responds, "I sleep well, because we have got rid of the kleptocrats."
"The focus should not be on the eighth PM, which has already been determined, but on delivering results."
On the challenge of weaning the civil service from the culture of corruption that has pervaded the administration over six decades, he responds: "We must be very serious about combating corruption; if not, there is a possibility we will be a one-term government."
"Our nation is blessed with resources and a small population. Let us rebuild this country credibly. Stop politicking. Let us do work. Focus on delivering what people want," he sums up.
Save by subscribing to us for your print and/or digital copy.
P/S: The Edge is also available on Apple's AppStore and Androids' Google Play.