This article first appeared in The Edge Malaysia Weekly, on December 23, 2019 - December 29, 2019.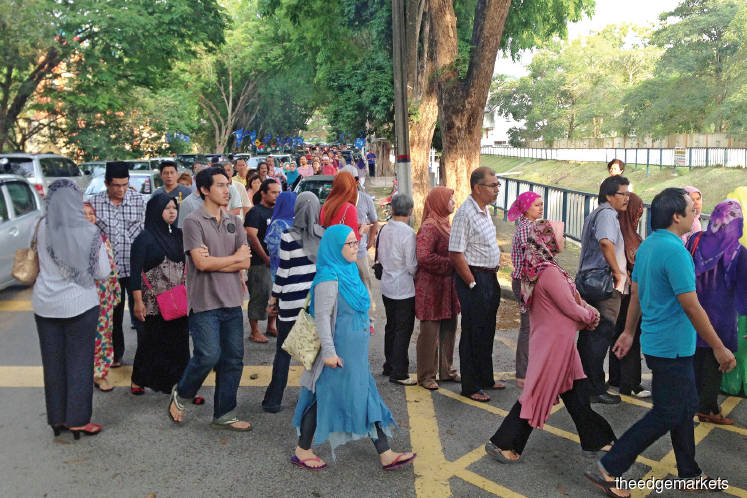 The Malay-Muslim backlash post-GE14 nationalism or chauvinism gives extremists a vindicating mechanism, says Fauzi. Photo by Abdul Ghani Ismail/The Edge
I don't know if backlash is the right word to use but political analyst Dr Ahmad Fauzi Abdul Hamid certainly thinks so.
"[There is now] widespread Malay-Muslim negative reaction against the progressive forces that came together to bring down Datuk Seri Najib Razak's kleptocratic government in May 2018," he says. "I reckon at least about 30% of the Malay electorate have withdrawn support for Pakatan Harapan due to its failure to fulfil promises and pervasive uncertainty over the safeguarding of Malay privileges should PH continue as the government of the day."
I asked if that were the case, can it be said then that Malay Muslims (many or the majority) want to go back to the good old days, when they were pampered all the way?
The blame, according to Fauzi — and I must say this is also the opinion of many, including yours truly — for fostering the crutch mentality among Malays lies mainly with Umno politicians who for many years had a vested interest in doing so.
The "Umno equals protection of the Malays" maxim went beyond constitutional limits when it was extended into the economic sphere with the introduction of the New Economic Policy in 1971. So dominant was Umno's role in the economic development of the community that many Malays cannot differentiate between constitutional rights and extra-constitutional economic privileges, Fauzi explains.
This query about a backlash is because he used the word in his talk, entitled "How Serious is the Threat of Violent Extremism in Malaysia Baru?" in Kuala Lumpur recently.
Fauzi, who is also an expert of political Islam, said the Malay-Muslim backlash post-GE14 nationalism or chauvinism "gives extremists a vindicating mechanism". Malay-Muslim discourse also revolves around the "Islam under siege" worldview, which is a subtle entry point for extremist thought into the Malay-Muslim psyche, he warns. Take a look at the postings on social media and it is there for all to see.
Fauzi sees extremism creeping into the Malay-Muslim subconscious mentality as such those who express reservations or alternative viewpoints are branded as traitors to the Malay-Muslim cause. Again, take a look at social media postings where this is evident.
Islamist violence in Malaysia, according to him, while comparatively rare, has reared its ugly head on a few disturbing occasions, notwithstanding the regime change in May 2018.
Without dismissing claims of various social, political and psychological factors that purportedly influence militants "into translating their violent extremist dispositions into actual occurrences of terrorism", Fauzi argues that the ideology of hatred of established authorities "goads its subscribers to behave aggressively towards the enemy, which are both Muslims and non-Muslims, and those who have allegedly renounced their faith, including Muslim-led governments that profess loyalty to allegedly unIslamic systems ".
Fauzi says it is important to note the conceptualisation of Islam and Islamism.
Islam, he says, is faith, hence the adjective Islamic, while Islamism equals ideology, which is primarily political with the adjective being Islamist. The pillars of Islamism are the Islamic state (not to be confused with IS or ISIS) and sharia as the law of the land.
We are also familiar with political parties that use the race and religion card as a ticket to power. I recall an article in The Asean Post in March, which quoted a paper by Serina Rahman from ISEAS-Yusof Ishak Institute, entitled "Should Malaysia expect an Islamist backlash?"
The paper noted that post GE 14 , in spite of dissatisfaction with issues such as the rising cost of living and allegations of impropriety among the previous ruling elite ,"it seems that the majority of Malay Muslims had instead prioritised concerns related to race and religion above all else".
To Fauzi, it is important to counter extremism and not just violent extremism.
How? For one, he says, there is a need to introduce educational reform and a long-term counter narrative.
"Restore the dominance of mainstream theology and a moderate worldview. Adopt a civilisational approach to the teaching of comparative religions, especially in the Islamic studies curriculum that produces future ulama.
A pluralist discourse must not be shunned even though we disagree with it, and for a wider career choice, introduce progressive electives at university level for Islamic studies graduates.