This article first appeared in The Edge Malaysia Weekly, on January 27, 2020 - February 02, 2020.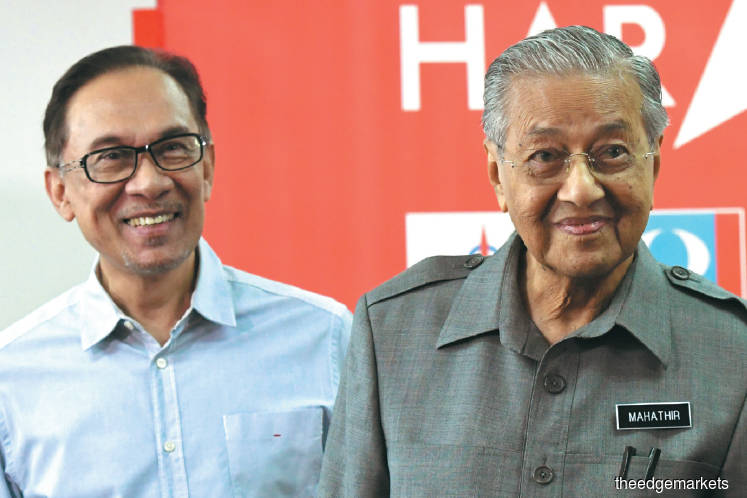 Ambiguous answers by Mahathir on whether and when Anwar will succeed him and the possibility of a new alliance with PAS have only led to more speculation. Photo by Sam Fong/The Edge
OVER much of the past 20 months, Pakatan Harapan has been dogged by talk of political manoeuvring, such as the supposed setting up of "back door" governments, of which there are many versions. One is a Bersatu-inspired administration minus DAP, Amanah and the side of PKR that leans towards its president Datuk Seri Anwar Ibrahim. Before that, there was talk of an Umno exodus into Bersatu. But earlier this month, the talk changed to the possibility of a Bersatu-Umno merger come May.
And now, we are hearing of a realigned political landscape that could see PAS catapulted into the federal administration with the creation of a so-called alliance comprising Bersatu, Umno and PAS. After all Umno and PAS are already an entity in itself called Muafakat Nasional. Again that would mean an administration without DAP, Amanah and Anwar's team in PKR.
Is this true? Hard to tell but now as PKR secretary-general Saifuddin Nasution said the rumour mill is in overdrive about an alliance between PH and just PAS. Saifuddin says he sees no reason for PH to accept new members.
A day earlier, Amanah deputy president Datuk Seri Salahuddin Ayub, in responding to the speculation, said there is no necessity to absorb PAS into Putrajaya, supposedly to shore up support for PH with the help of the Islamist party's purported influence. He reminded us that the people's mandate was given solely to PH.
Amanah was formed as a result of a massive fallout between the progressive people in PAS and the hardline Islamists. To say there is no love lost between the two parties is a no-brainer.
However, there are also people now talking of a snap election.
Anyway, PAS deemed it right to post, on the Facebook page of its president Datuk Seri Abdul Hadi Awang, photos of a delegation of senior leaders led by Abdul Hadi in audience with the Yang di-Pertuan Agong early this month. The photos led to all sorts of interpretations.
As if right on cue, photos of Abdul Hadi meeting Tun Dr Mahathir Mohamad as well as having dinner with the PM and his wife Tun Dr Siti Hasmah Ali made the rounds too. PAS, in particular Abdul Hadi, has on a number of occasions expressed support for Mahathir and has been open in its support for him to remain prime minister for a full term.
Hence, when the pictures of a smiling Abdul Hadi and Mahathir went viral, there was speculation and interpretations aplenty. What's more, Mahathir himself was quoted as saying that he "greets everybody and meets everybody including my enemies".
And that is not all. According to Malaysia­kini, Mahathir also alluded to the fact that in politics there are no permanent allies and foes. He pointed out that he had worked with various individuals, including DAP's Lim Kit Siang, as he holds "no grudges".
The prime minister said he can work with anyone except Datuk Seri Najib Razak because "he has broken the law".
For Mahathir to say he can work with anyone (except Najib) must be music to the ears of Abdul Hadi and even Umno president Datuk Seri Ahmad Hamidi. But speculation that Bersatu will break away from the coalition and form an alliance with Umno and PAS in one form or another is interlinked with the power transition issue and has affected stability in PH.
Yes, Mahathir has spoken up against infighting that "risks PH becoming a one-term government", as Reuters reported. But the prime minister has since clarified that PH will not be a one-term government but "Reuters is entitled to their opinion". Said a Malaysiakini report, the prime minister, however, did not state that he was misreported.
Regardless of that, there is no doubt Mahathir is concerned about infighting. He did not name the factions in PH that are at war. But it is obvious he was referring to the feud in PKR between Anwar and his deputy, Datuk Seri Azmin Ali.
However, it would also be good if Mahathir could be more definite in his answers to put to rest the issues of the new alliance and the transition of power.
Ambiguous answers by Mahathir on both matters have only led to more speculation. Failure to put to rest the issues once and for all will lead people with vested interests to give their own interpretations to the matter to serve their own agenda.
The issues are also playing heavily on the minds of the people when vague answers are given instead of statements that categorically address the issues. Only by giving clear answers can Mahathir clear the doubts surrounding his leadership as PH chairman and prime minister and put the coalition on a firm footing to regain much of the public trust that has eroded since May 9, 2018.
As for people purportedly charting political manoeuvres, they should just stop that.
Veteran journalist Zin Mahmud sums it up best: "Pakatan Harapan is Bersatu, PKR, Amanah, DAP and Warisan. No Umno. No PAS. It was Pakatan Harapan that was given the people's mandate. Let them serve their full term. Whatever the political realignment, do it after the full term and let the rakyat choose who they want." 
All this talk of endless political manoeuvres is making a lot of people sick and tired.
Mohsin Abdullah is a contributing editor at The Edge. He has covered politics for more than four decades.