This article first appeared in The Edge Malaysia Weekly, on August 5, 2019 - August 11, 2019.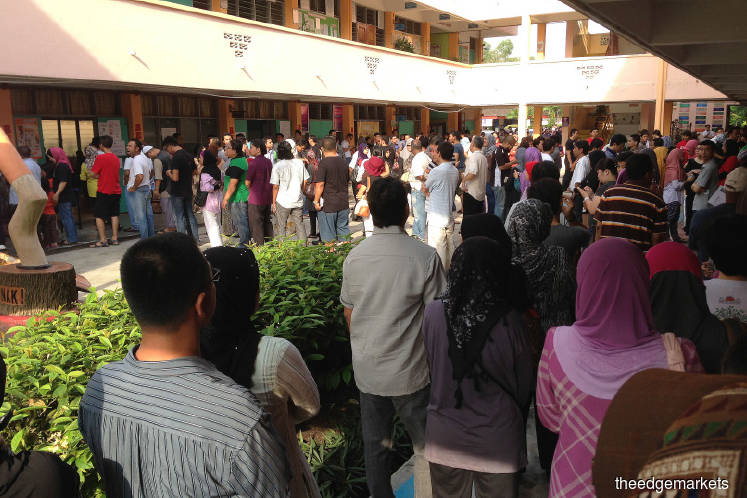 ASSUMING that the 15th general election will be held in 2023 (as GE14 was last year), the 18-year-olds who would be eligible to vote then are now aged 14.
Meaning if the political parties want to have a head start, they will have to campaign now — targeting these 14-year-olds.
And how do you do that? I mean, what do you tell kids (although many would see them as young teenagers) to get them to vote for you?
Promises of up-to-date and bigger games arcades? Cheaper jeans and sneakers? Top-class concerts to be held regularly? That is just a few of the things kids love nowadays. And fielding hipster candidates come election time, perhaps?
Enough of that. But seriously, what should political parties do to make sure that when the 14-year-olds turn 18, they will vote in their favour?
Perhaps that is what Datuk Seri Najib Razak's Malu Apa Bossku campaign is trying to do, says political analyst Dr Sivamurugan Pandian, referring to Najib's efforts to rebrand himself — such as riding a motorcycle like a Mat Rempit — and changing his image from aristocrat to working class, becoming like one of the rakyat.
I agree, but then, such a campaign appeals only to a certain section of the young populace. The upper-middle class and the well-to-do would not believe such a sales pitch. That aside, Najib's campaign is aimed at Malays who are already 18 now, not 14-year-olds. Not many of them, anyway.
Siva agrees. "For different target groups, different methods must be used. One size does not fit all."
Okay, then. So, how is it done overseas, in countries where 18-year-olds vote? "They start civic, citizenship and political education as early as age six," says Siva. "We need to do that. It's a responsibility for everyone."
That is all well and good but that is obviously for the future. What about now, with GE15 in mind? As Siva sees it, in the next general election, parents could play a major role in deciding their children's voting behaviour.
Indeed. Children tend to be heavily influenced by their parents in a lot of things, what more political inclination.
"Therefore, the political parties will have multiple tasks now. They will have to continue with the conventional method [of campaigning] and at the same time, explore in depth social media platforms to interact with the youth and win their votes," he says.
As far as social media is concerned, political parties are already big on it. However, according to Siva, "Young voters are very much becoming party-less, relating themselves to current issues, especially youth-oriented issues that politicians must identify and champion."
But that, I would say, refers to youths who are already 18. From what I have seen, it is the young adults who succeeded in convincing their parents who to vote for.
Take the youngsters who are studying in the universities or working in the cities and towns while their parents stay in the rural areas. They have access to all sorts of information via social media and once they are convinced that what they have obtained is the truth, they will go home to their kampung and tell their parents who are not on social media everything. They have been convincing their parents more often than not to think and vote like them.
Siva agrees that this has been happening in the general elections since 2008, which benefitted Pakatan Rakyat to some extent, and Pakatan Harapan overwhelmingly last year.
Then, there is the question of getting the young to vote. We have lowered the voting age and introduced automatic voter registration. Yes, but voting is still not compulsory, meaning they can choose not to vote without worrying that action will be taken against them.
Hence, there is a chance that the young may not turn up to vote. "Even when our voting age was 21, some three million eligible voters did not register. And there are many who voted for the first time when they were 30 or 40, and even 50 years old,", says Siva.
According to the analyst, even in countries where 17 and 18-year-olds are allowed to vote, the so-called youth quake did not happen, such as in the US, the UK and Japan. Turnout among the young was less than 45%, he says.
Will our 18-year-olds be like that?
"It all depends on what issues are played up during the election itself and the influence of parents or peers. Maybe voting for the first time might get the young excited. But then, it can also be the other way round," says Siva.
Back to the issue of preparing 14-year-olds now to vote when they turn 18 in four years' time. It is a big task the political parties are facing, with no guarantee of getting what they are hoping for.
My bet is political parties will let the parents do all the campaigning for them. Political parties will work hard on the parents (which has been the usual practice all along) to accept them as the party of choice. Then, these parties will ask the parents to convince — or force or brainwash, if you like — their children to vote for them, telling the kids it is for the "sake of your own future".
It can go either way. Maybe the children will be convinced by what the parents say. Or maybe it will be the parents who end up doing what the kids tell them.