This article first appeared in The Edge Malaysia Weekly, on July 22, 2019 - July 28, 2019.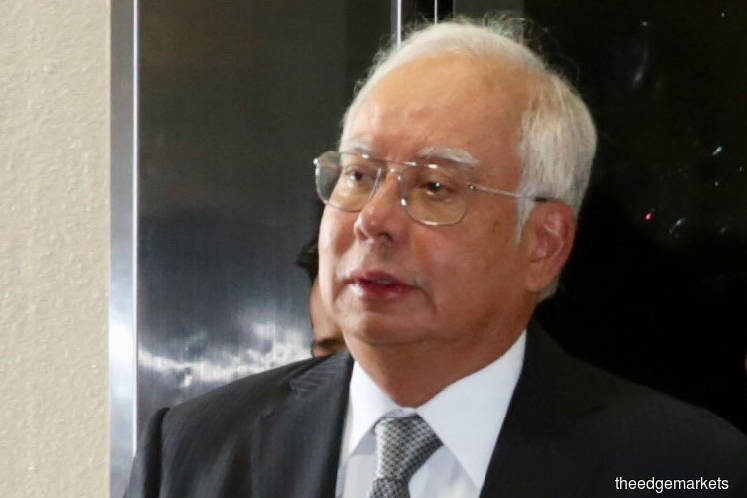 TO Datuk Seri Mohamed Nazri Abdul Aziz , once a loyalist of Datuk Seri Najib Razak, the "Malu Apa Bossku" campaign of his former leader in a bid to rebrand himself following his fall from grace is nothing short of childish.
"Bossku is not a political party. It is something childish and just for fun that won't translate into votes," commented Nazri, a former minister in Najib's Cabinet.
Judging by the outcome of the Sandakan by-election in May, Nazri may have a point. Najib flew into Sandakan blaring his Bossku image and was mobbed by hundreds of fans. He posed for wefies and went to the ground. The next day, the Parti Bersatu Sabah candidate he was campaigning for lost badly in the by-election.
Pro-Najib folks would dismiss that as an isolated case. But research firm Ilham Centre's CEO, Azlan Zainal, says although the Bossku strategy created an initial impact, "in our observation of late, it is on the wane".
Bossku, according to Azlan, is now seen by many Malaysians as material for jokes. It appears that Nazri is right.
As Azlan sees it, Malaysians, in general, only like something when it is trending, viral and unique. "When the rakyat were beginning to be disillusioned with Pakatan Harapan, they embraced the Bossku campaign."
But the campaign could not sustain its popularity and things got worse for Najib with the start of his trial involving RM42 million obtained from former 1Malaysia Development Bhd subsidiary SRC International.
"Since April 3, when the trial began, there has been less talk of Najib and the Bossku campaign is on the decline," says Azlan.
Najib himself may know this. Perhaps he and his team of strategists (rest assured that they are still working for him) are planning yet another round of rebranding for Najib.
Remember the pre-GE13 days in 2013? The run-up was akin to a US presidential campaign. Posters of Najib were more prominently displayed than those of BN. At the time, Najib's strategists felt he was more popular than Barisan Nasional and Umno, considering the negative view of BN among the rakyat.
Hence brand Najib was born. The then prime minister was portrayed as a tolerant PM for all Malaysians with his 1Malaysia slogan. To woo the young, Najib was presented as a "simple cool guy" who loved to take selfies and to tweet, was happy attending concerts and watching his favourite team Manchester United in action live on TV at the warung and gerai with the ordinary people.
To get the Chinese votes, Ah Jib Gor was coined and Najib's Facebook in Chinese was created.
That was for domestic consumption. Internationally, the head of his communications team, Paul Stadlen, worked hard to ensure that Najib got good media play overseas.
But going by the GE13 results, that did not work as hoped, although BN won.
Then came the 1MDB scandal, the RM2.6 billion in his account, the shrinking value of the ringgit and economic uncertainty as well as the sacking of his then deputy Tan Sri Muhyiddin Yassin. Najib needed a united Umno rallying behind him and also the support of the Malays.
So his strategists came up with an Islamic image for Najib. He was seen attending many religious activities wearing a skull cap and Arab robes. It was not as if he had not attended such activities before but there was a steep step-up. And to give him a modern and progressive image, international forums were organised, such as the international wassatiyah seminar in 2015 at which Najib was the main speaker.
As a former member of Najib's think tank told me at the time, "speaking at the seminar was to be the start of brand Najib as an Islamic leader — for consolidating Malay-Muslim votes".
Then came GE14 last year and the rest is history.
Now back to the waning Bossku campign. What is next for Team Najib? That is hard to tell but as Azlan sees it, Najib is now trying hard to portray himself as a "victim of political persecution via the courts".
And he is giving his version of court proceedings and playing the victim. Incidentally, Kuala Lumpur High Court judge Mohd Nazlan Mohd Ghazali has issued Najib a warning, telling him to refrain from uploading any more online posts that may constitute contempt of court.
According to Azlan, Najib and his team's constant attacks on the government are to show that he is still relevant and "knows the ropes of how to run a government" and better.
Najib, says Azlan, is hoping that the image of a liability that he is carrying now will be changed into one of sympathy. And his message is that he has been made a victim because "he fights for the rakyat".
As Azlan sees it, Najib is already a defeated man but Pakatan Harapan must be wary not to play into his hands. If it does, it could see the rakyat, in particular the Malays, becoming sympathetic towards him. That is exactly what he wants.