This article first appeared in The Edge Malaysia Weekly, on December 16, 2019 - December 22, 2019.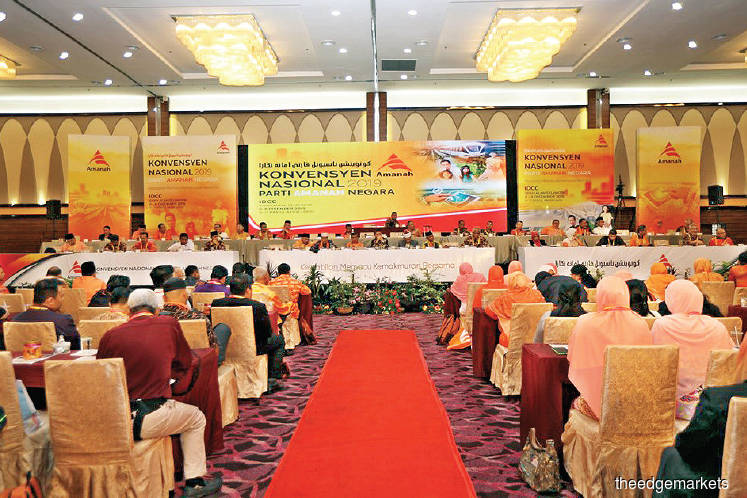 Amanah's big task is to make sure religious fanaticism and extremism do not take root in this country. Photo by Parti Amanah Negara Facebook
AMANAH has a unique way of electing its office-bearers. The process involves 821 delegates at its national convention voting to select the 27 members of the National Leadership Committee. Once the results are announced, the party's constitution stipulates that the speaker has to call for a meeting — to be attended by all those elected, together with the heads of the youth, women's and young women's wings — to elect the party president and not more than three vice-presidents from among the 27 committee members.
At the party elections last week, the first since Amanah was founded in 2015, it was status quo. Mohamad Sabu retained the presidency, Datuk Seri Salahuddin Ayub remained deputy president and Datuk Mahfuz Omar, Datuk Seri Mujahid Yusof Rawa and Datuk Hasanuddin Mohd Yunus were elected vice-presidents.
For veteran political writer Mohd Sayuti Omar, the results mean no drastic changes will take place, just "same old same old". "I don't see Amanah as an attraction that is able to strengthen Pakatan Harapan, what more act as a sort of pressure group for the administration, especially on issues concerning the Malays and Islam," he says.
Amanah is supposed to present the other side of Islam as opposed to the hardline version. That is what Pakatan Harapan expects of the party. Hence, Amanah's policy of Rahmatan Lil Alamin, or Mercy to all Creations, as the guiding principle for the administration of Islam in the country. Amanah's Fuziah Salleh, a deputy Cabinet minister, was recently quoted as saying in the media that the government is reviewing the policy, which will include laws covering issues such as LGBT, alcohol, attire and Muslims missing their prayers.
A political observer, however, opines that the move, said to be the brainchild of Datuk Seri Dr Mujahid Yusof, minister in charge of religious affairs, could push non-Muslims and even Muslims further away from Pakatan Harapan, describing it as a "potential stirring of another hornet's nest".
But let's get back to the issue at hand, that is, Amanah's performance thus far. Seasoned political writer Ahmad Lutfi Othman, who acknowledges that he is supportive of Amanah, says the party is disciplined, stable, focused and on the right track. He sees it is as "a small party with big potential" and that Rahmatan Lil Alamin is the way to go.
Perhaps what Lutfi is saying is that Amanah has been doing things on the quiet. And, being free of scandals and controversies, the party does not grab the headlines and attract media attention, he adds.
Amanah was formed by what is perceived to be the progressive faction of PAS who left the party after a big falling-out with the ulama faction. A mass exodus from PAS was expected but that did not happen. Still, Amanah is seen as more successful than PAS as it is part of the government, with ministers and deputy ministers from its ranks holding office, thanks to Pakatan Harapan's victory in the 14th general election last year.
With such clout, Amanah was expected to check PAS and the party's alliance with Umno, known as Muafakat Nasional. However, analysts interviewed by Malay Mail Online say Amanah is not doing that.
Professor Azmi Hasan told the news portal that Amanah has failed to replace PAS politically and with the creation of Muafakat Nasional, PAS sympathisers have no doubts about supporting PAS.
Mohamad, popularly known Mat Sabu, however, claims that the formation of Muafakat Nasional is a "blessing in disguise" as PAS members who are against the alliance are now with Amanah.
If that is true, it could go a long way to help the Amanah cause. There is no denying that its big task is to make sure religious fanaticism and extremism do not take root in this country, if it hasn't already, that is.
And that's not all. Mohamad is well aware of the challenges it faces. In his speech at last week's national convention, he spoke of the need for Amanah to address conflicting demands from two extremes — the ultra ethno-nationalists and hyper-liberals.
He viewed demands by the two groups as a development that could push the country into uncertainty. The ultra ethno-nationalists, he said, are selling ideas about the Malay narrative while the hyper-liberals are trying to instill ideas that destroy traditional elements of the country's culture.
Amanah must be up to the task of facing these challenges. We are not merely talking about Pakatan Harapan here. The outcome of these developments will impact the national outlook.