This article first appeared in The Edge Malaysia Weekly, on April 13, 2020 - April 19, 2020.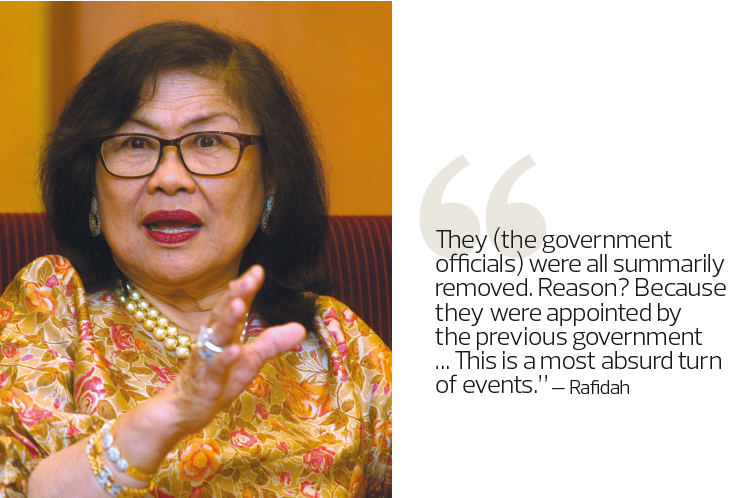 They (the government officials) were all summarily removed. Reason? Because they were appointed by the previous government … This is a most absurd turn of events." — Rafidah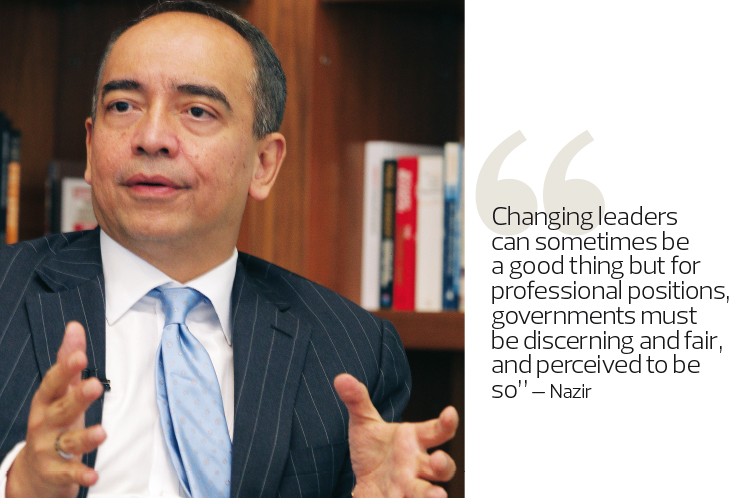 Changing leaders can sometimes be a good thing but for professional positions, governments must be discerning and fair, and perceived to be so" — Nazir
A couple of weeks ago, while speaking to a contact close to the Perikatan Nasional (PN) government, the conversation veered towards whether the government-linked companies (GLCs) and agencies would see a change at the top.
His simple answer was, "Expect lots of changes."
When the Pakatan Harapan (PH) government changed the heads of GLCs, government-linked investment companies (GLICs) and state-owned enterprises, the move caused quite a stir as well-respected leaders, such as Tan Sri Abdul Wahid Omar, who was chairman of Permodalan Nasional Bhd (PNB), were removed or left, for example Khazanah Nasional Bhd managing director Tan Sri Azman Mokhtar.
The PH government explained it away as being in line with its election manifesto of not appointing politicians to GLCs, GLICs and state-owned enterprises.
One of the affected people, Datuk Seri Nazir Razak, who was chairman of CIMB Group Holdings Bhd, says, "Changing leaders of institutions and companies, especially CEOs, cannot be taken lightly as it is typically very disruptive for the organisation.
"When PH came to power back in 2018, top GLC (including GLIC) positions became an early priority. I could not reconcile PH's handling of the GLCs with its open-minded approach to the rest of government … Changing leaders can sometimes be a good thing but for professional positions, governments must be discerning and fair, and perceived to be so."
Coming back to the current situation, how badly the management changes will impact the already bleak business environment remains to be seen.
Commenting on the recent spate of removals in a WhatsApp message to The Edge, former international trade and industry minister Tan Sri Rafidah Aziz asks, "Is it only for the sake of the numbers game, to get in supporters, regardless of competence and suitability, merely to get enough numbers support for any eventuality in parliament?"
What is going on?
Rafidah is not alone in her view as many other pundits The Edge spoke to say the same thing.
According to political sources, those appointed as the chairman of government agencies are largely Umno members as Prime Minister Tan Sri Muhyiddin Yasin is seen to be garnering the party's support before his first parliament sitting on May 18.
PN, which Muhyiddin helms, has 93 members of parliament (MPs) and the support of 18 Gabungan Parti Sarawak MPs, three Gabungan Bersatu Sabah MPs and two independent MPs, which add up to 116 seats, thus giving the alliance the majority of the parliament's 222 seats.
Breaking down PN's numbers, the largest contributor of seats is Barisan Nasional with Umno contributing 39, MCA, two, and MIC, one; Muhyiddin's Bersatu has 33 seats, PAS 18, GPS 18 and Gabungan Bersatu Sabah three. PN also has two independent MPs.
Bersatu makes up 28% of PN but it seems to have more control of the loose coalition, holding the roles of prime minister and two senior ministers — Datuk Seri Mohamed Azmin Ali, who is the minister of international trade and industry, and Mohd Radzi Md Jidin, who is the minister of education. Umno, meanwhile, has only one senior minister — Minister of Defence Datuk Seri Ismail Sabri — despite making up 35% of PN.
The culling has begun
In a Facebook posting, Rafidah slams the PN government for the removals. "They (the government officials) were all summarily removed. Reason? Because they were appointed by the previous government … This is a most absurd turn of events," she writes. "Forget competence and value add to the nation."
Last week, there was word that Federal Land Consolidation and Rehabilitation Authority Bhd (Felcra) chairman Datuk Nageeb Wahab and his board had left and that a political appointee, Tasek Gelugor MP Datuk Shabudin Yahaya, would take over the chairmanship of the agency.
This drama at Felcra comes on the back of Tan Sri Mohd Bakke Salleh leaving the Malaysian Palm Oil Board (MPOB) last month, two months after the PH government was ousted.
He was replaced last week by Datuk Ahmad Jazlan Yaakub, MP for Machang, Kelantan Umno liaison chief and former deputy minister of rural and regional development. How Ahmad Jazlan will perform compared with Bakke, a highly respected figure in the palm oil industry, remains to be seen.
Last week as well, there were congratulatory messages for Datuk Seri Shahidan Kassim, former Perlis menteri besar and Umno warlord, as he was apparently going to be appointed FGV Holdings Bhd chairman. Shahidan, however, came out to say that he had not got any such indication.
Current FGV Holdings chairman Datuk Azhar Abdul Hamid is well known in the plantation sector and is working with CEO Datuk Haris Fadzilah Hassan to turn the ailing company around.
Azhar is known to be a no-nonsense type. In 2014, he stepped down as CEO of MRT Corp following the death of three Bangladeshi workers in an accident on an MRT construction site near Kota Damansara.
"I know my resignation will not bring back the lives of the three workers but I believe it is the correct thing to do," Azhar had said back then.
Shahidan, meanwhile, was linked to Padiberas Nasional Bhd (Bernas), a company that, for the longest time, had the sole rights to import rice. He was a shareholder via his vehicle Batu Bara Resources Sdn Bhd and played a key role in the privatisation of Lembaga Padi dan Beras Negara.
Whether Shahidan has any experience in the plantation sector or a similar field is not known. It is also noteworthy that a year ago, he was given a discharge not amounting to an acquittal by the Sessions Court for the alleged molest of an underage girl.
Meanwhile, at the Federal Land Development Authority (FELDA), which owns 33.66% of FGV Holdings, Datuk Seri Idris Jusoh, an Umno supreme council member, former minister of higher education, former menteri besar of Terengganu and MP for Besut, could win the chairman's post vacated by Bakke, whose removal from MPOB may see him exit the government agency as well.
If the list of appointees that is going around is accurate, Datuk Seri Mohamad Hasan, deputy president of Umno, is slated to be chairman of Tenaga Nasional Bhd.
However, those The Edge spoke to say this is unlikely as Mat Hasan, as he is popularly known, is very senior in Umno and more minister material via his appointment as a senator than the chairman of the state-controlled utility giant.
Tengku Razaleigh Hamzah, or Ku Li, meanwhile, is rumoured to be moving to Petroliam Nasional Bhd (Petronas) as its chairman, taking over from Datuk Ahmad Nizam Salleh, who has held the post since August 2018 and served Petronas in various capacities, including managing director and CEO of Engen Ltd in South Africa, which is a big outfit.
While Ku Li may have been the founding chairman and chief executive of Petronas from 1972 to 1974, at 83, is he the right candidate to be its chairman?
Former education minister and Umno vice-president Datuk Seri Mahdzir Khalid, meanwhile, is touted to go to Telekom Malaysia Bhd as its chairman, taking over from Rosli Man, who has held the post since December 2018.
Rosli has more than 30 years of experience in the telecommunications industry and was CEO of Celcom (M) Bhd when it was owned by Tan Sri Tajudin Ramli in the 1990s.
Meanwhile, at pilgrims fund Lembaga Tabung Haji (TH), Sabah-based politician Datuk Hajiji Mohd Noor, who helms Parti Pribumi Bersatu Malaysia (Sabah), could be made its chairman. If he does secure the seat, he will be taking over from Tan Sri Md Nor Yusof, who was appointed in July 2018.
Md Nor spent more than 19 years with CIMB group as a director and as president and CEO of the Bank of Commerce (M) Bhd. He was also executive chairman of the Securities Commission Malaysia, managing director of Malaysian Airline System Bhd, and an adviser in the ministry of finance, among others.
Other names that have cropped up to take up positions at the GLCs and agencies include Jerantut MP Datuk Ahmad Nazlan Idris, Parit MP Datuk Mohd Nizar Zakaria and Gerik MP Datuk Hasbullah Osman to chair entities such as Bernas, Lembaga Getah Malaysia, Lembaga Pertubuhan Peladang, the Rubber Industry Smallholders Development Authority (Risda) and Syarikat Perumahan Negara Malaysia Bhd.
Majlis Amanah Raya (Mara) is another of the affected government agencies. Several of its board members — Datuk Syed Tamim Ansari Syed Mohamed, Tengku Tan Sri Mahaleel Tengku Ariff, Dr Nungsari Ahmad Radhi, Zakri Mohd Khir, Datuk Dr Ameer Ali Mydin, Datuk Jamelah Jamaluddin and Ahmad Bazlan Che Kassim — had their contracts shortened to mid-March this year after they were appointed on Oct 1, 2018.
Says Nazir, "Moving forward, I think we need to define which positions are political appointments and which are professional ones. Some GLCs are pure government implementation vehicles, so they will need some political appointees whereas others are purely commercial and the government needs to appoint mainly professionals.
"We should also define the appointment process, qualifications required and security of tenure for professional GLC appointments. Transparency would also help professionals decide if they want to take up government appointments and not be politically 'branded' as a consequence. Listed companies should, of course, be excluded from all this as there are already set governance rules and leadership appointment processes in place."
What about the managing directors/CEOs at GLCs and GLICs?
The PH government had some difficulty in appointing managing directors and CEOs, with the key reasons including a dearth of talent, the weak ringgit, which made working abroad more lucrative, and, of course, the fear of removal when the premier changed.
A lawmaker tells The Edge why a high-profile appointee to a GLC had turned down the offer at the time. "Why should I leave my current (successful) private practice and take this job, and get expelled when (Datuk Seri) Anwar Ibrahim takes over?" he asked.
Removing the heads of companies in the current business environment is worse, considering the beating some of them have taken in terms of earnings and share price.
The FBM KLCI was hovering at the 1,357-point mark last Friday, giving it a market capitalisation of about RM879 billion. Year to date, the benchmark index had fallen about 14%, which translated into a loss of RM120 billion in market value.
Nevertheless, it would be interesting to watch the changes at the GLCs and GLICs in the coming weeks. In fact, some of the appointees have been barely six months in the job.
At TH, Nik Mohd Hasyudeen Yusoff started as its managing director and CEO on Sept 1, 2019, and is likely to have his hands full trying to revive the many ailing companies under the pilgrims fund.
At PNB, Jaleel Rasheed started on Oct 1, 2019, replacing CEO Datuk Abdul Rahman Ahmad. The fund has many public-listed companies in its stable, namely Sime Darby Bhd, UMW Holdings Bhd, Malayan Banking Bhd, Sime Darby Plantations Bhd, Sapura Energy Bhd, Sime Darby Property Bhd and Velesto Energy Bhd.
At Bank Negara, Datuk Nor Shamsiah Mohd Yunus was appointed on July 1, 2018, for a five-year term and she has more than half of her tenure to go. Would anybody want to shoulder the responsibility of helming the central bank at the present time?
This would also apply to Datuk Shahril Ridza Ridzuan, who helms Khazanah Nasional, having taken over the reins from Azman on Aug 20, 2018.
Shahril had left the Employees Provident Fund, paving the way for his deputy Tunku Alizakri Raja Muhammad Alias to take over the top post at the pension fund.
"PH lumped together most of the government-controlled agencies and companies, from 1Malaysia Development Bhd and Mara to PNB, and created a climate of fear and uncertainty among the GLC heads, which cascaded down to the management and staff. All this affected the performance of the GLCs, which are a big part of our economy," comments Nazir.
"I hope the PN government resists the temptation to make wholesale changes at the GLCs for the sake of it or for the sake of vengeance. Beyond the long-established political appointments, it should take the high road and make appointments based on what is best for these institutions or companies. That would help create some distance between the GLCs and politics, in line with the GLC reform framework of the mid-2000s."