This article first appeared in The Edge Malaysia Weekly, on September 30, 2019 - October 06, 2019.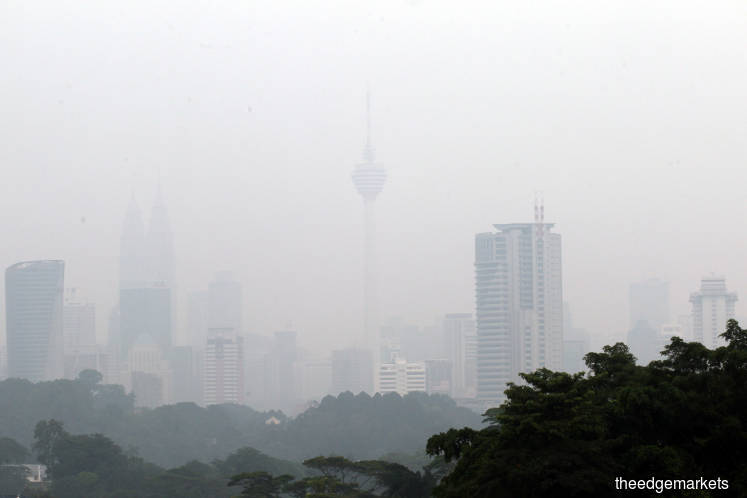 Photo by Suhaimi Yusuf/The Edge
AMID calls to formulate a new law to bring to book culprits behind the acrid haze that has been smothering the region since early this month, many are asking if there is actually a need for more laws when various avenues already exist to tackle the issue. The question then is whether implementation and enforcement have been left wanting, pointing to a lack of political will within Asean.
Last week, Minister of Energy, Science, Technology, Environment and Climate Change (MESTECC) Yeo Bee Yin said her ministry is in the process of drawing up a new law to hold Malaysian companies and individuals accountable for causing pollution in foreign countries. She said a policy for the Cross-Border Pollution Act is being prepared and will be presented to the Cabinet for approval.
Under pressure for weeks, is this merely a move from MESTECC to placate an impatient public who has grown weary and sick of the haze?
"This is not a knee-jerk reaction or law that Malaysia was pressured into crafting. Rather, the ministry had already been drafting a new act to address various pollution issues slated to be tabled next year. So transboundary pollution could be part of this new law, if not a standalone legislation," says a source close to the issue.
Furthermore, it will cover land, air and ocean cross-border pollution, not just the haze, the person adds.
When it comes to enacting such a law, many have pointed to Singapore's Transboundary Haze Pollution Act 2014. The law empowers the government to charge entities in or outside Singapore for causing haze in the island city. If convicted, the polluting company can be fined up to S$100,000 a day for causing haze in Singapore, subject to a S$2 million cap.
However, it does not appear that any company has been charged under this law since it came into force in September 2014.
In fact, theonlinecitizen.com asked in an article on Sept 20 whether the recurrent haze demonstrates the ineffectiveness of the act. It went on to say that no legal action was taken against Jakarta-based Asia Pulp and Paper Group (APP) or its suppliers for fires detected on their land in 2015.
It added that Singapore's National Environment Agency said in March 2017 that APP had been opaque with its information. This resulted in inconclusive investigations.
The article also pointed out that three years ago, at a climate change forum in Jakarta,  Indonesia's Environment and Forestry minister Siti Nurbaya Bakar had voiced her unhappiness at Singapore "stepping" into the country's legal domain over the issue of forest issues in the absence of a bilateral agreement between the two countries.
Malaysian lawyer and political secretary to Iskandar Puteri MP Lim Kit Siang, Syahredzan Johan, tweeted last Tuesday that even if legislation exists for the authorities to go after Malaysian companies involved in the fires in Indonesia, "the maze of ownership and principles of separate legal entities mean it is going to be difficult to attach liability."
Nevertheless, he expressed confidence that MESTECC and the attorney-general will be able to "figure it out".
However, for such a law to be effective, Indonesia must do its part in enforcing "their local laws", Syahredzan tweeted.
Indonesia's minister, according to the same piece by theonlinecitizen.com, noted that Yeo's counterpart Siti Nurbaya had referred to the 2002 Asean Agreement on Transboundary Haze Pollution as a "multilateral" effort compared to Singapore's Transboundary Haze Pollution Act.
The Asean Agreement was ratified by all 14 members in 2014, with the last member country to do so being Indonesia. The agreement is the result of multiyear efforts by member countries following the 1997 haze.
Yet, 22 years on, the haze still occurs regularly — further proof that a multilateral effort has not worked either.
"The agreement, which was preceded by the Regional Haze Action Plan (RHAP) that was adopted by Asean environment ministers in December 1997, outlines various initiatives comprising institutional arrangements between member countries at various levels of government, policies, projects and activities to deal with transboundary haze. It included the formation of the Haze Technical Task Force (HTTF) and Sub-regional Firefighting Arrangements (SRFA) for Sumatera, Borneo and other areas in the region. It is a solid action plan, yet it is all forgotten," says Teoh Cheng Hai, senior advisor at international civil society organisation Solidaridad Asia.
Teoh had contributed to the Guidelines for the Implementation of the Asean Policy on Zero Burning focused on oil palm, rubber, cocoa, coconut and new planting on secondary forests — a policy initiative under the RHAP. He is of the opinion that there is no need for new laws but there is an urgent need to implement the 2002 Agreement and the RHAP.
Asean guidelines also exist for controlled burning practices for smallholders who cannot afford large machinery to adopt zero burning techniques.
"An update of existing guidelines may be necessary, but what is really needed is the collective political will among member countries to address the transboundary air pollution rather than blaming each other," Teoh adds.
In this year's haze, the focus has fallen on a handful of plantation companies, including those from Malaysia, the latest being Genting Plantations Bhd, which Greenpeace alleged to be among 10 companies with the largest areas of burned land in Indonesia between 2015 and 2018 but received no serious civil or administrative sanctions. The company, however, says no significant burned area has been found in its concession area during the period.
An observer says it would be corporate suicide for plantation companies that are members of the Roundtable on Sustainable Palm Oil (RSPO) to employ fire for land preparation in their estates.
"It could lead to loss of certification, expulsion from RSPO and loss of market share,  and poses huge reputational risks to the companies," he says.
An unintended consequence of conservation, or when conflicts between large plantation players and local communities are left unresolved, is the creation of enclaves or large areas of land set aside for conservation within concessions. These areas, when left unplanted, attract local settler communities who use traditional land clearing methods such as slash and burn to plant crops, including oil palm.
It should be noted that slash and burn is still adopted by smallholder farmers in many parts of the world. For example, burning of rice stubble after harvesting by small farmers is one of the major contributors to air pollution in India every year.
"What is needed is for governments, NGOs and big plantation companies to work with smallholders to teach them to be more climate-smart and conscious of the impact of burning. There is a need to minimise agricultural activities involving open burning," he adds.