This article first appeared in Capital, The Edge Malaysia Weekly, on March 2, 2020 - March 08, 2020.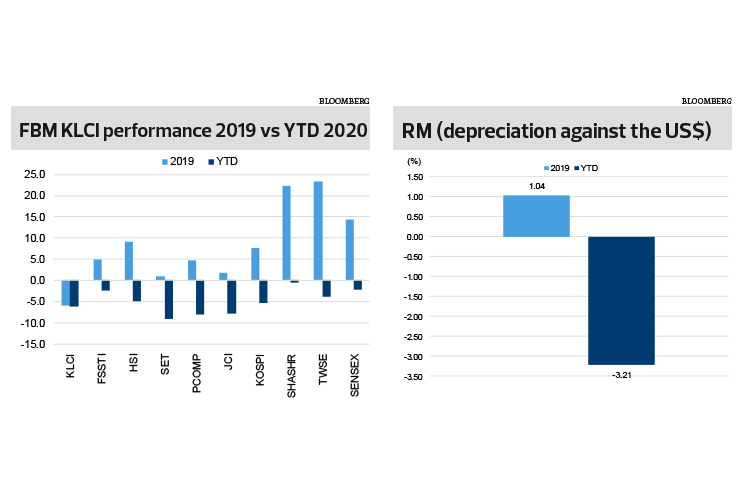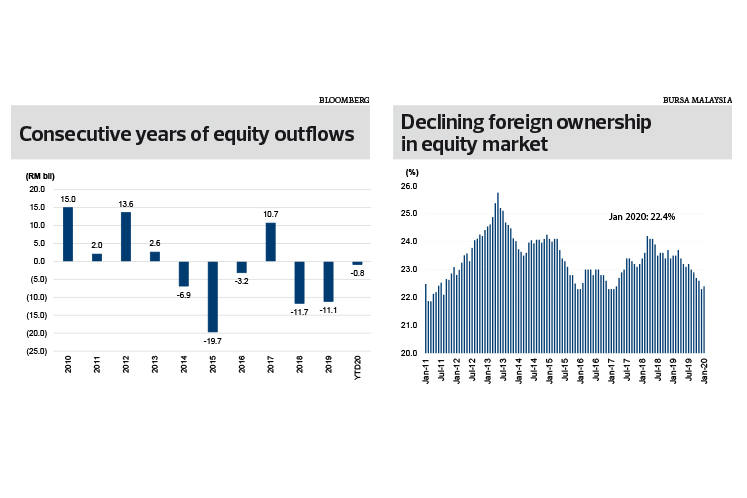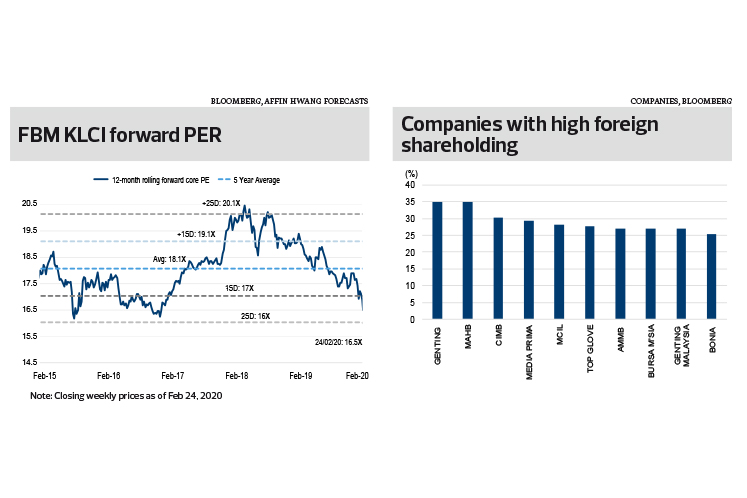 WITH the novel coronavirus (Covid-19) outbreak continuing to spread around the world, the sudden collapse of the Pakatan Harapan government last week could not have come at a worse time.
From the infamous Sheraton dinner, the shock resignation of Tun Dr Mahathir Mohamad as prime minister to the inevitable break-up of the PH coalition, it all happened almost in the blink of an eye.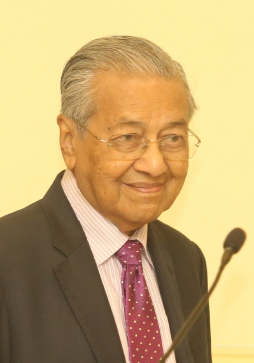 The political turmoil, which now seems likely to drag on, has put a further strain on the economy, which was already weak before the global Covid-19 outbreak. The disease, which first broke out in China, has disrupted global supply chains, causing business and economic activities to slow down in various parts of the world.
Not surprisingly,  the FBM KLCI fell below the critical support level of 1,500 last week, hitting its lowest point since 2011. The massive selldown was believed to be led by foreign selling as investors reduced equity allocations to manage their investment risks.
Year to date, the benchmark index has fallen 5.23%. The FTSE Bursa Malaysia Small Cap Index is also down 5.93%.
On the currency front, the ringgit is weakening against the greenback. Last Thursday, it was 4.211 against the US dollar, after depreciating 2.9% YTD.
That is not exactly how we want to start a new year or, rather, a new decade.
Given the latest developments on the political scene last week, an investor could be easily overwhelmed. What do the market experts make of this and where do we go from here?
Geoffrey Ng Ching Fung, investment adviser and director of Fortress Capital Asset Management (M) Sdn Bhd, acknowledges that the collapse of the PH government does appear to coincide with a "perfect storm" already brewing, with the coronavirus outbreak and recent political demonstrations in Hong Kong.
However, if one takes the view that the local bourse would have weakened anyway, in tandem with the coronavirus-led equity sell-off globally, it would appear that the PH government's break-up was timed "perfectly", he tells The Edge.
Ng points out that the country's historical political stability had allowed its capital markets to trade at a premium to some of the regional markets. But with the change of government in 2018, the political risk premium has risen, which has added to the underperformance of the local bourses in recent years.
"The events over the weekend continue to be in uncharted waters and, hence, lead to an ever-rising political risk premium for capital markets. We draw a parallel with Thailand's experience, which saw political instability and market underperformance for many years after the ouster of [prime minister] Thaksin Shinawatra," he says.
Ng adds that investor participation and market liquidity were affected as overall market sentiments turned negative due to the political uncertainty, which also coincided with the plunge in global equities on several external factors.
"As the political situation remains very fluid, we advise caution in trading on the market. However, we do see value being created for medium to longer-term investors," he says.
Investment opportunities
While regional private equity investor Ian Yoong concedes that this is indeed the worst possible start to a new decade, he tells The Edge that there are many investment opportunities amid the selldown. "We live in turbulent and uncertain times. History has shown us that this is part of the evolutionary process of many developing countries. It will get better, but it will take time. As investors, we must focus on the valuations of the businesses that listed companies own and manage."
Yoong says many small and mid-cap stocks had performed poorly in 2018 and 2019, to the extent that  many counters were trading at very attractive valuations. "There are indeed many buying opportunities but investors have to be patient. My focus would be on the large-cap stocks that brought down the FBM KLCI to a decade low. These stocks are not pieces of paper — they represent equity stakes in businesses."
For instance, the banking sector's valuations are attractive as the banks have taken a beating over the past 12 months, he says. "If you invest in shares of companies with well-managed businesses, it [the return] is better than cash in the bank, yielding 2.5% to 3%. Better to own the bank, as dividend yields of banks range from 6% to 8%."
Good investment processes should be fluid and dynamic, while investors should always hold cash for contingency purposes and only invest surplus funds, he adds. "If we are in a sinking ship (sector), we should change ships."
Rakuten Trade Sdn Bhd vice-president of research Vincent Lau believes investors should have a longer-term view of their investments, rather than panic selling based on headlines. "I cannot comment much on politics but whoever is the government of the day will ensure our capital market remains vibrant and friendly to foreign investors and foreign direct investments."
Lau acknowledges that although it is hard for investors to find a bright spot at the moment, value has emerged in certain stocks. "It is time to pick up some small and mid-cap stocks. Export-oriented companies should do well because of the weak ringgit. As the construction sector is quite depressed already, it will bounce back."
However, Lau warns that investors should always keep some cash and not go all in. "Tech stocks have also declined, but they are not particularly cheap. I think investor interest (in this sector) will still be there. Eventually, it will come back up."
A timely camouflage?
A fund manager who prefers to remain anonymous concurs. "Yes, the market is down pretty badly but mostly on selected stocks. If the situation settles down, this could present a buying opportunity. A lot of things are happening and there are more uncertainties in an already confused scenario in the country. There will be selling, as has been the case all these months, but I do not think it will be a major exodus when nothing is confirmed."
While the market has reacted negatively to the political drama, which adds to the uncertainty over the day-to-day running of the government, a head of research at a local non-bank-backed firm points out that the saving grace is that it provides an opportunity for local and foreign funds to do some window shopping. "There are many negative things happening at the same time. Regardless of the political fiasco, the coronavirus impact alone would be enough to pull down the market, but the political issue has certainly made it worse. With the situation still fluid, the market is likely to continue to be negatively affected. In fact, not only will the equity market be under pressure, but also the currency."
Fortunately, the research head says, the coronavirus issue is affecting the global market, hence, camouflaging the fall of Malaysian stocks.
Year to date, the Dow Jones Industrial Average has fallen 5.54%, while the S&P 500 has dropped 3.54%.
Last Monday, CNBC reported that economist Nouriel Roubini had said the deadly coronavirus is just one of several "white swans" circling the global economy that could present the biggest challenge since the financial crisis.
The economist, who has been nicknamed "Dr Doom," pointed to a number of other issues that could be just as destabilising. They include geopolitical tumult across at least four fronts, a potentially chaotic US presidential election, reignited trade tensions with China, potentially catastrophic damage from climate change, and a growing potential for cyberwarfare.
"This list is hardly exhaustive, but it points to what one can reasonably expect for 2020," says Roubini in an essay for Project Syndicate. (See "The white swans of 2020" on Page 42 of Issue 1307 of The Edge)
"Financial markets, meanwhile, remain blissfully in denial of the risks, convinced that a calm, if not happy, year awaits major economies and global markets," he writes.
Affin Hwang Investment Bank Bhd chief economist Alan Tan and deputy research head Kevin Low are of the view that an interim prime minister is unlikely to remove any concerns over the uncertainty but, rather, pose further questions on the formal transition of power.
"We think this will further compound investor concerns about the market and will likely deter any prospects of foreign inflows," they write in last Tuesday's report.
In tandem with its recent cut in gross domestic product growth, Affin Hwang lowered its end-2020 FBM KLCI target to 1,540 points, based on 17 times 2020 market earnings per share.
"Near term, with enhanced market volatility, we continue to advocate a defensive stance, favouring real estate investment trusts and healthcare. Our other sector "overweights" are rubber gloves, plantations, and electronic manufacturing services," they write.