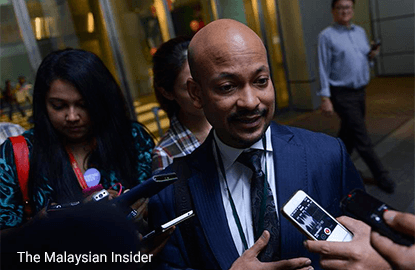 (July 8): More than a dozen police officers assigned by a special government task force investigating a money trail of billions of ringgit to Prime Minister Datuk Seri Najib Razak's bank accounts spent the day raiding the office of 1Malaysia Development Bhd (1MDB) in Kuala Lumpur today.
They spent about eight hours at 1MDB's office in Menara IMC on Jalan Sultan Ismail and left the building at 6.30pm today with a box believed to contain a computer's central processing unit (CPU), as well as a plastic container of documents.
1MDB president and group executive director Arul Kanda Kandasamy declined to confirm the items that had been seized when he emerged from the building at 6.50pm.
"The police arrived at 9.40am and conducted investigation in a very thorough manner," he said, adding that 1MDB was extending its full cooperation to the authorities.
He declined to comment further, saying that 1MDB was now the subject of an official investigation.
"There is nothing more to add," he said.
A police officer when approached by the media said that they were done searching 1MDB's office for now and was uncertain as to whether they will be assigned to return for further investigations.
Media personnel had been camping outside the building as early as noon today but were barred from entering the building.
At 6.15pm five officers came out from the building, followed by others about 10 minutes later with a trolley that carried a box containing the CPU and a plastic container with the documents.
The special task force comprises Bank Negara governor Tan Sri Dr Zeti Akthar Aziz, Attorney General Tan Sri Abdul Gani Patail, Inspector-General of Police Tan Sri Khalid Abu Bakar and Malaysian Anti-Corruption Commission (MACC) chief Tan Sri Abu Kassim Mohamed.
It was formed to probe allegations reported by The Wall Street Journal on July 2 that some US$700 million (RM2.6 billion) had been transferred to Najib's accounts in AmBank in Kuala Lumpur.
The task force has frozen six bank accounts and seized documents related to 17 bank accounts.
It has already raided the offices of SRC International Sdn Bhd, Gandingan Mentari Sdn Bhd and Ihsan Perdana Sdn Bhd, the companies which were part of the local transfer of funds totaling US$11.1 million (RM42 million).
Khalid earlier today told reporters that the police would investigate how WSJ had obtained access to the bank documents.
WSJ had said that the documents were from the official Malaysian investigation into 1MDB.
Gani this evening in a separate statement also ordered an investigation into the leak of confidential documents related to the probe.
WSJ yesterday uploaded onto the Internet the documents it had used in its July 2 report about the movement of funds into Najib's accounts.
Abdul Gani today emphasised that he would not hesitate to prosecute any person found to have leaked confidential investigation-related information as it is a criminal offence under section 133 of the Financial Services Act 2013 and section 145 of the Islamic Financial Services Act 2013.
The provisions in these Acts make it an offence for anyone in a bank to disclose private information of its customers. – The Malaysian Insider