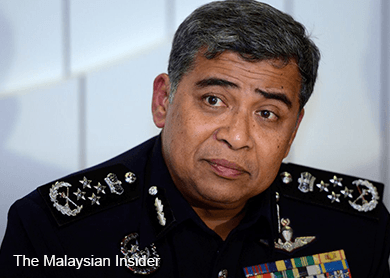 (Dec 1): The allegations raised in a statutory declaration (SD) by Charles Morais have not been dismissed, Inspector-General of Police Tan Sri Khalid Abu Bakar told Malaysiakini.
However, Khalid was reported as saying that questioning Charles was integral.
"I called him a coward for leaving the country because it is frustrating when someone makes such damning allegations and disappears just like that. It complicates and drags the matter.
"It is imperative that we quiz him to get a clearer picture. We, too, would like to know the contents of the alleged pen drive and if there is any basis to the claims."
Charles, who had left for the United States on Thursday, after releasing a SD alleging that his brother, Datuk Anthony Kevin Morais's murder, had some link with the preparation of a charge sheet to prosecute a highly-placed political leader for corruption.
He also said he has a pen drive sent to him by Kevin and details the cases the latter was working on.
Meanwhile, Charles's lawyer Americk Sidhu today spent two hours answering questions from Bukit Aman police officers over the pen drive.
Americk, however, denied that his client was on the run, as claimed by police, saying that a copy of the SD was sent to the police.
Malaysiakini also reported Khalid as saying that if Charles had security concerns since his allegations implicated powerful people, he should have approached the police.
"We would have been willing to offer him protection. However, the critics would doubt us on this as well.
"So it becomes a catch-22 situation for us. The pen drive and Charles can provide us with much-needed information to assist our probe.
"In the absence of the pen drive, all we have are damaging allegations and that is not sufficient to carry out an exhaustive probe," he was quoted as saying.
Khalid also did not discount the possibility of sending a team to the United States to question Charles, where he was based since 1984.
In response to DAP lawmaker Gobind Singh Deo calling him a coward, Khalid was quoted as saying that he preferred not to trade barbs as he had more important tasks to do.
Charles also alleged that his brother, Datuk Richard Morais, was in cahoots with "someone", which was why Richard claimed Kevin's remains from the mortuary on the same day Charles filed an application in court to conduct a second post-mortem.
Kevin's body was found in a cement-filled steel drum in a swamp in Taman Subang Mewah in USJ 1, Subang Jaya, 12 days after his abduction on Sept 4.
Six men have been charged with Kevin's murder while pathologist Dr R. Kunasegaran has been charged with abetment. – The Malaysian Insider