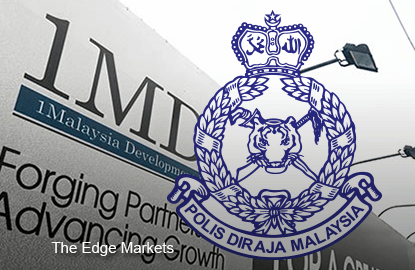 KUALA LUMPUR: Police said yesterday they will check the authenticity of the emails received from The Edge Media Group through their own experts, as part of their investigation into the 1Malaysia Development Bhd (1MDB) scandal.
"Yes, my officer at commercial crime has received the documents and information from The Edge on behalf of the task force," said Inspector-General of Police Tan Sri Khalid Abu Bakar.
The Edge said that it had referred the emails shown to it, in connection with the 1MDB scandal, to an information technology (IT) forensic expert to confirm their authenticity before pursuing the stories.
Khalid responded by saying police will use their own experts on this matter.
"They (The Edge) have their own expert, we have ours, too. They look at a different angle and we look at a different angle," said Khalid.
The Edge Media Group publisher and group chief executive officer Ho Kay Tat on Tuesday said the media organisation was shown thousands of emails and document attachments by a person it did not name.
"We read scores of them and were convinced of their authenticity because of the sheer volume and the email trails. We subsequently had an IT forensic expert confirm that there was no reason to worry that they were fakes," he said in a statement.
The Edge on Monday handed documents, printed emails and a hard disk to Bank Negara Malaysia.
On Tuesday, the same set was given to the Commercial Crime Investigation Department (CCID) of police.
Ho also gave a statement to the CCID. — The Malaysian Insider
This article first appeared in The Edge Financial Daily, on July 23, 2015.