This article first appeared in Enterprise, The Edge Malaysia Weekly, on August 13, 2018 - August 19, 2018.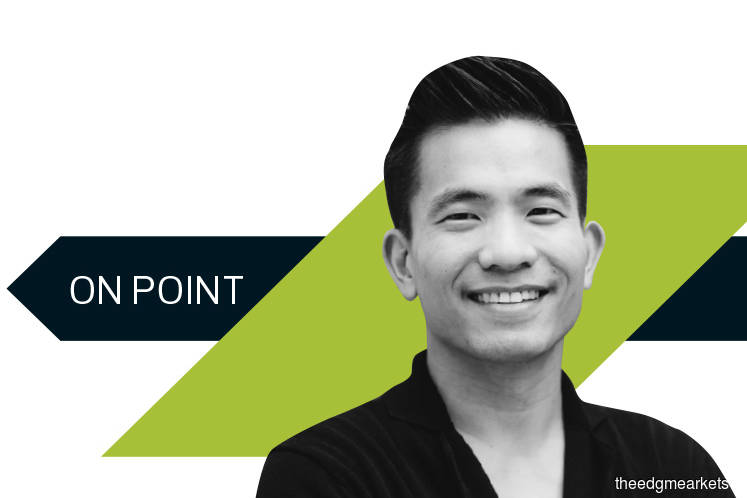 Like many Malaysians, I am feeling more optimistic about the country these days. But when it comes to the "new economy", "Industry 4.0" or technology and innovation, I am still very concerned.
After being involved in creating and investing in technology start-ups in Malaysia, Asean, Silicon Valley and 60 other countries, I have come to two conclusions. First, Malaysia is further behind than it thinks.
For years, we have been dreaming about being the Silicon Valley of Southeast Asia. However, 40 years after the development of the electrical and electronic hub in Penang and more than 20 years after the launch of the Multimedia Super Corridor, we find Singapore leading the pack.
Compass — a San Francisco-based research firm, which ranked the 20 global start-up ecosystems (on things like start-up experience, successful exits, venture capital investments, market reach and talent pools) — placed Singapore at the top of the list in Asia-Pacific. Malaysia only came in fourth.
One study quoted in Forbes even ranked Singapore No 1 in the world, above San Francisco. More tangible than rankings, of the 150 Southeast Asian but non-Singaporean start-ups that my firm has invested in, two-thirds are incorporated as Singaporean companies. They cite "easier to attract capital" as their number one reason. Yes, our Malaysian companies reincorporate as Singaporean entities for the same reason.
Take our most successful investment, Grab (formerly MyTeksi), which became the most valuable tech start-up in the region at a whopping US$10 billion valuation. The founders are Malaysian. But when I started working with them to raise money, it was the Singaporean venture capitalists who moved fast to secure their first institutional round. Eventually, they moved their headquarters to Singapore. Today, the global press identifies Grab as Singaporean.
How did we come to this?
I grew up in Malaysia, started my career and found success as a start-up entrepreneur here as well. But when I became a full-time venture capitalist investing in tech start-ups, I exhausted the opportunities pretty quickly. As a result, I moved to Jakarta 2½ years ago in search of more opportunities for the venture capital space to develop.
This year, I moved back to Malaysia because I believe the timing is right to create new opportunities. Tech is a multiplier not only for an investor's wealth but also in terms of creating many direct and indirect jobs, lifting spirits and infusing Malaysian youth with hope and ambition.
We need to succeed in this space or it will mean slower growth, a continued brain drain and dependence on foreign companies and services, such as Facebook, Google and Alibaba, for things like media, transport, conveniences and financial services.
This brings me to my second conclusion — the need for a simple measurable plan to prosper in the new economy.
I was looking at the Pakatan Harapan manifesto to see what it had to say about this. I hit Ctrl+F to "find" three keywords: innovation, start-ups and venture capital. Only innovation was mentioned. Which is okay, I guess. The manifesto said it would be "supported" and "encouraged". It is a start, and I am sure various agencies and ministries are continuing the good work that the Malaysia Digital Economy Corporation (MDEC), Malaysian Global Innovation & Creativity Centre (MaGIC), Malaysia Venture Capital Management Bhd (Mavcap) and Cradle Fund Sdn Bhd have been doing in this area.
But we need all these efforts to come together with shared, measurable outcomes that government-linked companies, government agencies and the private sector can work towards. As a lay person from the private sector, it is not clear to me what this goal is.
Other countries have rallied around the usual goals: the number of unicorns (private companies worth US$1 billion or more), the number of jobs created by the tech sector and the amount of new venture capital injected into a country's start-ups.
I would like to propose a different goal, which I have not seen adopted by any other country. What is Malaysia's market share of the most valuable tech companies in the region? Specifically, of the region's top tech companies, what percentage is owned by Malaysian money (including funds from Malaysian-owned corporates, local institutions or taxpayer-funded agencies).
I am proposing this goal because first, market share is easy to understand and measure. Second, the ownership of leading innovation companies means we will get to influence them to employ, expand and operate in Malaysia. Third, the value of these companies is expected to grow at a much more rapid pace than traditional multinational corporations (MNCs). Imagine if there were a Malaysian fund that owned 20% to 50% of Southeast Asian unicorns such as Grab, Razer and Lazada (see Table 1).
What I understand from the founders and investors of these companies is that Malaysian funds and corporates do not own a significant stake in any of them. The Malaysian ownership I know of, I can calculate from the percentage of our 500 Startups funds owned by Malaysian investors (Mavcap, some individuals and corporates) as our funds have invested in three of the companies on this list.
We can assume that there may be some Malaysian capital with indirect ownership through other funds. Kumpulan Wang Persaraan (Diperbadankan) invested US$30 million in Uber, which now owns a share of Grab following the acquisition of its Southeast Asian operations. This is a great start for Malaysian pension funds, but it may not even add up to a cumulative 5% market share of Southeast Asian unicorns.
Using this yardstick, we can measure the growth in Malaysian ownership of the tech giants of tomorrow. We can also see how this ownership has influenced these companies to engage Malaysia for operations or talent.
From this singular objective, there are three low-hanging fruit to help us make strides. First, rather than competing with others to be the start-up hub of Southeast Asia, let's be the venture capital hub of the region. The best venture capitalists will help Malaysian capital get exposure to new economy champions around the world. Getting more of them engaged with Malaysia will also attract start-ups here.
This is something attainable as it does not cost much to own large positions in top venture capital firms. Between a few of our cash-rich government-linked companies and our pension funds (our very own the Employees Provident Fund is one of the largest in the world), we could create a tight-knit environment for venture capital excellence.
Think of this: the most revered venture capital conference and investor retreats coupled with centralising office hours for venture capitalists to meet with prospective investors or investments. This is not a strategy I have seen done in a big way by any country.
Second, tomorrow's potential tech leaders have already been identified. Let's court the region's fastest growing start-ups to set up shop in Malaysia, get investment from Malaysia and secure key customers in Malaysia. The vigour that was previously dedicated to encouraging MNCs to set up their call centres and manufacturing hubs in the country should be redirected to these tech start-ups.
Look at it this way: many of these will be MNCs in less than five years, yet they would be easier to convince to land in Malaysia if we could provide funding and talent. The list of these companies is readily available for us to start engaging right away.
Third, make it known who is accountable to get this done. Under the previous government, multiple ministries and agencies had overlapping functions. The previous paradigm lumped the effort under "small and medium enterprises (SMEs)", "encouraging entrepreneurship" or "technology". But high-growth tech start-ups and new-economy businesses are not your average SMEs. They require less capital, but they do need specialised talent and they have a different funding dynamic.
The new government should coordinate the entire effort under a clear leader. We do not need to set up a new agency or ministry for this. The existing ones are doing great work in their own way, but we need someone to call the shots and with whom the buck stops. With oil and gas, Petroliam Nasional Bhd was clearly the leader. How about for the tech boom?
Finally, let's stop leaning on legacy ideas to spur this effort. For instance, tax breaks. Let's face it, every country offers tax breaks. The types of companies we want are in the high-growth mode and will not be seeing a profit for many years. So, tax breaks will not entice them.
What they do need is talent. While the government can offer the talent in these companies personal tax breaks, I would take it a step further. How about if top government scholarship holders be required to work in Malaysian start-ups to repay their bond?
Imagine promising a start-up a cadre of Ivy League talent or elite programmers at a subsidised cost! We could even compel Singaporean companies to set up their bases here.
Another legacy idea that we need to move away from is local start-up accelerators and incubators. At 500 Startups, we have operated accelerators in Silicon Valley for eight years, graduating over 800 companies through 24 batches.
We are huge believers in accelerators, don't get me wrong. It is just that operating one at a high level requires a long investment horizon, an appetite for failure, consistency in output and a concentration of mentors.
It takes more time and effort to do this properly than simply courting the more mature regional high-growth start-ups. Accelerators may be media-friendly and more "feel good". But to make immediate progress to increase Malaysia's market share, the latter will get us to where we want to be much faster.
Getting our new economy effort right will change the trajectory of Malaysia. Notice the change in the top 10 market capitalisation companies in the world today versus those of 10 years ago (see Table 2)?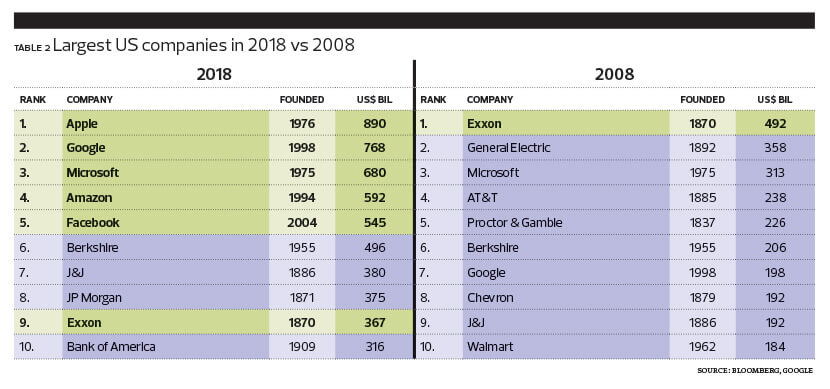 Today, the world's biggest companies and richest people are from the tech industry. They are born of the new economy. And they did not take 100 years to get there. Malaysia can ride this wave and get ahead. We got it right in terms of riding the oil and gas boom. So, let's get it right with the tech boom. Enough with various "little" efforts. Enough with cautiously "trying". Enough of legacy ideas. It is time for a new approach to the new economy.
---
Khailee Ng is managing partner of Silicon Valley-based venture capital firm 500 Startups and he oversees its Southeast Asian fund, 500 Durians. The views expressed here are his own.