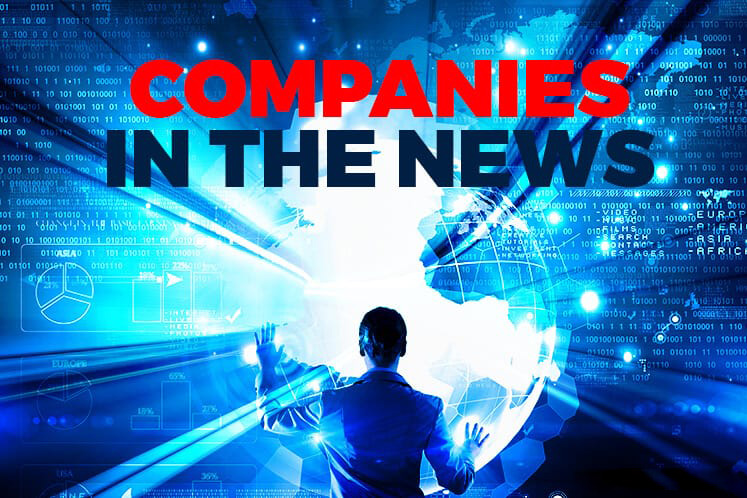 KUALA LUMPUR (March 14): Based on corporate announcements and news flow today, stocks in focus on Friday (March 15) may include: Poh Kong Holdings Bhd, Pesona Metro Holdings Bhd, Econpile Holdings Bhd, Utusan Melayu (M) Bhd, Berjaya Food Bhd, Uzma Bhd, Priceworth International Bhd, Revenue Group Bhd and Nestle (Malaysia) Bhd.
Poh Kong Holdings Bhd's second quarter net profit grew 40.4% to RM6.75 million, from RM4.81 million a year earlier, thanks to higher gold prices.
Quarterly revenue was up 1.46% to RM273.91 million, from RM269.98 million a year ago, mainly due to the increase in demand for gold jewellery, aided by higher retail gold prices.
Pesona Metro Holdings Bhd has bagged an RM238.45 million contract from MCT Bhd's unit for the construction of three blocks of apartments in Cyberjaya, together with mechanical and electrical works.
Pesona's unit Pesona Metro Sdn Bhd accepted the award today from the developer, MCT's unit Lakefront Residence Sdn Bhd.
The project involves the construction of two blocks of buildings with 862 units, and a third block containing 449 units. It is expected to be completed in 27 months.
Econpile Holdings Bhd is seeking RM80.1 million in progress claims from ASM Development (KL) Sdn Bhd as the project employer for a RM280 million mixed development for which 80% of work has been completed.
The group's wholly-owned subsidiary Econpile (M) Sdn Bhd has issued a notice of determination to ASM for foundation and substructure works for a mixed development in Kuala Lumpur that includes seven blocks of serviced apartments.
Utusan Melayu (M) Bhd has disposed of two adjoining semi-detached factories in Taman Shamelin Perkasa, Cheras for RM13.5 million to a unit of Berjaya Sports Toto Bhd.
Its wholly-owned unit Utusan Publications & Distributors Sdn Bhd entered into a sales and purchase agreement with Magna Mahsuri Sdn Bhd, a wholly-owned unit of Berjaya Sports Toto Bhd.
Utusan said the original cost of investment for the two factories in 1994 was RM4.32 million, and that the property is currently subject to a legal charge in favour of Malayan Banking Bhd.
Berjaya Food Bhd posted a net profit of RM8.98 million in its third quarter ended Jan 31, 2019, versus a net loss of RM10.85 million a year ago, as it saw higher profit contributions from its Starbucks operations, as well as improved performance from its Kenny Rogers Roasters outlets.
It was the group's fourth consecutive profitable quarter post falling into losses a year ago, after it incurred a loss arising from the disposal of its Kenny Rogers Roasters operations in Indonesia.
It declared a third interim dividend of one sen per share, to be paid on April 26.
Uzma Bhd has secured a two-year contract for the provision of directional drilling services from Indonesia's Pertamina Hulu Energi Onshore North West Java (PHE-ONJW).
The contract secured by Uzma's 95%-owned indirect subsidiary PT Cougar Drilling Solutions Indonesia, is for two years till Feb 25, 2021. It comes with an extension option.
Noting that the contract does not constitute a commitment for any specific work, Uzma said the execution of the contract depends on work orders to be issued from time to time at the discretion of PHE-ONWJ.
Priceworth International Bhd, whose logging operations had been affected by a verification exercise, expects to restart operations at its plywood mill in Sandakan, after it secured the return of 11,099 cubic metres of logs from the Sabah Forestry Department (SFD).
"We will be able to restart operations at Sinora's plywood mill in Sandakan with the return of these logs, while we continue working on the completion of our acquisition of Forest Management Unit 5 (FMU5)," said Priceworth's executive director Richard Koo.
The company has agreed to pay the royalty, premium, conservation fee and related costs for the logs.
Payment solutions provider Revenue Group Bhd said it has fulfilled the conditions for a money lending licence, as confirmed by the the Housing and Local Government Ministry in a letter to the group's wholly-owned unit Revenue Harvest Sdn Bhd.
The licence to operate as a money lender under the Moneylenders Act 1951 will be issued upon payment of the licence fee within 30 days.
A wholly-owned unit of Nestle (Malaysia) Bhd has been sued for RM139.34 million by Mad Labs Sdn Bhd over unauthorised use of its QR code on Nestle's products and packaging.
Nestle Products Sdn Bhd was served the writ of summons and statement of claim on March 6. Mad Labs is also seeking an order and injunction for Nestle to remove the said QR code from all of its products and packaging, as well as to cease and desist from using and printing the code.
"The position taken by the company and NPSB is that Mad Labs' claim is not justifiable. NPSB will be contesting the claim," Nestle said.