This article first appeared in The Edge Malaysia Weekly, on July 15, 2019 - July 21, 2019.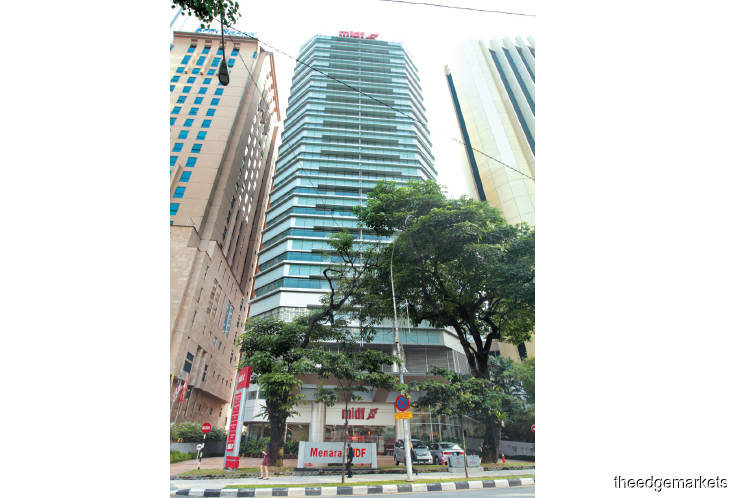 The 21-storey Menara MIDF is a 40-year-old building. Photo by Suhaimi Yusuf/The Edge
PERMODALAN Nasional Bhd (PNB) has placed Menara MIDF in Jalan Raja Chulan, Kuala Lumpur, up for sale. That is probably because Malaysian Industrial Development Finance Bhd (MIDF) — its wholly-owned subsidiary and sole tenant of the office building — will relocate to PNB's upcoming new headquarters at PNB 118 when it is ready, a document sighted by The Edge reveals.
Industry players put the asking price for the 21-storey building, located between Menara Affin and Holiday Inn Express, at RM140 million to RM150 million.
When contacted to confirm plans to sell the building, a PNB spokesperson tells The Edge, "As part of PNB's mandate to deliver sustainable returns to its unit holders, PNB continually seeks out opportunities to optimise its investments by reviewing its portfolio of assets, including its real estate properties. However, it is PNB's policy not to comment on specific investments or divestment initiatives until they materialise."
PNB adds that the building, which is now 40 years old, was acquired in 2009 in a corporate exercise. The building has a gross floor area of 190,000 sq ft and a net lettable area of 160,000 sq ft.
The asset manager has not hired an exclusive agent. However, an executive summary dated June 2019, sighted by The Edge, shows that estate agency Nawawi Tie Leung Real Estate Consultants Sdn Bhd (NTL) is one of the firms marketing the asset. NTL declined to comment when contacted.
According to the document, the reserve price has been set at RM150 million. Another real estate agent who did not want to be named says the asking price has been set at RM140 million.
Menara MIDF is a freehold asset on 36,382 sq ft of land. Said to be one of the oldest buildings in Jalan Raja Chulan, it was called Kompleks Kewangan at one point. The building has two levels of basement parking with 208 parking bays and is currently fully occupied by MIDF. NTL's executive summary states that MIDF's lease expires in November this year, with an option to renew on a 2 + 1 years. The document adds that MIDF will move to PNB 118 — set to be the country's tallest structure — upon its completion in 2021.
When asked about the move to PNB 118, a MIDF spokesperson says, "We are currently not in a position to confirm any information or details."
Depending on the purchase price, the buyer has the option to refurbish or rebuild the asset, says Stanley Toh, executive director of valuation and real estate agency Laurelcap Sdn Bhd.
At about RM100 million, the site may be worth redeveloping, but if it is above RM130 million, a better option may be to refurbish it or undertake a major renovation as it would not be worth tearing it down, he adds.
Toh believes that instead of retaining the asset as an office building, a hotel could be a good fit in the location. "The location is superb for a hotel as it is within walking distance to the tourist zone of Bukit Bintang and KLCC."
A fairly recent example would be the conversion of the former Menara ING office building beside Menara MIDF to the present Holiday Inn Express.
This is not the only office building in the vicinity owned by PNB (see map). It also owns the former headquarters of Kenanga International in Jalan Sultan Ismail. It is unclear how much space remains unoccupied there after Kenanga, its anchor tenant, moved out.
Around the corner from Jalan Raja Chulan heading into Jalan Sultan Ismail, just half a kilometre from Menara MIDF, another PNB-owned asset — the old Malaysia Airline System Bhd (MAS) headquarters is currently undergoing redevelopment.
In May, The Edge had reported that the building, currently called PNB Project 1194, will comprise a 35-storey office block and a 50-storey hotel that will be linked by an elevated walkway to the Kenanga building across the road. Set to be completed in 2021, it could potentially offer more than 600,000 sq ft of office space.
Scheduled for completion in 2021, the PNB 118 tower will offer 83 floors and 1.65 million sq ft of rentable office space. It has been reported that half of the space will be taken up by PNB, while the top 17 floors will be allocated for a Park Hyatt hotel.
In its 2018 annual report, PNB says it has a total of 38 investment properties across Malaysia offering 9.2 million sq ft in net lettable area. Other PNB-owned assets in the KL city centre include its current headquarters in Jalan Tun Razak and hospitality asset PNB Perdana Hotel & Suites On The Park Kuala Lumpur in Jalan Binjai.
It is unclear if the list of assets includes those owned by PNB Commercial Sdn Bhd.