This article first appeared in The Edge Financial Daily, on March 29, 2019.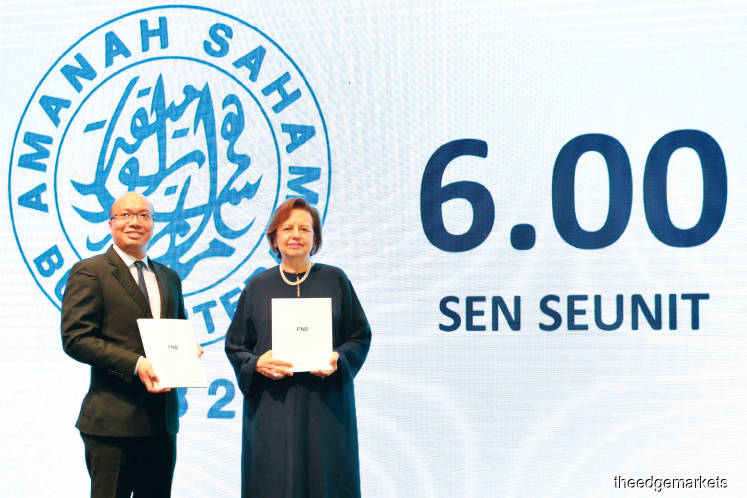 Zeti (right) and Abdul Rahman at the launch of PNB's 2018 annual report in Kuala Lumpur yesterday. Photo by Suhaimi Yusuf
KUALA LUMPUR: Permodalan Nasional Bhd (PNB) is looking to diversify its portfolio across different asset classes, including fixed income and real estate investment trusts (REITs) as well as across different geographies, as it conducts the mid-term review of its Strategic Plan 2017-2022.
PNB group chairman Tan Sri Dr Zeti Akhtar Aziz said the diversification of the fund's portfolio falls under the reviewing of its strategic asset allocation and optimal liquidity management, along with other key areas comprising enterprise risk management and organisational transformation.
The fund went through a challenging period in 2018, amid moderating growth and uncertain financial markets, both domestically and globally, with the difficult conditions continuing into the first two months of 2019.
Zeti said the FBM KLCI continued to record negative returns in 2018, with the benchmark index again lagging behind other markets in the region which have since rebounded.
She said the diversification of the fund's investment portfolio will be among the key priorities as PNB transitions into the second quarter of the year, to optimise its risk-return profile.
"Our strategy going forward is to further diversify our portfolio, not only to go into global financial markets, but also to diversify within our domestic market. For example, our bond market is one of the most developed in Asia and right now we have about 6% invested in that market.
"We will also look at other asset classes which include REITs and other investments in the domestic market," she said at the launching of the fund's 2018 annual report yesterday.
Besides that, the fund is also considering investments in other geographies in both developed markets such as the US, France, Germany, the UK, Australia and Japan and emerging economies in Asia and Europe.
However, this will be done on a gradual basis, Zeti said, as PNB needs to build up its expertise in these markets.
PNB president and group chief executive officer Datuk Abdul Rahman Ahmad said the fund historically has been focused on domestic equities, noting that 70% of its asset allocation comprises listed companies in Malaysia.
"We want to increase our exposure in investments such as private equity, fixed income and real estate. We don't have any particular targets for each of the asset classes as it will be based on the economic environment and the timing. We will do it gradually," he said.
Global fund managers identified for outsourcing programme
He added that the fund has a private investment framework in place and has identified six global fund managers for PNB to commence its outsourcing programme.
Abdul Rahman declined to reveal details on these global fund managers, but said that they are renowned global private equity firms which were picked after a very rigorous selection process.
The diversification efforts are ongoing, he said, pointing out that its portfolio allocation in fixed income increased to 6.6% as at end-February 2019, from 5.8% a year earlier, while private investments accounted for 2.3%, compared to 1.9% in the previous year.
Meanwhile, international investments accounted for 4% of its portfolio as at end-February 2019, compared to 2.7% as at February 2018.
Abdul Rahman said despite the soft performance of the domestic equities market the fund remains positive and believes in the long-term value of the local market.
PNB expects the market will, in the mid- to long-term, reflect the strong economic fundamentals of the country.
The fund expects the country to post economic growth of between 4.5% and 4.9% for 2019, which Zeti said was "slightly more optimistic".
For comparison, Bank Negara Malaysia forecast growth of between 4.3% and 4.8% for the year.
For 2018, PNB recorded a 6.9% increase in its assets under management to RM298.5 billion from RM279.2 billion a year earlier and saw a 7.9% increase in units in circulation to 236.6 billion, versus 219.3 billion in 2017.
Its consolidated conterminous pro forma net income came in slightly lower at RM17 billion for the year, compared to RM17.7 billion in the previous year.
The fund announced the income distribution for two of its fixed price funds, namely ASB 2 and ASM, with distributions of six sen and 5.5 sen per unit respectively. The total income distribution payout for the funds amounted to RM610.7 million for ASB 2 and RM1.1 billion for ASM.
It also announced the income distribution for three of its variable price funds, namely ASN Equity 3, ASN Imbang 2 and ASN Sara 1, with distributions of 4.1 sen, 4.2 sen and five sen per unit respectively.
In total, the fund paid out RM15 billion in dividends in 2018, the largest amount ever paid since its inception.