This article first appeared in The Edge Financial Daily, on September 3, 2019.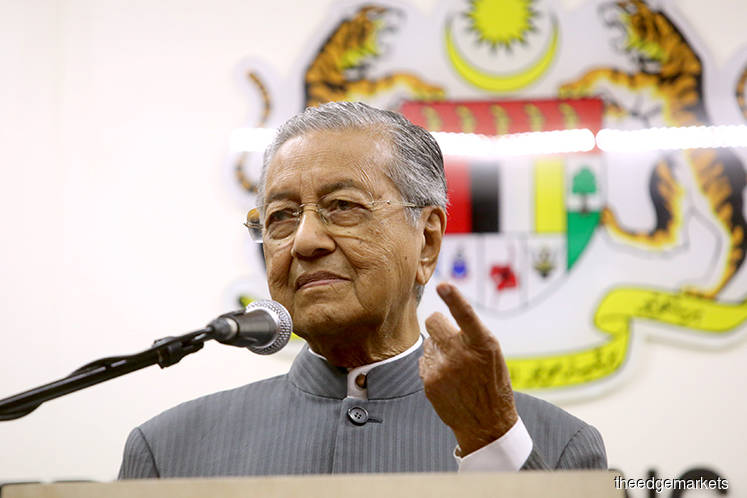 KUALA LUMPUR: The prime minister (PM) was recently asked why Parti Keadilan Rakyat president Datuk Seri Anwar Ibrahim has not been brought into the cabinet given the mounting pressure for a date to be set for the transition of power.
On the face of it, the PM's reply that his agreed-upon successor will most likely not be involved in the impending cabinet reshuffle holds water.
Tun Dr Mahathir Mohamad had said much earlier that the reshuffle would be "minor, with no change or increase in the number of cabinet members".
This means that no cabinet members will be dropped. So it follows that no new members will be brought in. What is in store, based on what the prime minister has said so far, is a shuffling of portfolios. That is, some ministers will switch ministries.
And since Anwar is not part of the present cabinet, how could he be involved in the coming reshuffle? That is plain and simple.
But many among us love to interpret our leaders' words, or speculate on what is meant. We cannot be blamed for that, not when even a minister seems to be encouraging us to do as much.
To Housing and Local Government Minister Zuraida Kamaruddin it is up to everyone to interpret for themselves what the PM meant when he said there was no vacancy in the cabinet but he would make minor changes to cabinet members' portfolios soon.
"Use your own judgement to interpret Mahathir's answer", she was quoted as saying.
Zuraidah, who is also PKR vice-president, is aligned to the party's deputy president Datuk Seri Mohamed Azmin Ali. And as Mohamed Azmin is at loggerheads with Anwar and is seen to be interested in the PM's job, obviously Zuraidah's comments are meant as a jab at Anwar.
Whatever her intentions are, interpretations of Dr Mahathir's remarks are aplenty. I cannot say whether Zuraidah has opened the floodgates, but the fact is that many people are making comments.
One of them is Klang member of parliment (MP) Charles Santiago. The DAP leader said the PM's comment "only goes to show that we are more focused on holding on to power rather than nation building".
Santiago also claims to be privy to "whispers on the ground (that) people are now willing to give Anwar a chance, fearing that Mahathir is back to his old tricks," as Malaysiakini quoted him.
Hard words indeed. Although the Klang MP did not specify what Dr Mahathir's "old tricks" were, it is nevertheless a serious allegation.
However, not all comments have been serious. Some could pass as banter, like what Deputy Prime Minister (DPM) Datuk Seri Dr Wan Azizah Wan Ismail said about there being no room for Anwar in the cabinet now as no one wants to resign.
"If the prime minister vacates (his post), that is what was promised, yes?" she said, in jest of course. Wan Azizah was saying, in not so many words, that if Dr Mahathir goes, a vacancy in the cabinet would exist.
Naturally, there are people who interpret that as a "light-hearted reminder" about Dr Mahathir's promise to hand over the reins of leadership to her husband.
However, there are also people who feel that if anybody is to resign from the cabinet then it should be Wan Azizah herself. If not for anything else, then it is to make way for Anwar.
This is how Suara Rakyat Malaysia adviser Dr Kua Kia Soong sees it. Since Wan Azizah has already said she would step down as DPM if her husband becomes PM because she does not condone nepotism, she should make the "strategic chess move by resigning as the DPM as soon as possible", Kua said.
In his statement published by the Free Malaysia Today news portal, he also said: "One would expect that the person who is supposed to take over as prime minister in less than a year's time should be given the opportunity to prepare for the job of DPM quite a few months before that actually happens."
But then calls or rather suggestions and advice that Wan Azizah steps down for Anwar to come into the cabinet have been heard for quite some time already. However, some political pundits opine that even in the event of that taking place, it is no guarantee that Anwar can be bought in as replacement, that is, as DPM. Why? Because they say, the promise and the agreement reached by the Pakatan Harapan leadership was with regard to the PM's post, not that of the DPM.
Feel free to dwell on that. In the meantime, interpretations and speculations will continue to surface. Politics — there's never a dull moment, don't you agree?
---
Mohsin Abdullah is a contributing editor at The Edge. He has covered politics for more than four decades.