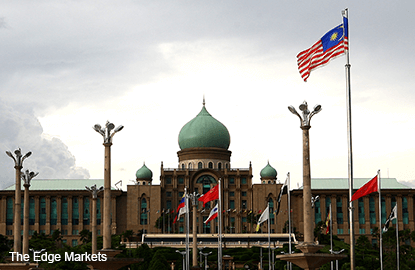 KUALA LUMPUR (March 30): A leaked letter from Saudi Arabia has made clear that the donation to Datuk Seri Najib Razak was to be used as the prime minister saw fit, said the Prime Minister's Office (PMO) in a statement today.
"As the leaked letter from Saudi Arabia states, the donation was a gift to the prime minister for promoting moderate Islam, and his leadership in combating terrorism and extremism such as by launching his Global Movement of the Moderates initiative," said a Malaysian government spokesperson in the PMO statement.
"The letter makes clear that the gift was to be used as the prime minister saw fit; would be transferred directly or through the donor's companies; and no benefit was expected in return," the spokesperson added.
On Tuesday, an Australian Broadcast Corp's (ABC) Four Corners report published a letter from Saudi Prince Saud Abdulaziz Majid to Najib, which showed that the prince had pledged US$375 million for the prime minister, stating that Najib could do as he pleased with the gift.
"The Four Corners report confirms what the prime minister has maintained all along, and what multiple lawful authorities concluded after exhaustive investigations: the funds were a donation from the Royal Family of Saudi Arabia," said the Malaysian government spokesperson.
"The investigations included forensic examination of every wire transfer. Malaysian authorities also travelled to Saudi Arabia to examine documentation and interview members of the Royal Family, and the officials that administered the donation," the spokesperson added.