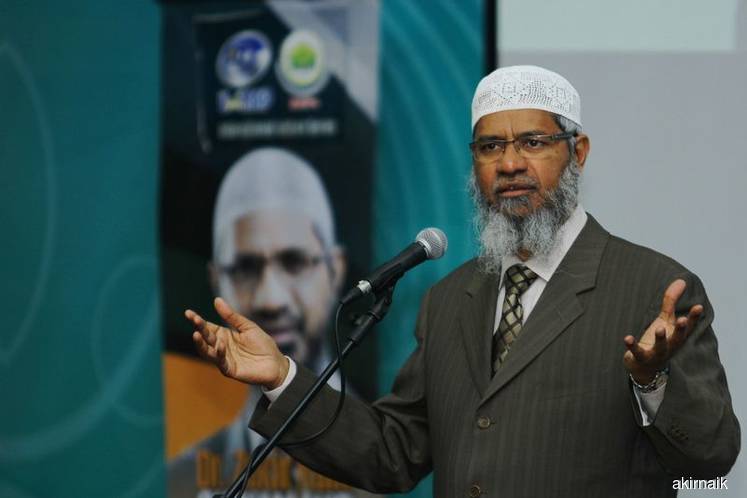 KUALA LUMPUR (May 7): The Prime Minister's Office has denied claims that controversial Islamic preacher Dr Zakir Naik has been rewarded by the Malaysian government with a piece of land and a slot on Malaysia's national broadcaster for his Peace TV channel.
"We would like to clarify that these allegations are baseless," it said in a statement today.
The PMO said the matter was brought to their attention through various social media outlets by a report by an Indian-based television channel alleging that Putrajaya has honoured Naik with such rewards.
Naik has been seeking refuge in Malaysia, where he was granted permanent residency by the Barisan Nasional Government in 2012.  
In July last year, Prime Minister Tun Dr Mahathir said Naik may stay in Malaysia and will not be deported to India as long as he does not create any problems and break any local laws. India has sought his extradition.
He is wanted in his home country as he is facing charges of money laundering and hate speech. Authorities there said he has been "promoting enmity and hatred between different religious groups in India through public speeches and lectures".
Founded by Naik in 2006, the Peace TV channel has been banned in India. The network has also been reportedly banned in Bangladesh, and in Sri Lanka recently following the deadly Easter bombings last month.
Last week, Mumbai-based The Times of India reported that the country's Enforcement Directorate (ED) has charged Naik with laundering criminal money worth 193 crore rupees (RM115 million) and buying illegal real estate assets across the world.
The ED accused the preacher of using funds from "dubious or suspicious sources" to purchase property and finance events where he made "inflammatory speeches and lectures" that have allegedly "inspired and incited Muslim youths in India to commit unlawful activities and terrorist acts".