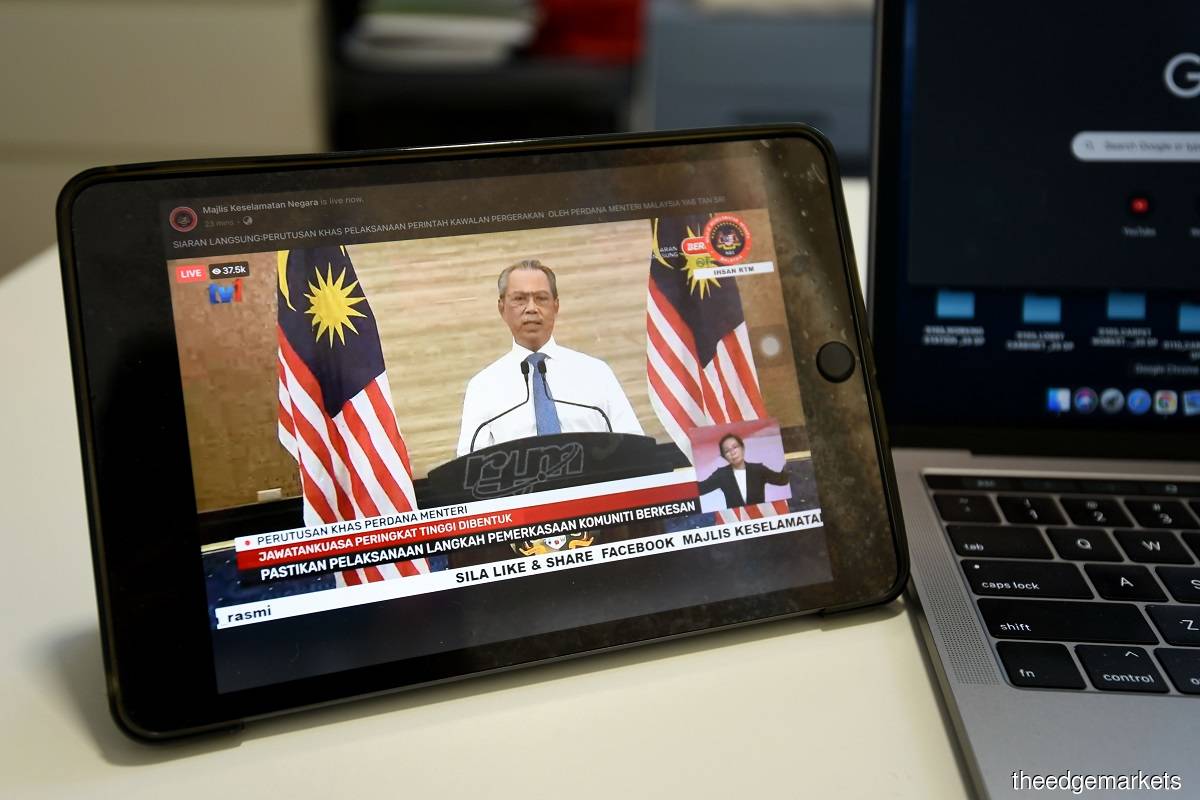 KUALA LUMPUR (Jan 11): Prime Minister Tan Sri Muhyiddin Yassin said Malaysia's healthcare system is at its breaking point as government hospitals are unable to support over 2,000 new positive Covid-19 cases per day.
In a special address today, Muhyiddin said 15 hospitals are seeing utilisation rates of more than 70% of non-intensive care unit (ICU) beds.
In the Klang Valley, the take-up of ICU beds for Covid-19 patients at Hospital Kuala Lumpur and Universiti Malaya Medical Centre have reached maximum capacity, while Sungai Buloh Hospital has reached 83% of its total capacity.
Meanwhile, more than 1,450 medical officers at hospitals nationwide have been infected or directed to undergo quarantine.
"The number of deaths due to Covid-19 increased further to 521 with a death rate of 0.41%. Malaysia recorded more than 100 deaths per month from October to December, compared with between two and 59 deaths per month between March and September 2020," said the prime minister.
He added that the increase in number of daily cases has resulted in a delay in medical officers transporting patients to hospitals, quarantine centres, and low-risk treatment facilities, while the floods and increases in cases in several states make it challenging to increase the ICU bed count for critical patients.
Muhyiddin said the surge in number of patients will paralyse the existing capacity of the healthcare system in a "blink of an eye", and that it can no longer support the total number of patients requiring treatment.
"The situation today is indeed very alarming. Our healthcare system is under tremendous pressure now than at any other time since the start of the pandemic. As I have said before, unprecedented situations call for unprecedented measures," he said.
The government has reinstated the Movement Control Order in Penang, Selangor, the federal territories (Kuala Lumpur, Putrajaya and Labuan), Melaka, Johor and Sabah starting from 12.01am on Jan 13.
Meanwhile, it is enforcing the Conditional Movement Control Order in Pahang, Perak, Negeri Sembilan, Kedah, Terengganu and Kelantan, while the Recovery Movement Control Order will be enforced in Perlis and Sarawak.
Read also:
What is allowed under the MCO, CMCO and RMCO?
Phase 3 clinical study of Covid-19 vaccine from China to begin on Jan 21 in nine hospitals, says PM 
Malaysia reinstates MCO in five states, three FTs amid surging Covid-19 cases 
Ismail Sabri to announce MCO SOP on Tuesday