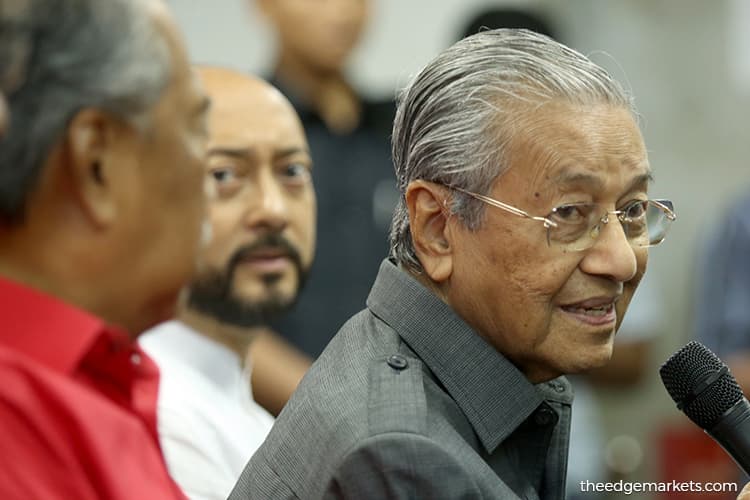 KUALA LUMPUR (Aug 16): The Council of Eminent Persons (CEP), or the Council of Elders, will continue its advisory role to the government, Prime Minister Tun Dr Mahathir Mohamad said, adding that its dissolution date has yet to be determined.
The premier said the government still needs the CEP's services to help solve many of the country's problems.
The CEP comprises former finance minister Tun Daim Zainuddin, former Bank Negara Malaysia governor Tan Sri Zeti Akhtar Aziz, former Petroliam Nasional Bhd chief executive officer Tan Sri Hassan Marican, tycoon Robert Kuok and prominent economist Professor Dr Jomo Kwame Sundaram.
Dr Mahathir dismissed talks that the CEP will be dissolved 100 days after the new Pakatan Harapan (PH) government came into power, which falls tomorrow.
"They (Rumours) think that the CEP will come to an end (after 100 days), but I never said so. I still need their services, until they solve all the problems," he said.
When asked how long the CEP will continue to function, Dr Mahathir said the council's services are still needed until many of the country's problems have been solved, declining to give a specific deadline. 
"I myself can't do all the work," he added.   
Although he assured that most of the issues will be resolved, Dr Mahathir admitted that he is not sure that the five-year term is enough for the PH government to "totally fix" the country. 
"The manifesto was written on the basis of what we knew about what the government was doing. But when we took over, we found that the situation is much worse, and much more money was borrowed," he said. 
"The machinery of the government has been subverted. We find ourselves working in an environment that is not really dedicated to what we want to do. [That's why] we need to remove some people. All these things hinder the progress," Dr Mahathir added.  
He noted that some of the reform initiatives need to be passed by the Parliament, hence fulfilling PH's promises requires more time than initially planned.
"So while we made a promise that we should do things in (the first) 100 days, the most we could do was to start these things," he added.