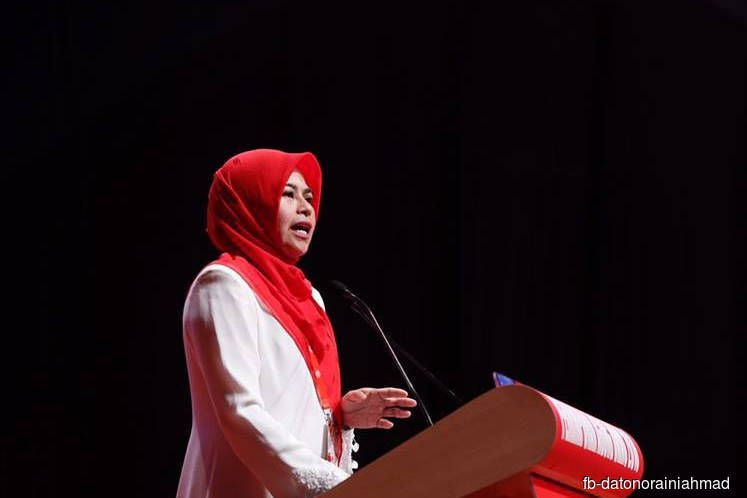 KUALA LUMPUR (April 4): The Prime Minister is slated to move a motion in Dewan Rakyat to appoint Datuk Dr Noraini Ahmad (BN-Parit Sulong) as the new Public Account Committee (PAC) chairman for the 14th Parliament, according to the Dewan Rakyat order paper today.
"That the honorable Datuk Dr Noraini Ahmad, Parit Sulong member of Parliament be appointed to replace honorable Datuk Seri Dr Ronald Kiandee, Beluran member of Parliament as the chairman of Public Account Committee for the 14th Parliament," the paper read.
The appointment came after public outcry over the resignation of existing member Nurul Izzah Anwar (PH-Pematang Pauh) from the bipartisan committee in protest of the government's decision to maintain Ronald Kiandee (PH-Beluran) as chairman, after the latter jumped ship from Barisan Nasional to joined Pakatan Harapan (PH) coalition's member Parti Pribumi Bersatu Malaysia.
Speaking on the matter, Prime Minister Tun Dr Mahathir Mohamad said the delay in appointing a new chairman was because the opposition did not provide any candidate at the time Kiandee jumped to PH.
"Now we have a candidate, we have to ask the candidate also whether she is willing to take on the job," Dr Mahathir told reporters at the Parliament lobby today.
"We made a promise that we will have [an] opposition member as head of PAC, but at the moment when Kiandee left Umno, we didn't have a candidate, so he carried on [at that time]," Dr Mahathir added.
Noraini was in fact nominated by the opposition on March 26, the same day three opposition MPs — PAS secretary general Datuk Takiyuddin Hassan (PAS-Kota Bharu), and Umno members of Parliament (MPs) Datuk Noraini Ahmad (BN-Parit Sulong) and Datuk Seri Ahmad Hamzah (BN-Jasin) — announced they are quitting the committee to protest the delayed appointment of a new PAC chairman.
Kiandee exited Umno on Dec 12, 2018 and remained as an independent candidate until he joined Bersatu on March 15 this year alongside three other Sabah MPs and two Sabah assemblymen — all former Umno members.
It remains unknown whether the motion will move before Dewan Rakyat is adjourned today as it is lined after eight other motions: the motion of Supplementary Budget 2018, five Ministry of Finance Bills, and two motions from Prime Minister to amend Administration of Islamic Law (Federal Territories) (Amendment) Bill 2018 and Civil Law (Amendment) Bill 2018.
This Parliament sitting is slated to end by April 11 (Thursday).