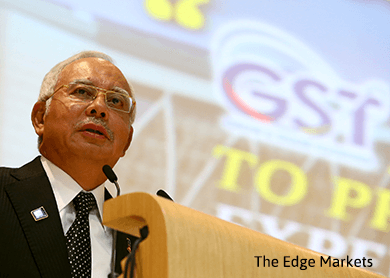 KUALA LUMPUR (Sept 11): Prime Minister Datuk Seri Najib Tun Razak said he would explain further during Malaysia's Budget 2016 announcement next month on the government's additional income from the goods and services tax (GST) and the usage of such funds.
Najib said this in his blog najibrazak.com. Malaysia implemented the GST starting from April this year while Budget 2016 will be announced this October 23.  
Najib wrote in his blog : "In Budget 2016, I will also elaborate on the additional revenue from the GST and how the money is spent."
"Preparation for Budget 2016 is not limited to suggestions by goverment officials but every citizen is also given the opportunity to jointly develop Malaysia," Najib said.
He said preparation for Budget 2016 came at a time of global economic uncertainty due to
factors beyond the government's control.
Accordng to Najib, the decline in prices of commodities like crude oil, palm oil and rubber had led to the ringgit's depreciation as Malaysia produced these items.
He said while there could be lengthy debates on economic matters, "the most important thing is how the nation can navigate itself to weather the global economic storm."
The ringgit has been closely watched. Yesterday, the ringgit depreciated to a fresh level against the US dollar at 4.3790 against the US dollar.
Today, the ringgit strengthened to 4.3115 versus the US dollar. The ringgit is trading at current levels from 3.1890 a year earlier amid lower crude oil prices and anticipation of US interest rate hikes this year.